Crypto staking has quickly grown to become one of the most exciting facets of the industry. Several platforms have opened crypto staking services, enabling investors to generate passive income from their coins. As the crypto market crawls back to the highs seen in early May, investors are looking into different ways to increase their wealth. Staking has risen to become a prominent channel for them.
Staking: Earn Interest On Your Coins
Crypto staking is the process of locking your coins on a platform and earning interest on it over time.
Staking is the central premise of the fledgling proof of stake (PoS) technology, which many blockchains are now adopting. With PoS, participants lock (or "stake") their coins on a protocol.
Normally, your chances of earning rewards are proportional to the amount of money you have in the staking pool – the more money you stake, the more your earn. Staking has grown in popularity, with several projects seeing significant gains.
The Ethereum 2.0 staking contract is currently the single largest holder of ETH tokens, with over 7.16M Ether tokens valued at $21.7 billion, at press time.
Below, we'll offer some of the best crypto staking platforms for you to consider.
3 Best Crypto Staking Platforms for Top Returns August 2021
1. eToro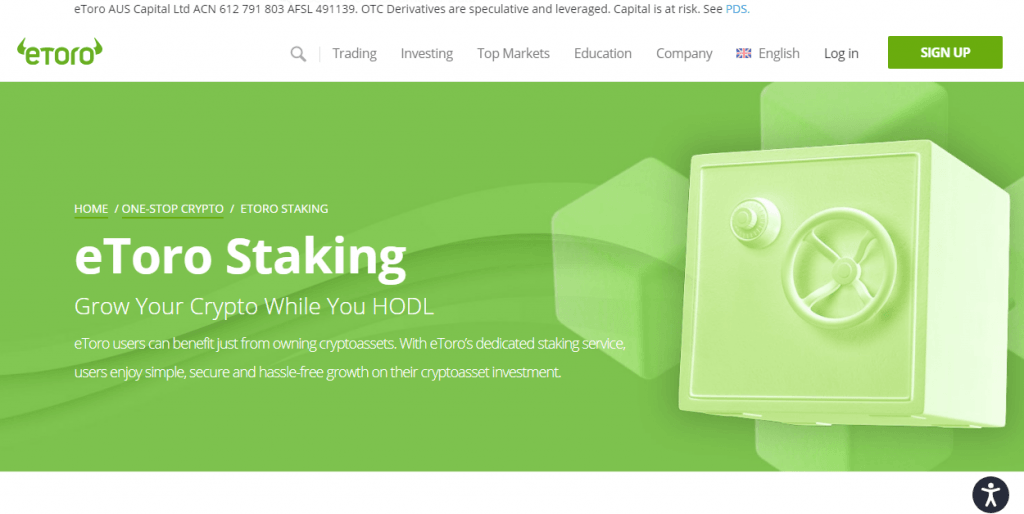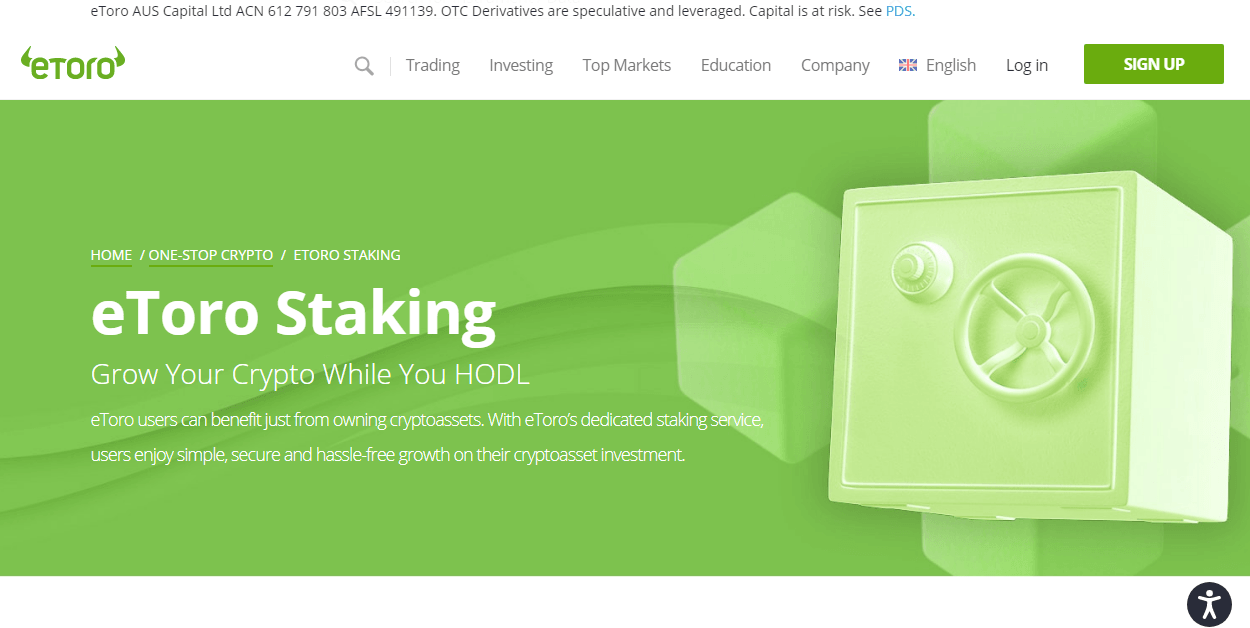 eToro has become quite popular over time, especially among cryptocurrency enthusiasts. While it started as a stock trading app, it quickly expanded to become one of the most popular and versatile FinTech platforms – offering investments in multiple asset classes, including cryptocurrencies.
Besides stock trading, eToro has a crypto staking platform.
Known as eToro Staking, this service allows you to lock your coins and earn rewards. Customers who stake with eToro get their payouts deposited in their wallets monthly.
eToro staking currently supports crypto staking in Ether (ETH), Cardano (ADA), and TRON (TRX). Cardano's ADA is the most staked cryptocurrency with over $60billion locked in value, per data from StakingRewards.
There are nine staking intro days before rewards are calculated for ADA. While TRX has seven staking intro days.
eToro pays a reward percentage of the monthly staking yield based on the tier system of the eToro membership Club. Investors can earn between 75-90% of the monthly yield.
This tier system varies from Silver, Bronze, Diamond, and Platinum membership. Platinum membership is the highest tier. These members get 90% of the monthly staked yield of their assets.
When you sign up for eToro Staking, you will get a daily snapshot of your holdings so you can track your performance. Your returns are deposited at the end of the month in the same currency that was staked. eToro staking is currently open to users in the United States, United Kingdom, and Europe.
su_button url="https://ift.tt/3sSQWjw; style="3d" background="#1d44bb" size="8″ center="yes" radius="0″]Buy & Stake Crypto on eToro Now[/su_button]
2. Binance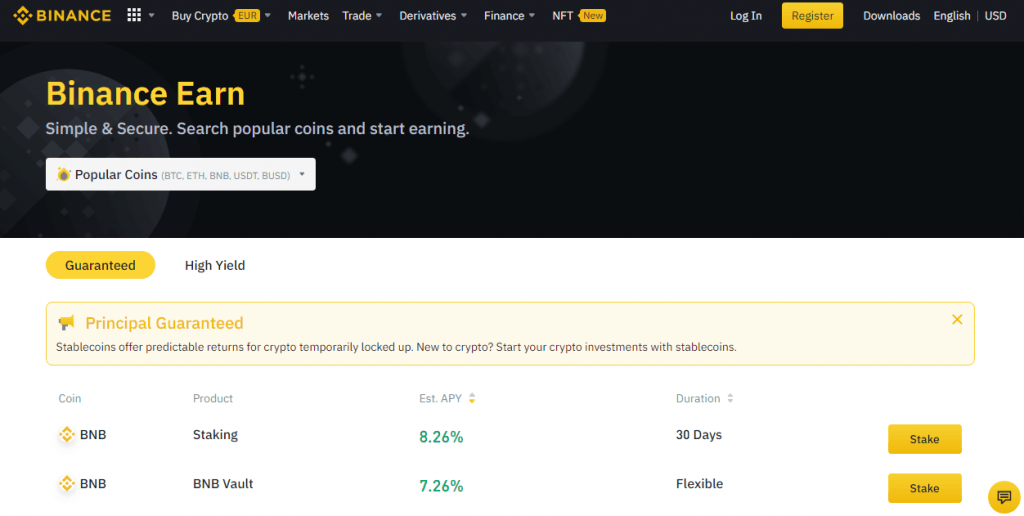 Binance is the world's leading cryptocurrency exchange, with billions in assets being traded daily. Binance offers exposure to some of the largest crypto assets like Bitcoin, Ethereum, and several others. It also provides crypto staking services.
Using its Earn Crypto Staking service, Binance allows you to earn interest on the coins you have in your wallet. The service has three staking options, namely locked staking, DeFi staking, and ETH 2.0 staking.
Locked staking allows you to hold your coins for a pre-fixed period, between a week to three months. Funds are stored in your wallet, and you can withdraw whenever you want – although at a cost.
Binance's DeFi staking is focused on DeFi projects. Although they generally generate higher yields than Locked Staking, they are inherently riskier. ETH 2.0 Staking is the third option. ETH 2.0 allows you to earn staking rewards by supporting the Ethereum 2.0 network from your Binance wallet.
Binance doesn't charge staking fees when you use Binance Earn. But that might change soon. You can stake 69 assets on the exchange, as well as five flexible DeFi staking assets. These include Filecoin (FIL), Shiba Inu (SHIB), AOL, Kusama (KSM), and the Binance Coin (BNB).
Your staking reward will vary on Binance, usually based on the asset staked, the amount staked, and the lock-up period.
3. Aave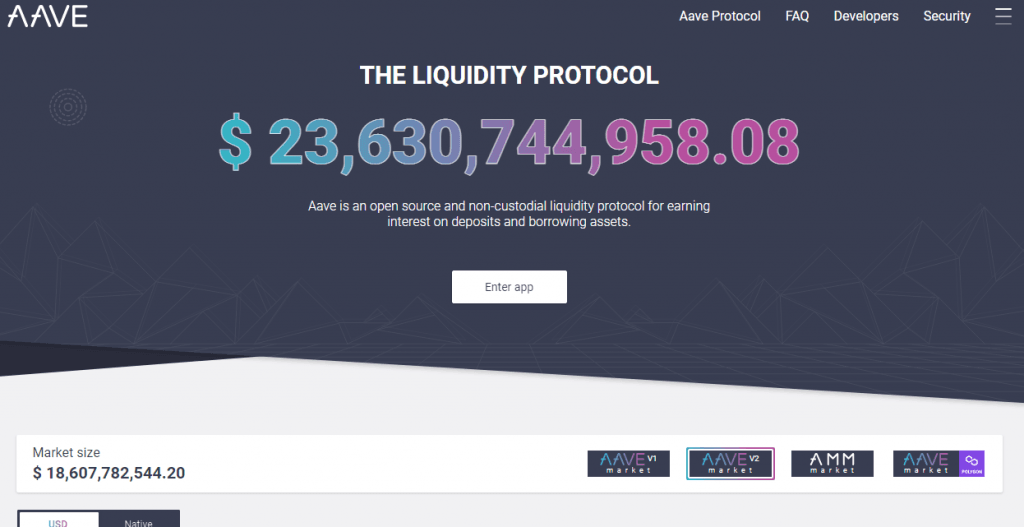 Aave is currently the top decentralized finance (DeDFi) platform.
Data from DeFi Pulse shows that it now holds 18 percent of all the funds locked in DeFi protocols, with $14.29 billion.
While Aave primarily focuses on lending, it also offers several additional services – including yield farming and crypto staking.
Built on the Ethereum blockchain, Aave has become popular among investors looking to capitalize on new DeFi solutions.
To stake on Aave, you will need to deposit the protocol's native token – AAVE – in its Safety Module protocol.
This means that you will need to convert your assets to AAVE and make the same conversion when your rewards are paid in AAVE. Besides AAVE, Aave also supports several other assets for its staking service – including Polkadot (DOT), Solana (SOL), ADA, Avalanche (ACAX), and more.
AAVE has several benefits, including a relatively simple interface – especially compared to other DeFi platforms.
You can get started quickly, and all you need to do is connect your wallet, and head down to the staking service. Once there, you can deposit your funds and click on "Stake."
AAVE also has a Staking Calculator that lets you know your expected rewards based on the supply being staked. The current cooldown period on Aave staking is ten days. So, you will need to wait until your 11th day to start earning rewards.
su_button url="https://ift.tt/3sSQWjw; style="3d" background="#1d44bb" size="8″ center="yes" radius="0″]Buy & Stake Crypto on eToro Now[/su_button]