If you're like most investors, you're probably searching for the best NFT cryptos to buy in September. NFTs are the latest buzz in the crypto industry. These tokens have provided a paradigm shift, offering a new way to own and distribute property. This year alone, over $2.5b worth of NFTs have been sold, per data from OpenSea. If you intend to buy NFT cryptos, these are the options that offer impressive returns for investors.
5 Best NFT Cryptos to Buy Now – September 2021
1. The Sandbox (SAND)
Kicking off our list of the best NFT cryptos is SAND – the native token for The Sandbox. While it might not be on everyone's radar, The Sandbox has grown to become one of the most prominent virtual ecosystems. Built on the Ethereum blockchain, The Sandbox functions as a gaming system where users can create, share, and monetize gaming experiences and in-game assets. To learn more about gaming cryptos, check out our best gaming cryptos for high returns.
As an ERC-20 token, SAND powers all of the transactions and functionalities of The Sandbox's ecosystem. Players use SAND to play games, buy equipment, and customize their characters. SAND can also be used to buy LANDS and ASSETS – digital real estate that is represented by ERC-721 tokens.
Lastly, SAND can be staked to acquire more SAND as well as Catalysts and Gems – two other types of tokens needed for creating ASSETS.
Most investors who want to buy NFTs in crypto form choose assets like SAND. its year-to-date chart shows impressive price action, with SAND setting an all-time high of $1.19 just yesterday. The asset is down 10 percent since then, currently trading at $0.97. But, this is just a correction and bigger gains are expected.
The asset is trading well above its 20-day moving average (MA) of $0.70 and its 200-day MA of $0.49. With a relative strength index (RSI) of 71.86, SAND seems pretty underbought for an asset in demand.
Your capital is at risk
2. Decentraland (MANA)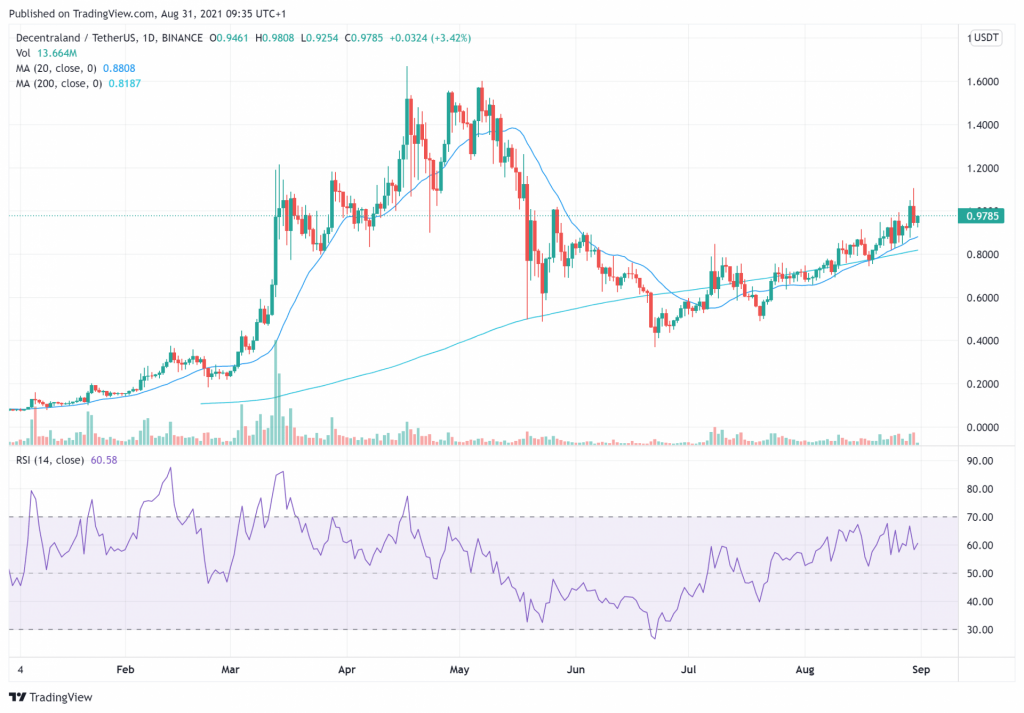 Decentraland is a blockchain-based virtual reality world where users can buy, develop, and sell LAND – a non-fungible ERC-721 token that represents virtual land in the world. Each LAND parcel is unique, and owners can choose what they want to do with theirs. Users buy LAND and other services and goods in the Decentraland world with MANA – the platform's ERC-20 token. As expected, MANA can also be bought and sold for other cryptocurrencies or fiat.
MANA has been doing quite well, thanks in part to Decentraland gaining more traction. The platform set a record after selling property for $913,000 in June, and fans are still expecting the Nuggets News headquarters facility in the platform – built by popular crypto influencer Alex Saunders and blockchain development studio Polygonal Mind.
Looking for the best NFT coins to buy? They don't come any bigger than MANA.
MANA currently trades at $0.97, up 2.61 percent in the past day. This is a far point from the asset's all-time high of $1.65, but it's still a 38.5 percent jump in the past month. The asset is also trading above its 20-day MA of $0.87 and 200-day MA of $0.82.
Demand for MANA seems to have cooled, with the asset holding an RSI of 60.36. But, given its one-month performance, this seems to be a good buy point.
Your capital is at risk
3. Chiliz (CHZ)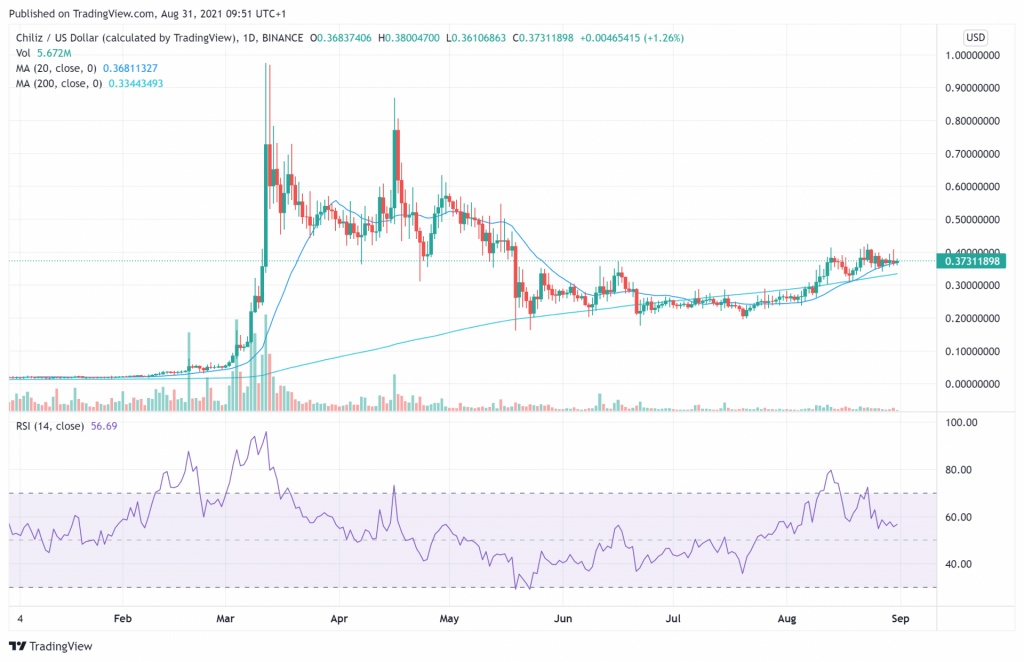 Chiliz is a blockchain platform that powers Socios – a platform that lets professional sports teams develop tokens and engage their fans. Socios' tokens – known as Fan Tokens – allow users to get promotions, discounts, and rewards from their favorite teams. Holders can also influence small team decisions by voting on the Chiliz blockchain using.
Chiliz has a native token called CHZ. The asset is used to purchase these fan tokens, these tokens can in turn be traded for CHZ on the in-house Chiliz exchange, then converted to cash or crypto from there.
As expected, CHZ's value is primarily tied to the growth of the Chiliz blockchain and Socios. Thankfully, the latter has been on a roll recently. In the past two months, several top sports clubs have signed on to be a part of Socios' ecosystem. These include soccer clubs like Arsenal F.C and PSV Eindhoven, as well as NBA teams like the Boston Celtics and the Cleveland Cavaliers.
CHZ is currently on a slow climb, with the asset looking to recapture its highs of $0.97. With a current price of $0.37, CHZ is up 1.39 percent in the past 24 hours.
As for technicals, CHZ is cutting close to its 20-day MA of $0.36. Its 200-day MA of $0.33 is also about to catch up to it. The demand for CHZ has cooled, with the asset's RSI standing at 56.31. But, you will want to keep an eye out for this one – especially as professional sports are getting back into season.
Your capital is at risk
4. Enjin (ENJ)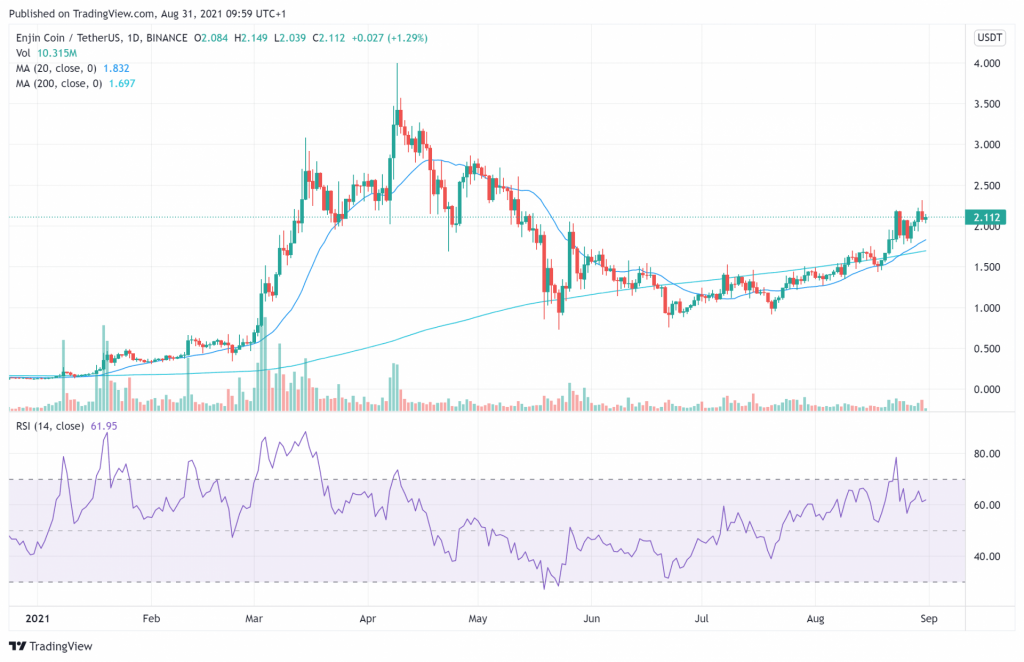 ENJ is another crypto that deserves a spot on our list of the best NFT coins. This asset powers Enjin – a software and protocol that allows developers to create and manage virtual goods and assets – including NFTs.
The idea for Enjin is to use blockchain to manage in-game items across different properties. The platform hopes to reduce the cost and security risks involved in transferring collectibles and virtual in-game goods. To that end, the platform has released software development kits (SDKs) to help users create Ethereum-based digital assets and integrate them into apps and games.
ENJ is central to Enjin's operation. The asset is built on the Ethereum blockchain, and it is used to back all items released to the ecosystem. ENJ got significant publicity last month when Enjin's developers announced that they would look into using NFTs to promote sustainability and equality as part of a pact with the United Nations. The market will be curious to see the solutions proffered.
Currently, ENJ is trading at $2.09 – a gain of 0.53 in the past 24 hours. This is well above its 20-day MA of $1.82 and 200-day MA of $1.68. This is largely due to its one-month performance, with ENJ up 42.7 percent in the past month. With an RSI of 61.06, demand for ENJ seems to be on the rise again.
Your capital is at risk
5. WAX (WAXP)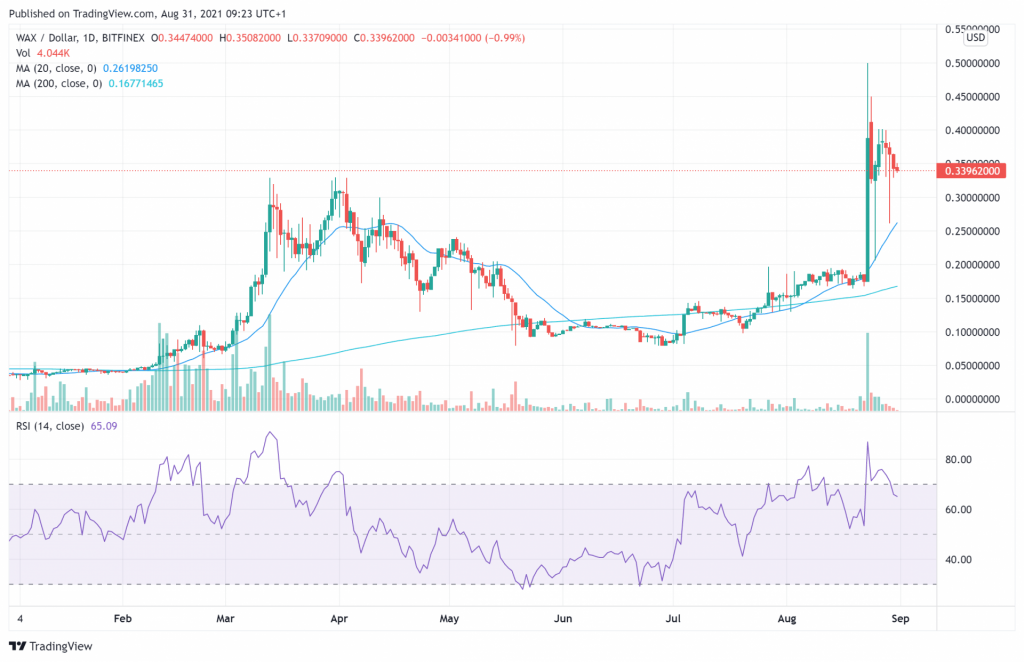 Rounding out our list of the best NFT coins is Worldwide Asset eXchange (WAX) – a purpose-built protocol and blockchain that aims to improve the ease and speed of making e-commerce transactions. The WAX blockchain contains a suite of tools where decentralized applications (dApps), marketplaces, and NFTs are built.
The WAX blockchain is also backward-compatible with EOS. So, dApps built on the EOPS blockchain can be integrated seamlessly into WAX.
WAX's native token, WAXP, is available on several major exchanges – including KuCoin, Bitfinex, and Binance. The asset has also seen some major gains, thanks in part to recent surges in the entire market. Investors are more likely to buy NFTs and other digital items now, and platforms like WAX are seeing gains.
It is also worth noting that WAX has signed on some big names recently. These include Topps, Atari, actor Wiliam Shatner, and came maker CAPCOM. It has also worked on campaigns for Street Fighter V Series and a special edition of Bratz collectibles. All of these have boosted its profile – and that of WAXP.
WAXP currently trades at $0.33, which is 1 percent down in the last 24 hours. The asset had set a new all-time high of $0.49 last week, and it is on pace to test those highs once more.
WAXP has a 20-day MA of $0.26 and a 200-day MA of $0.17. The asset's RSI also stands at 65.34, showing that it is underbought. This is definitely one asset to keep in mind.
Your capital is at risk