The crypto space has grown over the years, and it has now become a major hub for all sectors. Upcoming blockchains are looking for unique niches that they can focus on to boost adoption. One of the blockchains that sought uniqueness was Audius. Its native token, AUDIO, has benefited from this adoption, and its value has increased this month because of this.
AUDIO is trading at $2.96 at the time of writing after a 17.6% gain in 24 hours.
AUDIO Price Analysis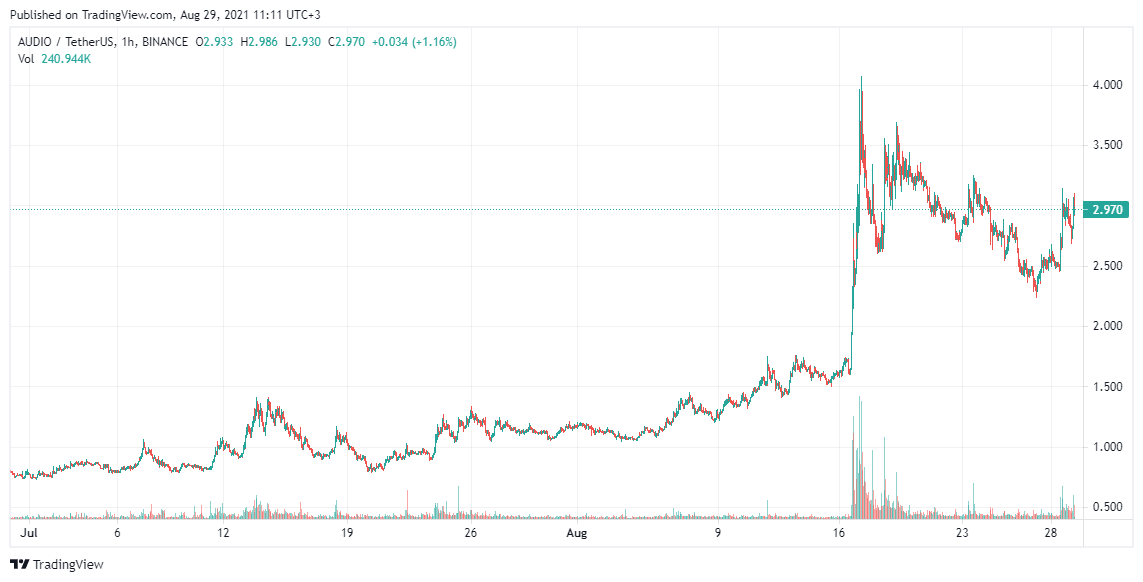 The AUDIO token has grown in value over the past month. However, the main uptrend happened on August 16, where the coin grew by over 100%. However, AUDIO has failed to maintain these high levels, and slight corrections have happened. Nevertheless, it is still showing strong bullish signals.
If there is a continued uptrend in AUDIO's prices, the next resistance that the altcoin will test is $3.00. During intraday sessions in the past 24 hours, AUDIO reached this level, but bulls were not strong enough to hold it there, hence the slight retreat. However, if we see buyers accumulate their gains, AUDO could retest this level and go higher.
On the other hand, AUDIO's prices could also drop. In this case, the lower support of $2.94 will be retested. This level could trigger a bullish rally if market support strengthens. If there is a dip below $2.50, it could trigger selloffs from anxious traders, causing further slumps in value.
AUDIO rose to fame after integrating on TikTok, a popular social media platform with over a billion users. After the news, AUDIO's value spiked by around 143%, but the jump could not be maintained for long because of volatility across the broader market.
Despite being one of the newest blockchain startups, Audius has gained significant adoption, and the music platform has over 5 million users. This is a positive sign for AUDIO's prices.
Where to Buy AUDIO
To purchase AUDIO, you can create a cryptocurrency exchange account on the following platforms:
eToro is a leading social copy trading exchange. eToro's trading fees and commissions are friendly to traders. The exchange also has user-friendly features like copy trading and a demo account, making crypto trading easy for beginners.
You can also buy AUDIO from FTX. FTX is one of the largest cryptocurrency exchange platforms. It has a high number of users and supports a wide variety of cryptocurrencies and trading pairs. FTX's trading fees are also low.
Looking to buy or trade Crypto now? Invest at eToro!
75% of retail investor accounts lose money when trading CFDs with this provider