The crypto market has entered the weekend with a slight pullback. However, price action shows consolidation, and steep dips or gains are yet to be recorded. Nevertheless, some altcoins have made double-digit gains in the past 24 hours and stand out in the crypto charts. Bitcoin Gold is trading at $71.37at the time of writing after a 12.2% gain in 24 hours.
Bitcoin Gold Price Analysis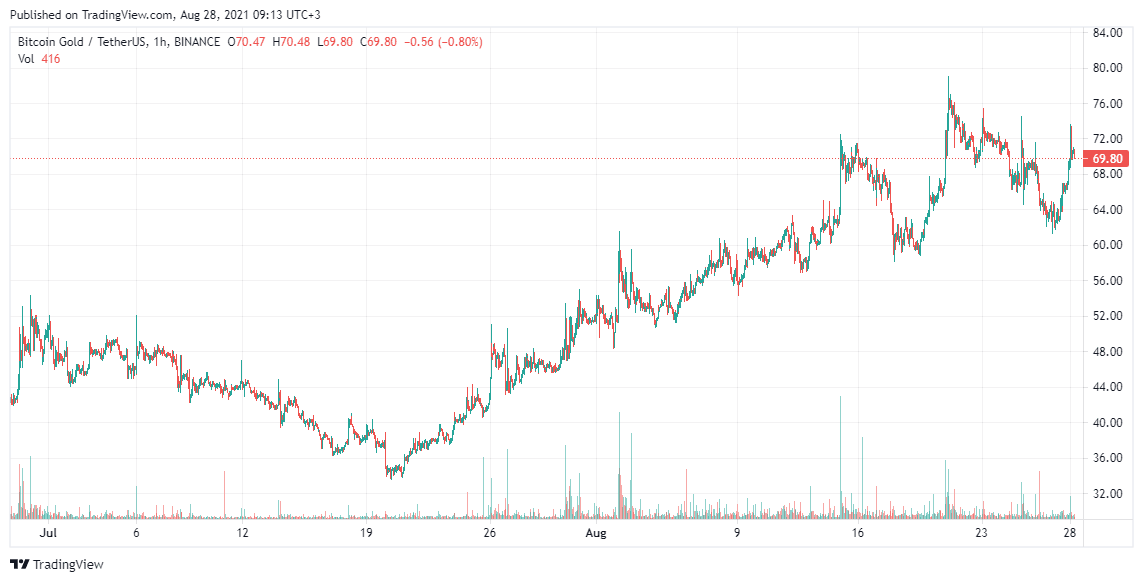 BTG's graph this month has been marked with spiked volatility. However, positive price action has been strong throughout the month, which has led to the creation of new monthly highs.
Currently, BTG is aiming at the next resistance of $72. This is a crucial resistance because it will prep the altcoin for another bull rally towards breaking out of $76. Market support is weakening, but traders are gearing up to purchase, which will account for the positive price action towards the weekend.
On the other hand, support could fail, given that most altcoins are trading in the red zone. This will be a hit for BTG because it will interfere with the current rally past $72. If there is a slump in prices, the lower support of $68 will be retested. Further bears towards $64 could prompt traders to buy during the dip, and prices could increase as a result.
The Bitcoin Gold blockchain was developed out of the main fundamentals of Bitcoin. One of the major differences is that its objective was to boost anonymity in transactions by hiding transactions and wallets. Bitcoin Gold is one of the hard forks of Bitcoin, among others like Bitcoin SV. Nevertheless, none of these networks has managed to surpass BTC in terms of popularity and value, despite their attempts to improve the functionality of the Bitcoin network. However, they have attracted a significant number of traders and followers.
Where to Buy Bitcoin Gold
If you want to buy BTG, you can create a cryptocurrency exchange account on the following platforms:
One of the exchanges where you can buy BTG is eToro. eToro is one of the largest cryptocurrency exchange platforms. It gives support to a wide range of cryptocurrencies and trading pairs. eToro's trading fees and are competitive and reliable.
You can also buy BTG from Binance. Binance is the largest crypto exchange in terms of trading volumes. These volumes also give the exchange high liquidity that allows trades to be processed faster. Binance also supports a large number of cryptocurrencies and trading pairs.
Looking to buy or trade Crypto now? Invest at eToro!
75% of retail investor accounts lose money when trading CFDs with this provider