The two largest and most popular cryptocurrencies, bitcoin and ethereum, have been trading in the green zone in the past 24 hours. The trend created by the two has pulled back some altcoins that are now trading in the red zone. However, some have shown resilience, and instead of retreating to lower levels, they have made significant gains. Enjin Coin is trading at $2.20 at the time of writing after an 8.1% gain in 24 hours.
Enjin coin Price Analysis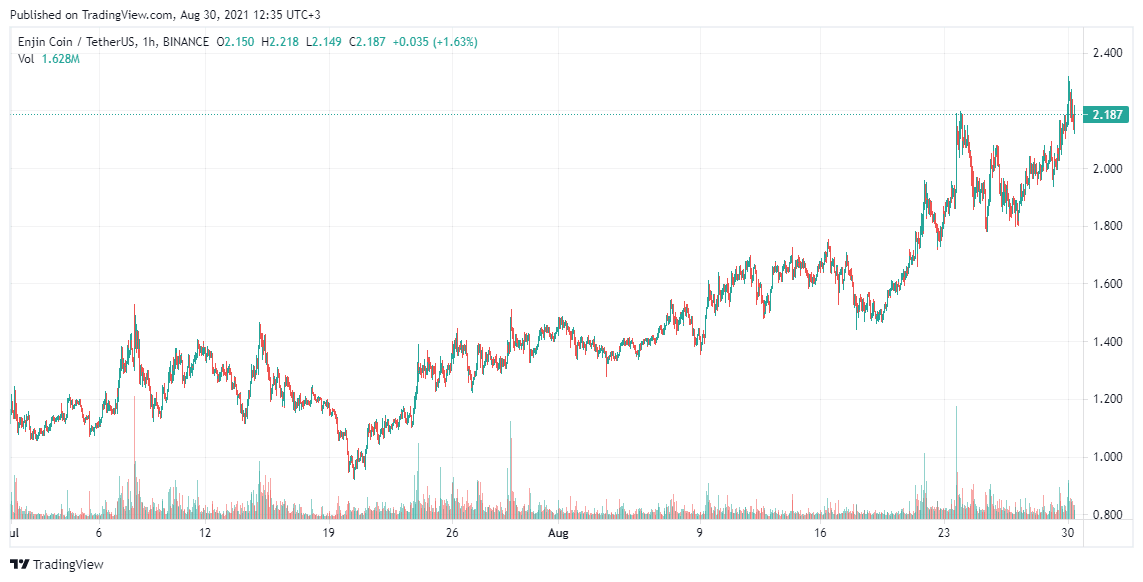 ENJ's volatility has increased in the past few days, and because of this, buying pressure has increased despite the weakening market support. Enjin coin holders are among the few traders making gains, as bitcoin and major altcoins make significant pullbacks.
If ENJ's uptrend continues, the next resistance that the altcoin will break past is $2.30. This is the highest level that ENJ managed to clinch in the past 24 hours. If gains continue once $2.30 is realized, the next target for ENJ will be $2.34. Since no major slump has been recorded in the past 24 hours, the uptrend is a more likely alternative.
On the other hand, we could also see ENJ drop to lower levels, especially if market support continues to weaken. If this trend reversal happens, ENJ's lower support of $2.17 will be retested. Immense selling pressure at this point could also lead to prices going lower than $2, erasing the major gains of the past 24 hours.
Enjin coin recently gained a major endorsement, and it will be among the cryptocurrencies that will be used as a means of payment, thus boosting the coin's utility. ENJ has been accepted by Shopping.io, an e-commerce platform that supports a variety of cryptocurrencies. This collaboration will make it easy for ENJ holders to shop on Walmart, Amazon, Etsy and eBay.
The ENJ coin is also gaining recognition from other crypto players. After a listing on eToro this month, the coin has also been listed on Bitstamp. These listings have made ENJ more accessible to traders, and they have been attributed to this month's gains for ENJ.
Where to Buy ENJ
If you want to buy ENJ, you can create a cryptocurrency exchange account on eToro. eToro is a renowned social copy trading platform that allows new traders to learn from market experts. eToro also supports a wide range of cryptocurrencies and trading pairs. Trading fees on the platform are also low.
Looking to buy or trade Enjin (ENJ) now? Invest at eToro!
75% of retail investor accounts lose money when trading CFDs with this provider