Solana has been one of the best gainers in the crypto market over the past month. Solana's gains have propelled its market values to more than 27 billion, and it currently ranks eighth in the cryptocurrency charts. Solana's gains have enabled it to outrank other cryptocurrencies such as polkadot and USD Coin.
Solana is trading at $94.20 at the time of writing after an 8.4% gain in 24 hours.
Solana Price Analysis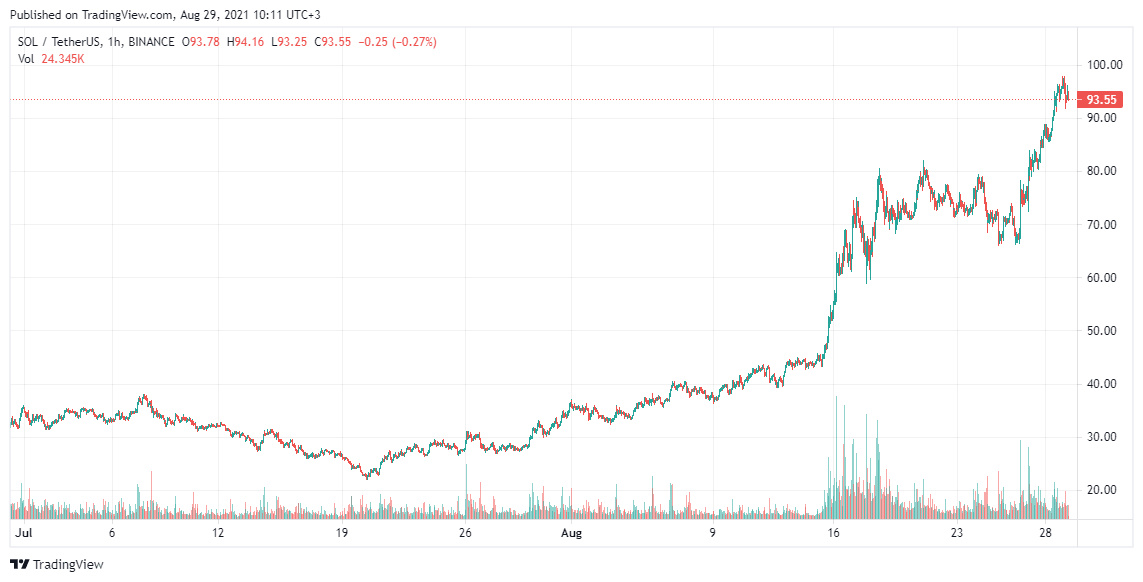 Solana is still creating new all-time highs because of increased buyer support and high network activity. Solana has been on a significant upsurge in the past 24 hours and reached an all-time high of $97.66. However, it has failed to hold this new high and instead slumped to lower levels.
Solana's monthly gains stand at almost 200%. There is a high chance that the upsurge will continue, in which case we will see Solana retest $98. A rally towards $100 is also possible, given that trading volumes show that traders are still rallying up support for the coin.
If SOL breaks past $100, it will be gearing up for a massive bull rally. Nevertheless, going by SOL's price movements this month, the altcoin has been through ups and downs, a trend that could happen again. If Solana drops at the current levels, we could see it retest the lower support of $88. However, going to these levels will only trigger buyers to accumulate more; hence SOL's rally towards $100 is inevitable.
Solana is gearing up for a massive DeFi explosion on its ecosystem. The network partnered with Chainlink to offer price feeds that can be used in DeFi apps. This will allow developers to save time and boost cost-effectiveness by ensuring such services are not created from scratch. This is aimed at attracting more DeFi developers to the platform.
Where to Buy Solana
If you want to buy Solana, you can create a cryptocurrency exchange account on the following platforms:
eToro is among the leading cryptocurrency exchange platforms. eToro is renowned for offering copy trading, which allows new traders to copy the strategies expert traders are using. eToro also offers a wide portfolio of cryptocurrencies and trading pairs.
You can also buy Solana from Coinbase. Coinbase is among the leading cryptocurrency exchange platforms. Coinbase supports a wide variety of cryptocurrencies and trading pairs. The exchange is also supportive of new traders by giving them access to educational guides.
Looking to buy or trade Crypto now? Invest at eToro!
75% of retail investor accounts lose money when trading CFDs with this provider