Looking for the best DeFi coins to buy for long-term gains? This article explores the heavy-hitters for the last week and their potential for explosive growth going forward.
1. ThorChain (RUNE)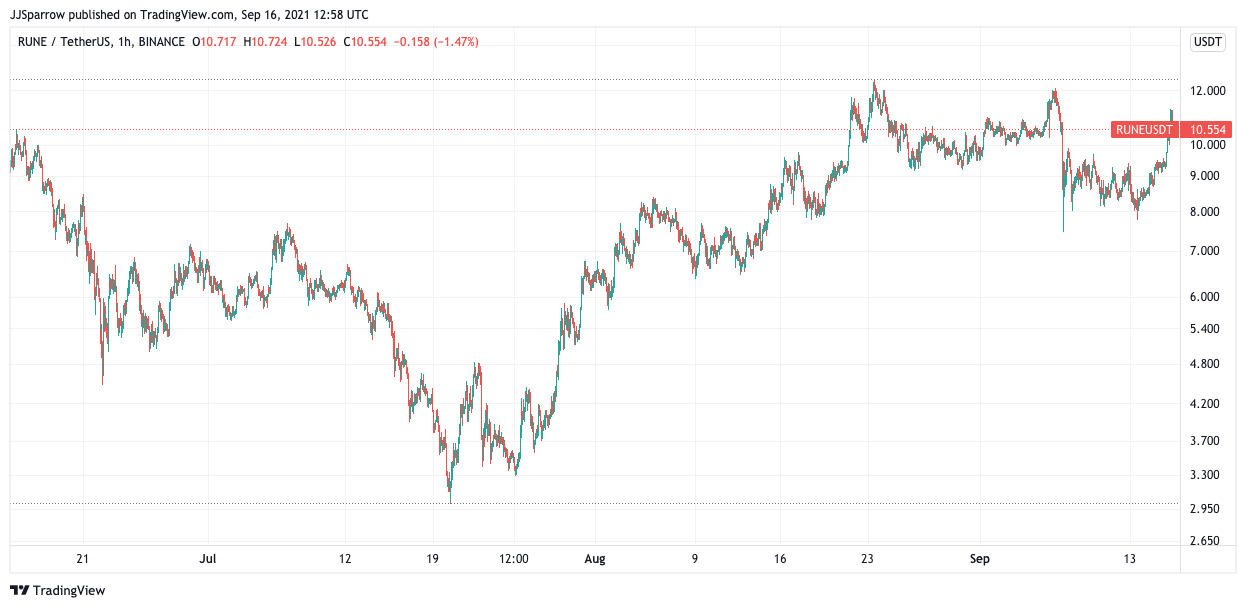 ThorChain (RUNE) facilitates a permissionless exchange of one asset for another without the use of order books. RUNE is the native utility token of decentralized liquidity protocol ThorChain. RUNE is a top-performing virtual asset. ThorChain enables cross-swapping of crypto assets across several networks while still allowing digital asset owners to retain full custody of their crypto funds at all times.
RUNE powers the ThorChain ecosystem, and the digital asset has been on a tear since the year began. The cryptocurrency rose from a low $1.12 to an all-time high (ATH) of $20.31 on May 18. ThorChain has remained resilient despite the market downturn, trading above the $5 mark during the bearish months. At press time, RUNE is making a remarkable recovery and trades at $11.10. The coin has been up 18.43% in the last 24 hours. The virtual currency's 18.83% jump over the previous seven days makes it one of the best DeFi coins to buy for long-term returns.
2. SushiSwap (SUSHI)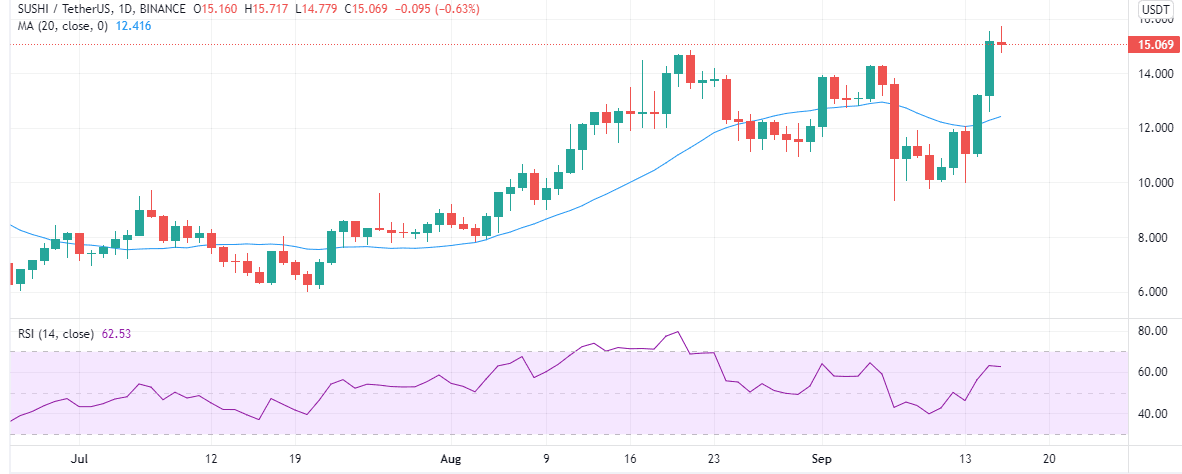 SushiSwap was founded as a fork of the popular automated market maker (AMM) UniSwap in 2020. Since launching, the forked network has become one of the top decentralized exchanges (DEXs) DeFi traders use regularly. SushiSwap is more flexible and open-ended than UniSwap. The network's flexibility has pushed SushiSwap into growing into one of the third most valuable AMM platforms.
Its SUSHI token facilitates liquidity pools, yield farming, and staking. Boasting over $3.77 billion in market cap, SushiSwap is one of the top DeFi coins to buy for the long term. At press time, SUSHI is bullish and trading at $15.069, up 16.05% in the last 24 hours. A seven-day increase of 30.69% makes the digital asset a top DeFi coins to buy in 2021.
3. Synthetix (SNX)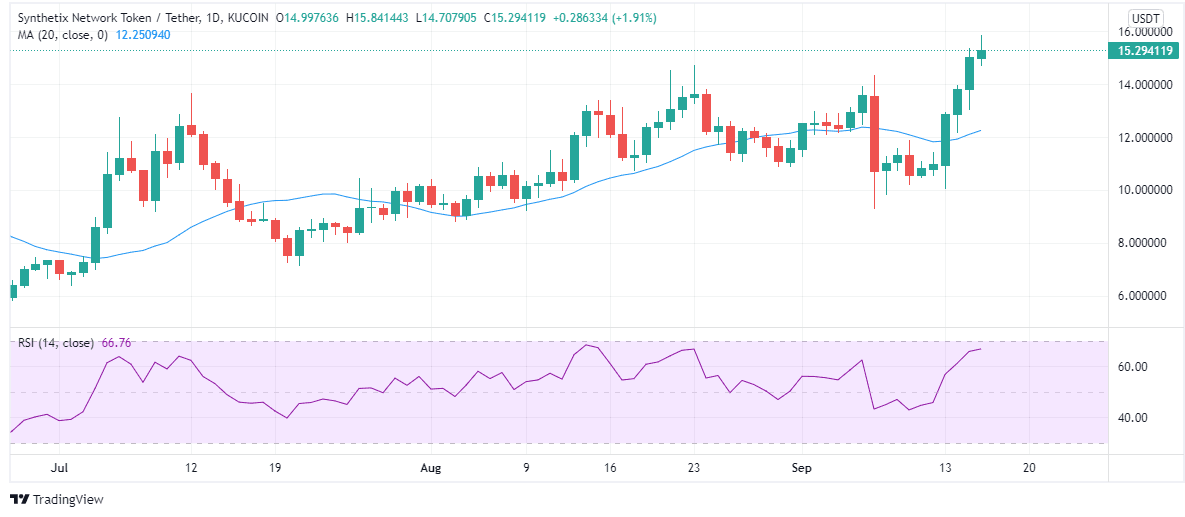 Based on the Ethereum blockchain, Synthetix is another DeFi coins to buy for long-term returns. The blockchain platform is a DeFi protocol that enables the swap of crypto and non-crypto assets. It allows users to access highly liquid synthetic assets called synths. Another unique attribute is that the Synthetix network tracks and monitors user returns without demanding that they hold the asset.
Serving as a DEX for synthetized assets or synths, Synthetix enables autonomous trade and exchange of synths. Users can also stake their SNX tokens in return for more SNX.
Tracking the price movement of Bitcoin, SNX has shown remarkable growth this year, surging to a record $27.07. However, the market crash has seen its value dip and SNX currently trades at $15.294. It is up 18.29% on the daily chart and 36.67% in the last week.
4. Avalanche (AVAX)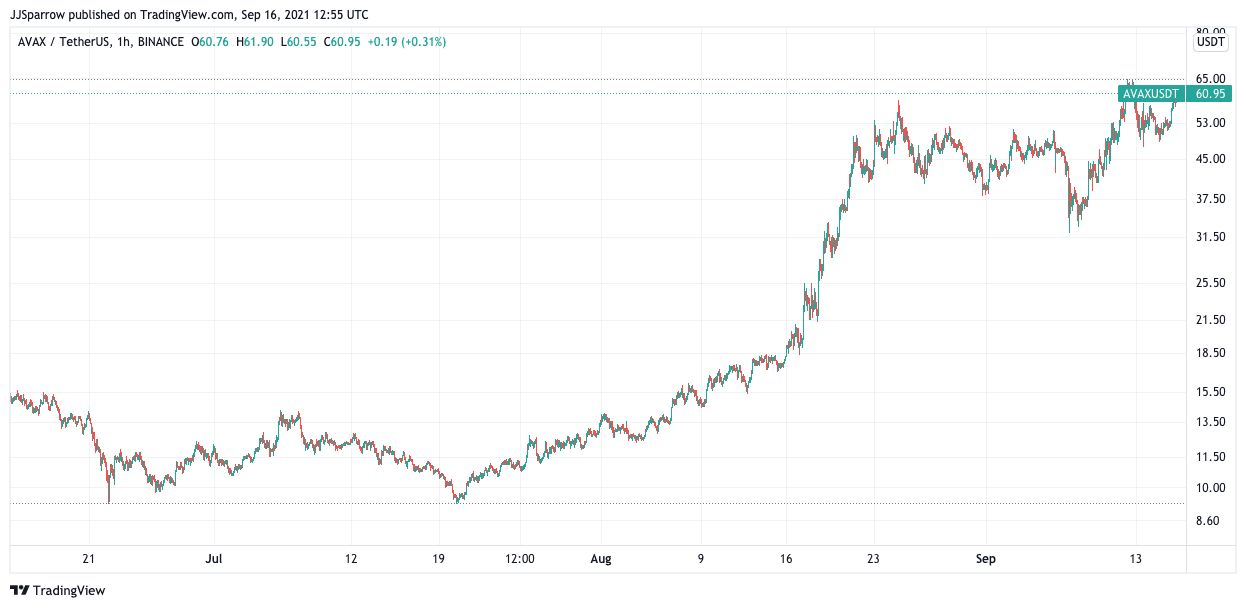 AVAX is the native utility token of the popular 'Ethereum killer' Avalanche blockchain and a top DeFi coins to buy. Primarily used for network fees and staking, AVAX is one of the better performing digital assets in a market largely controlled by the bears. The Avalanche blockchain is out to make DeFi mainstream and is an environmentally friendly blockchain platform. It is fast, low cost, and scalable.
AVAX is showing bullish potential and currently trades at $60.41, up 18.50% on the daily chart. The token has surged more than 44% in the past week.
5. UniSwap (UNI)
One of the largest AMM and DEX platforms by trading volume, UniSwap is one of the best DeFi coins to buy for future-proof profits. UniSwap is hosted on the Ethereum network and enables DeFi traders to easily create markets for any cryptocurrency pairs.
Users can also complete token swaps on UniSwap for relatively low fees. UniSwap has been a top DeFi protocol for several months and is the most valuable DeFi coins by market cap. Its UNI token has shown resilience so far this year and currently trades at $26.92, up 5.80% in the last 24 hours. Seven-day growth stands at 13.47%.
6. 1Inch (1INCH)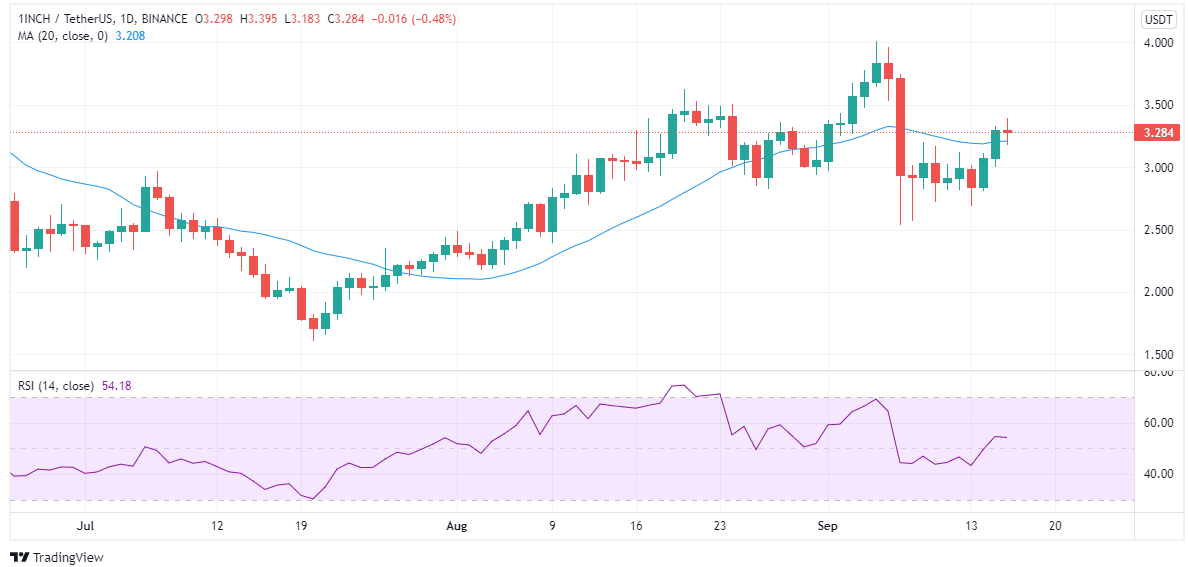 1Inch serves as a DEX aggregator and connects several DEX platforms into one network, enabling DeFi traders to get the most competitive asset prices. It sources liquidity from several DEXes, cutting out the need to manually look up prices on each blockchain platform.
Its native token 1INCH has been on a tear in the last 24 hours, rising 5.23% and trading at $3.284. In the past week, the ERC-20 token has surged 6.15%.
7. Orion Protocol (ORN)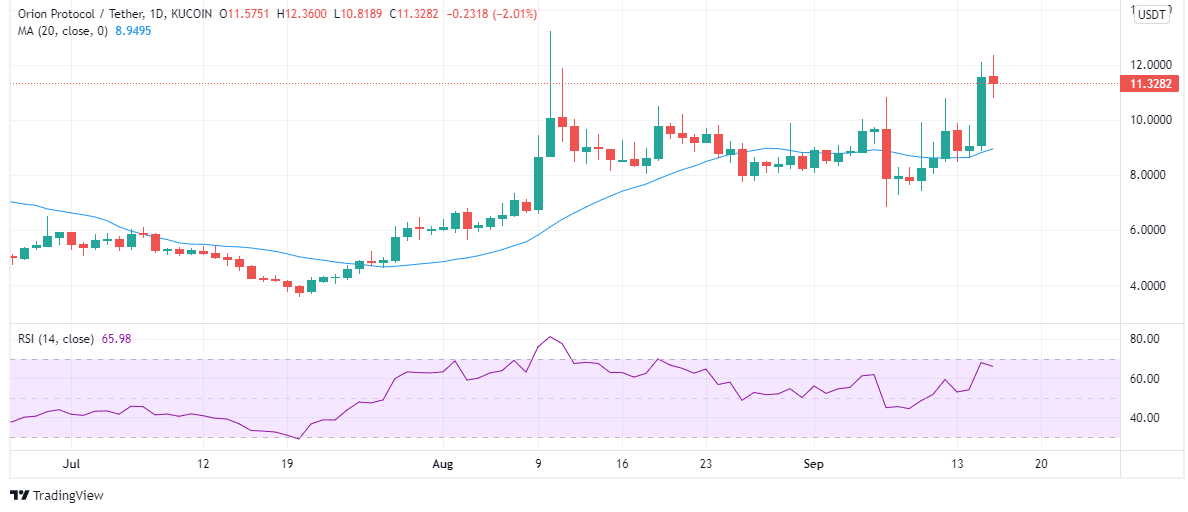 Much like 1Inch, Orion Protocol aims to aggregate liquidity from several exchanges. The decentralized platform provides a singular, non-custodial gateway into the financial landscape of the crypto market. Orion combines crypto exchanges' order books into an easy-to-use terminal. It seeks to help investors earn the best return on investments while minimizing the risks involved in trading cryptocurrencies.
The ORN token has been making a steady increase in the last 24 hours and is up 12.47%. ORN trades at $11.32, with its seven-day increase standing at 39.41%.
8. Ren (REN)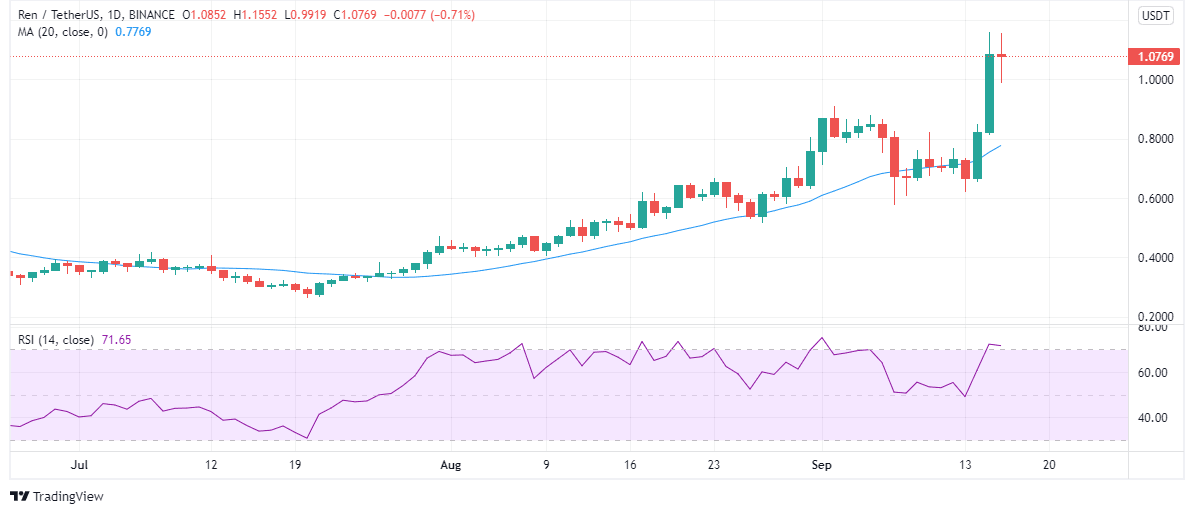 REN is the native utility token of the Ren network. Created in 2018 to facilitate interoperability, the Ren blockchain enables liquidity transfer between several blockchain platforms. It serves as a plug-in blockchain and allows the use of liquidity from crypto assets like Bitcoin and Zcash to DeFi projects.
REN has become a mainstay in the DeFi space with a $1 billion worth of market value. The digital asset has rallied significantly in the last 24 hours and trades at $1.0729. It is up 19.62% on the daily chart and 53.19% on the weekly chart.
9. UMA (UMA)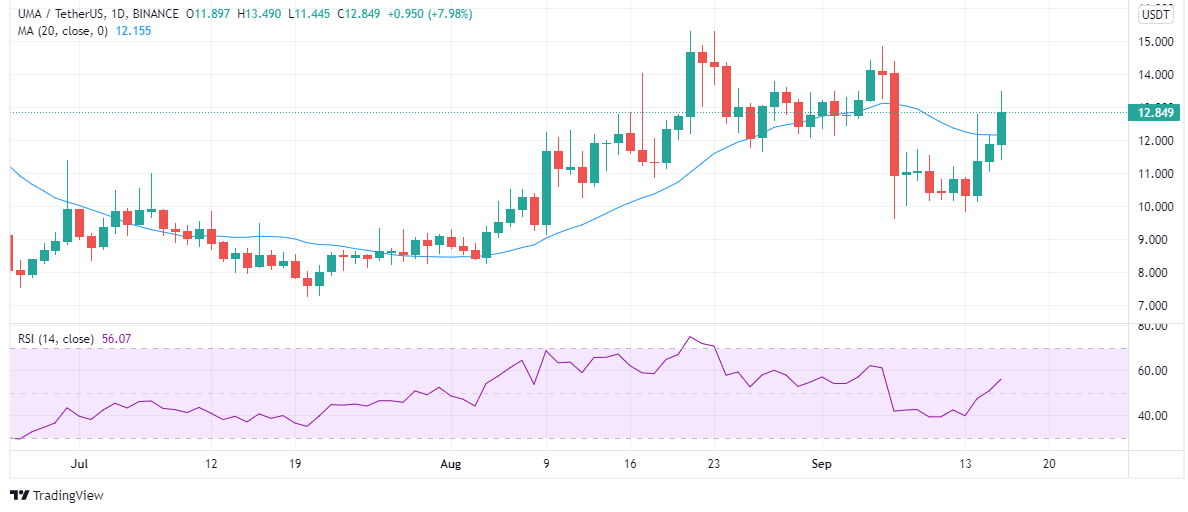 Meaning Universal Market Access, UMA is a blockchain protocol that enables the creation of synthetic assets on the Ethereum network. This way, users can tokenize any real-world financial derivatives and enable others to trade them as synthetics.
UMA also enables the development of self-fulfilling derivative contracts focused on digital assets. These smart contracts are propelled by economic incentives and are self-enforcing.
The UMA has surged 14.52% in the last 24 hours and trades at $12.849. Its seven-day rally of 12.67% shows that it is one of the best DeFi coins to buy.
10. cVault.finance (CORE)
CORE is a deflationary cryptocurrency that enables the execution of profit-generating strategies autonomously in a decentralized manner. Allowing permissionless token-generating strategies, CORE addresses the issues surrounding the centralized fund's incentivization approach.
Price-wise, CORE has been on an upsurge and currently trades at $16,745.94, up 26.3% on the daily chart. Its seven-day increase of 53.4% makes it one of the best DeFi coins to buy for long-term returns.