The cryptocurrency market has taken something of a battering over the past day. The Evergrande and Chinese debt crisis has sparked fears of widespread market contagion. Investors have responded by developing a growing aversion to risk assets, including cryptocurrencies. As a result, the cryptocurrency market's total value has plunged by just over 10% in the space of 24 hours. But while this selloff hasn't spared a single major coin, it nonetheless presents the opportunity to buy cryptocurrencies at a discount. Accordingly, we've put together a list of the 5 best cryptocurrency to buy on low prices. This mostly includes low-cost coins, although it does include a couple that, while more expensive than others, are going for cut-down prices.
5 Best Cryptocurrency To Buy On Low Prices
1. Bitcoin (BTC)
BTC obviously isn't a particularly cheap coin, at least compared to others. However, yesterday's Evergrande-inspired selloff has forced significant discounts on it. It fell by roughly 12% in the 24 hours following from 00:00 yesterday, dropping to a one-month low of $41,815. It has since recovered to $43,234, representing a 4% drop across the past week and an 18% correction in the last fortnight.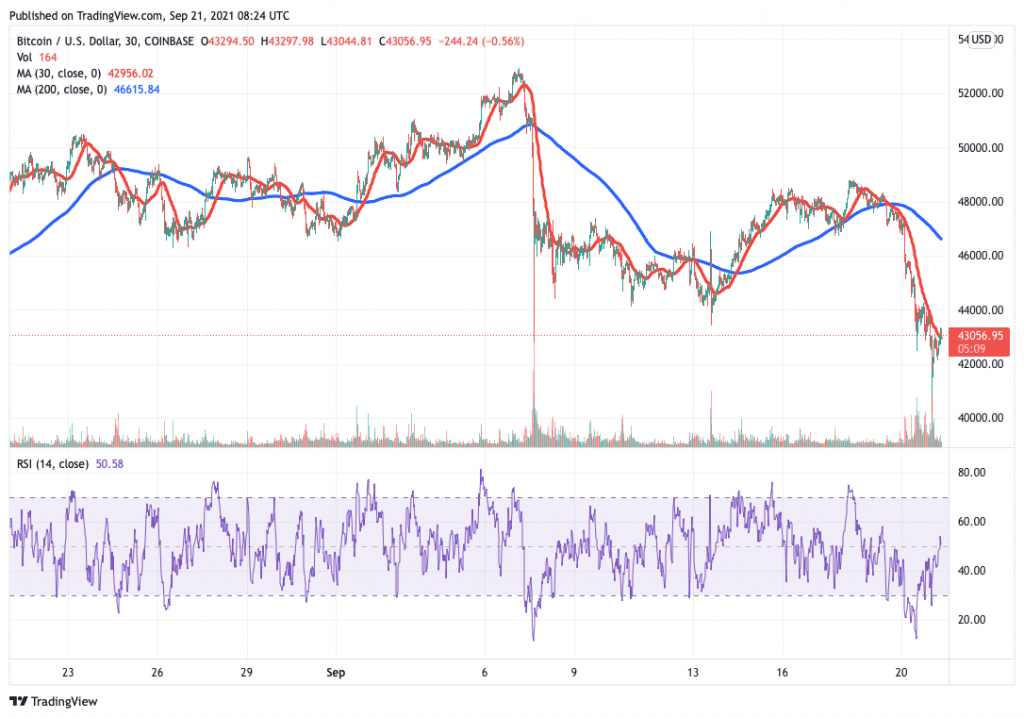 BTC's 30-day moving average has dipped well below its 200-day average, indicating a major downtrend. That said, its relative strength index (RSI) has recovered to around 50, suggesting that its momentum is beginning to recover after yesterday's fire sale.
$43,000 may be expensive for most people, but it's arguable that BTC is now cheap compared to its 'real' value. For example, the stock-to-flow model predicts an end-of-year price of around $100,000.
Although I focus on averages (green lines), and have no model for when or how high the top is, I expect the top to be in the yellow area:
– relatively later than 2013 & 2017 tops ("lengthening cycle"?)
– above 2017 top (no "diminishing returns"?)
So this cycle will be different. pic.twitter.com/2H3hzOg17n

— PlanB (@100trillionUSD) September 14, 2021
More fundamentally, bitcoin has recently witnessed its adoption by El Salvador as legal tender. While a significant portion locals disapprove of the move, it may ignite a race among other similarly positioned nations to do the same.
Additionally, plenty of experts believe BTC should be priced higher than it currently is. Back in July, a panel of 42 cryptocurrency executives and researchers produced an average end-of-year price forecast of $66,284. This was based on two arguments: 1) that bitcoin is undervalued; and 2) that BTC is increasingly assuming the role of 'digital gold', particularly as inflation remains relatively high, in the US, the UK and the Eurozone.
This is why, despite being more expensive than every other coin, BTC is one of the 5 best cryptocurrency to buy on low prices right now. And when the market recovers, it will almost certainly be leading the recovery.
2. Ethereum (ETH)
Yesterday was just as difficult for ETH as it was for BTC. The second-biggest coin by market cap fell by around 12% at one point, plunging to a low of $2,895. Like BTC, it has since recovered slightly, rallying to its current price of $3,000. This is a 6.9% dip over a week, and a 22% fall over the past 14 days.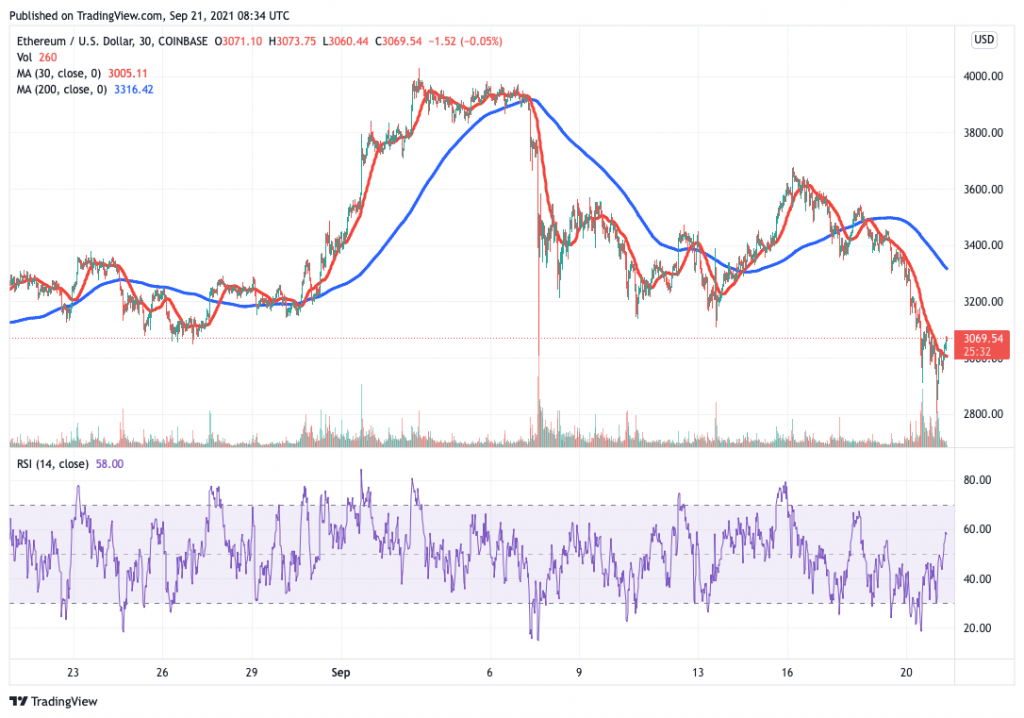 Again, while $3,000 isn't an insignificant sum of money, it's arguably pretty cheap for ETH. That's because there a plenty of reasons to be bullish about the cryptocurrency's future.
Indeed, ETH has been riding high ever since the successful completion of the London hard fork, on August 5. This upgrade means that Ethereum now burns a portion of transaction fees. In fact, community member Anthony Sassano has posted that over 300,000 ETH has been burned since the upgrade.
Over 300,000 ETH has now been burned

Gm

— sassal.eth (@sassal0x) September 16, 2021
ETH's daily issuance has now dropped below bitcoin's, with this downward trend being accelerated by rising DeFi and NFT volumes. As a result, Ethereum has become deflationary, with more ETH being burned than issued.
Update: First full day of $ETH being deflationary

More ETH was burned in the past 24 hours than issued pic.twitter.com/mhY7NA69kd

— Lucas Outumuro (@LucasOutumuro) September 4, 2021
3. Cardano (ADA)
ADA is another casualty of yesterday's selling spree, although it hasn't taken as much of a beating as others. At $2.17, it has fallen by just over 5% since the start (i.e. 00:00 UTC) of yesterday. This represents an 11% decline over the past week and a 24% drop over the last 14 days.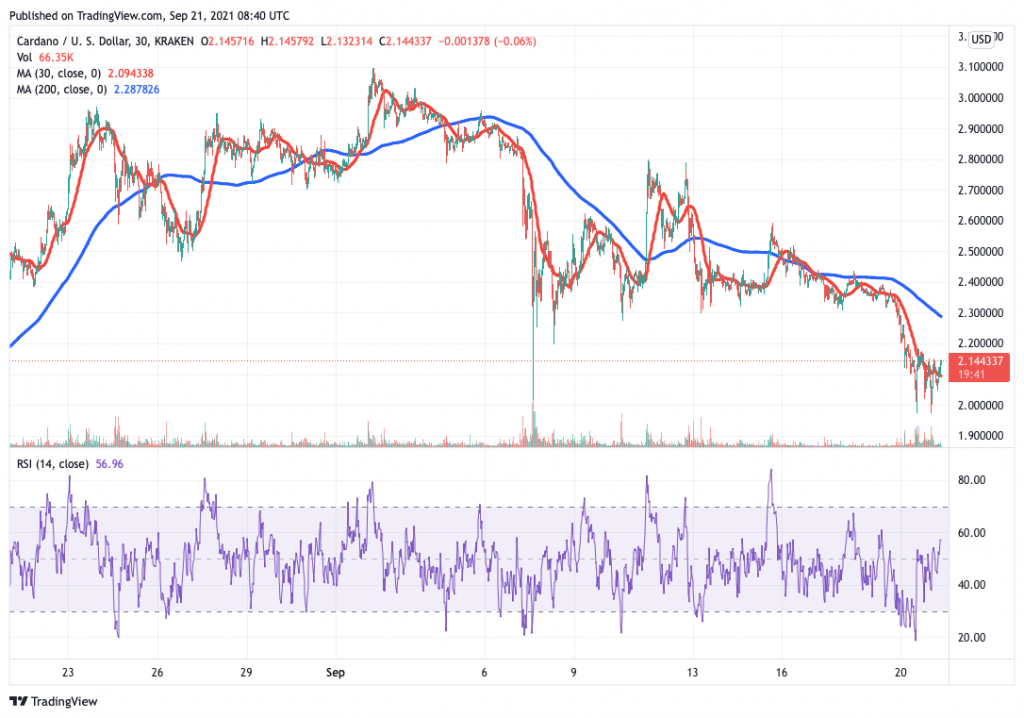 The reason why ADA is one of the 5 best cryptocurrency to buy on low prices is fairly simple. It still hasn't capitalised on its rollout of smart contracts on September 12, something which is likely to increase demand for ADA going forwards.
The size of Cardano's expanding ecosystem indicates it will experience rising demand. For instance, a recent update found that 100 projects had joined the ecosystem in the three months leading to August 31.
Aug 2021 VS May 2021

In just 3 months, Cardano has integrated 100 more projects spanning from DeFi to NFT.

Next target for $ADA should be $10

Retweet if u believe Cardano ecosystem will bomb like Big Bang explosion! #Cardano #ADA $ADA pic.twitter.com/zMLPF1LfVS

— Cardians (@Cardians_) August 31, 2021
This growth suggests that ADA could very well enjoy a surge as the market recovers.
4. Solana (SOL)
SOL is currently priced at $143. This is a 1.2% increase compared to 24 hours ago, but a 15% drop compared to last week. SOL is also down by 12% in the past fortnight.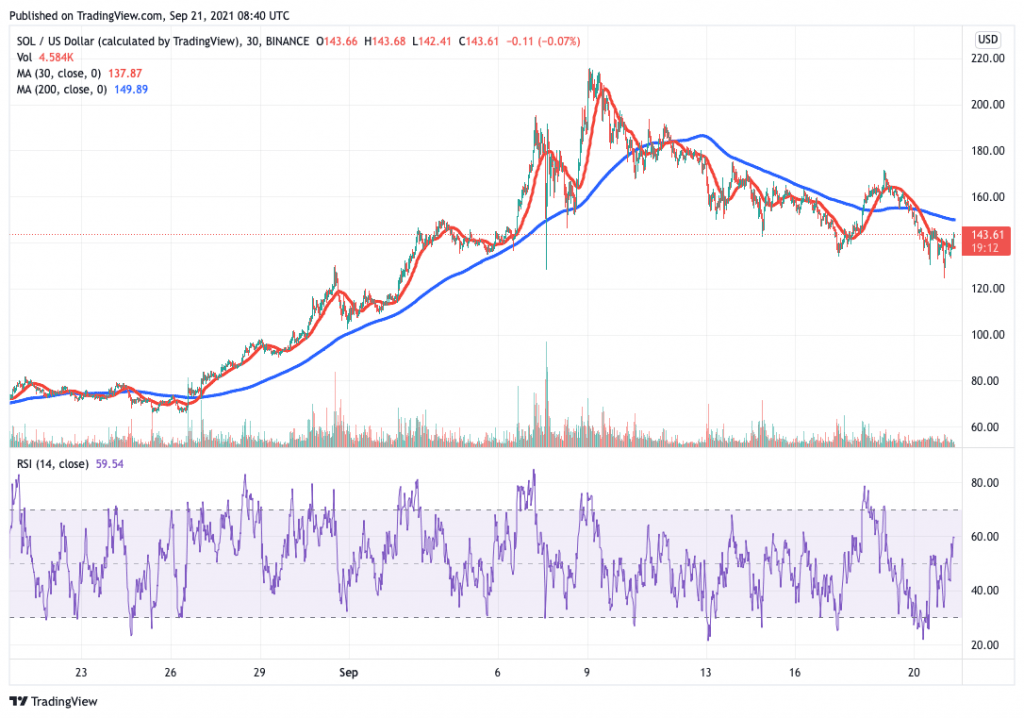 That said, SOL remains up by just over 90% in the past month. Its recent momentum had been undermined by a network failure, caused by an excessive load of transactions. This resulted in a freeze in the production of new blocks, and was rectified only by devs restarting the network.
2/ This forking led to excessive memory consumption, causing some nodes to go offline. Engineers across the ecosystem attempted to stabilize the network, but were unsuccessful.

— Solana Status (@SolanaStatus) September 14, 2021
However, Solana's mainnet is still in beta, while even Ethereum is no stranger — even now — to technical hitches. And given the excitement surrounding the platform, it's likely to rally strongly once developers iron out its creases. If nothing else, its 2% rise over the past hour indicates that it may still have more momentum behind than other low-priced coins.
5. Avalanche (AVAX)
AVAX has recovered strongly in the past hour, rising by 2.5%. Its price currently stands at $62.53, representing a 2.6% drop in the last 24 hours. However, AVAX has been doing well recently, rising by 17% in the past week and by 42% in the past month.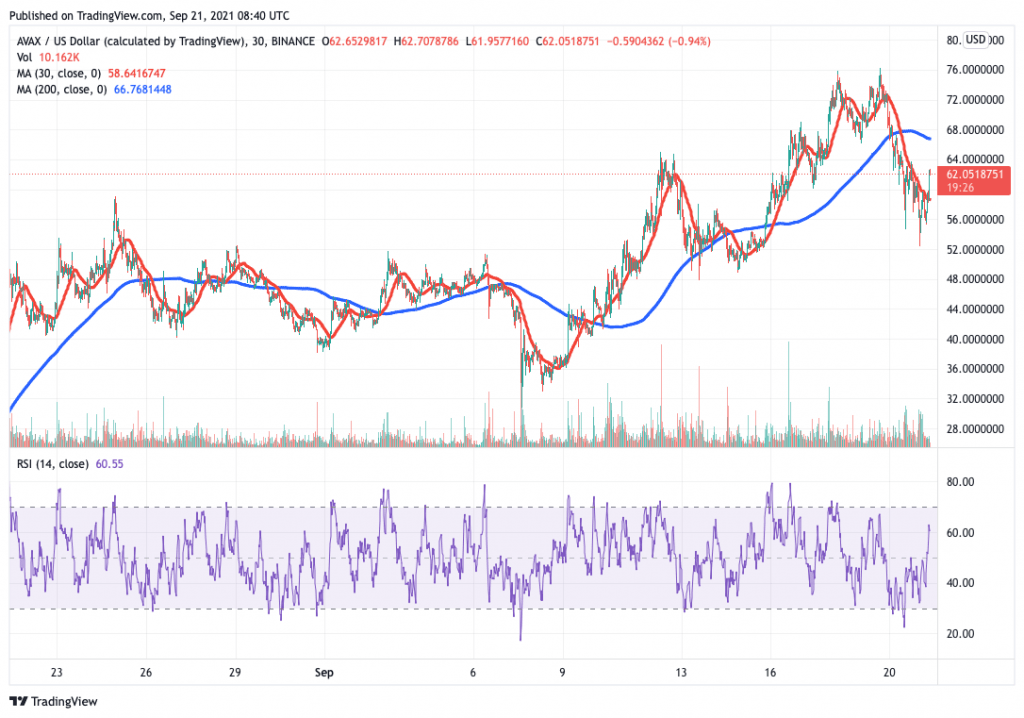 You may notice that AVAX's chart looks a little different from the chart of pretty much every other major coin. It had been rallying strongly in the couple of weeks before yesterday. At the same time, its RSI has recovered more strongly than that of other major coins.
Its impressive recent performance is due to a combination of factors. Last week Avalanche announced a $230 million investment led by Polychain and Three Arrows Capital, indicating strong institutional belief in the project's future.
BIG News @Polychaincap and Three Arrows Capital led a $230M investment in the #Avalanche ecosystem to support growth of the platform.https://t.co/T141NFEoIG

— Avalanche (@avalancheavax) September 16, 2021
In addition, Avalanche's TVL has risen to $2.6 billion, having stood at under $1 billion as recently as the beginning of August.
1/ Couple of quick stats on the Avax ecosystem:

– TVL has just peaked ATH at $2.6b since the parabolic run-up when Avalanche Rush was announced
– TVL has increased ~10x since the announcement and continues to climb. pic.twitter.com/WMyZ2h4Csl

— Wangarian (@0xWangarian) September 16, 2021
If that weren't enough, Avalanche burns its transaction fees. Combined with a fixed maximum supply of 720 million AVAX, this is likely to make AVAX deflationary in the long run. This is why it's one of the 5 best cryptocurrency to buy on low prices right now.
67% of retail investor accounts lose money when trading CFDs with this provider
Read more: