The cryptocurrency market has slid a little further down following yesterday's selloff. Its total value now stands at $1.9 trillion, representing a 13.6% fall compared to one week ago. This drop has impacted pretty much the entire market, with the likes of bitcoin (BTC) and ethereum (BTC) dropping by comparable percentages. However, a few smaller and newer altcoins have bucked today's trend. While their gains haven't been massive, they nonetheless appear to have some more momentum than the rest of the market. For this reason, we've picked the 5 best new cryptocurrency to buy now. This list mostly includes coins that have been active (or prominent) for only a year or so.
5 Best New Cryptocurrency To Buy Now
1. Avalanche (AVAX)
AVAX is the only cryptocurrency in the top 30 (by market cap) to have risen significantly over the past 24 hours. At $64.53, it has jumped by 1.4% in the last hour and by 4% in the past day. It has also risen by 25% in the past fortnight and by 48% in the last 30 days. This makes it one of the best-performing coins this month.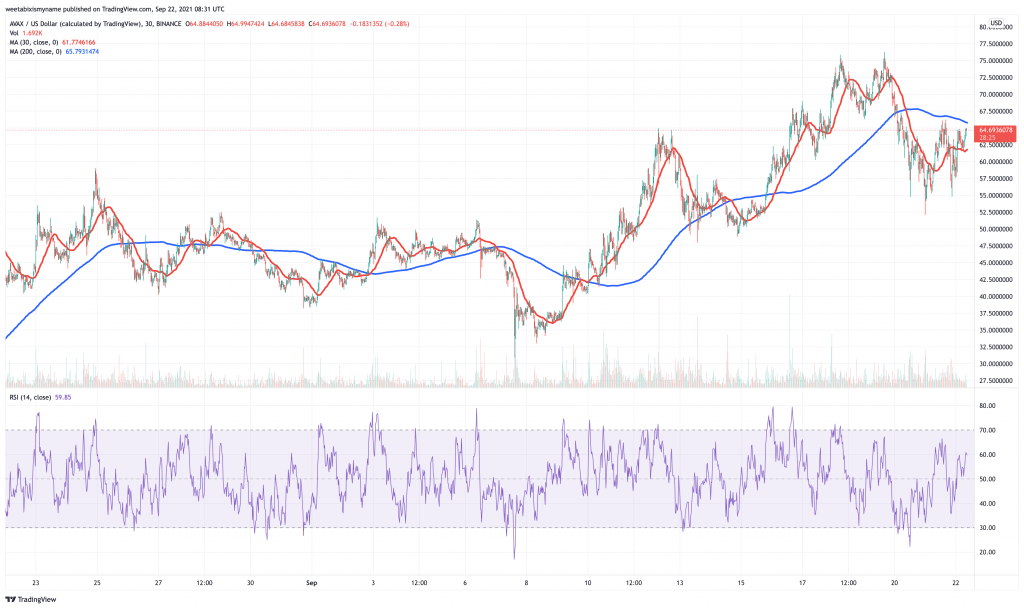 AVAX's 30-day moving average is beginning to catch up once again with its 200-day average. This indicates a more positive shift in momentum, something we don't see with most big coins at the moment. Likewise, its relative strength index (RSI) has risen more strongly since yesterday's downturn than other cryptocurrencies, also indicating greater-than-average momentum.
The reason why AVAX is rising during an apparent correction is that Avalanche has had some very good news recently. Last week, it announced a $230 million investment led by Polychain and Three Arrows Capital. Not only will this investment be used to support the platform's growth, but indicates that big investors are already confident in its current growth.
BIG News @Polychaincap and Three Arrows Capital led a $230M investment in the #Avalanche ecosystem to support growth of the platform.https://t.co/T141NFEoIG

— Avalanche (@avalancheavax) September 16, 2021
Polychain and Three Arrows must have been looking at Avalanche's growth data when making their contributions. That's because Avalanche's TVL has risen to $2.6 billion in recent weeks, having resided under $1 billion as recently as early August.
1/ Couple of quick stats on the Avax ecosystem:

– TVL has just peaked ATH at $2.6b since the parabolic run-up when Avalanche Rush was announced
– TVL has increased ~10x since the announcement and continues to climb. pic.twitter.com/WMyZ2h4Csl

— Wangarian (@0xWangarian) September 16, 2021
Looking at the longer term picture, it's worth noting that Avalanche burns transaction fees, paid in AVAX. And because AVAX has a fixed maximum supply of 720 million, this is likely to make the coin deflationary. This is why it's one of the 5 best new cryptocurrency to buy right now.
2. Elrond (EGLD)
EGLD is one of a small number of top-100 coins to have risen noticeably in the last day. It has jumped by 4% in the past 24 hours, to $217. This represents a 23% fall in the last week, although it's also a 48% rise in the past month. Impressively, the coin has surged by over 2,000% in a year.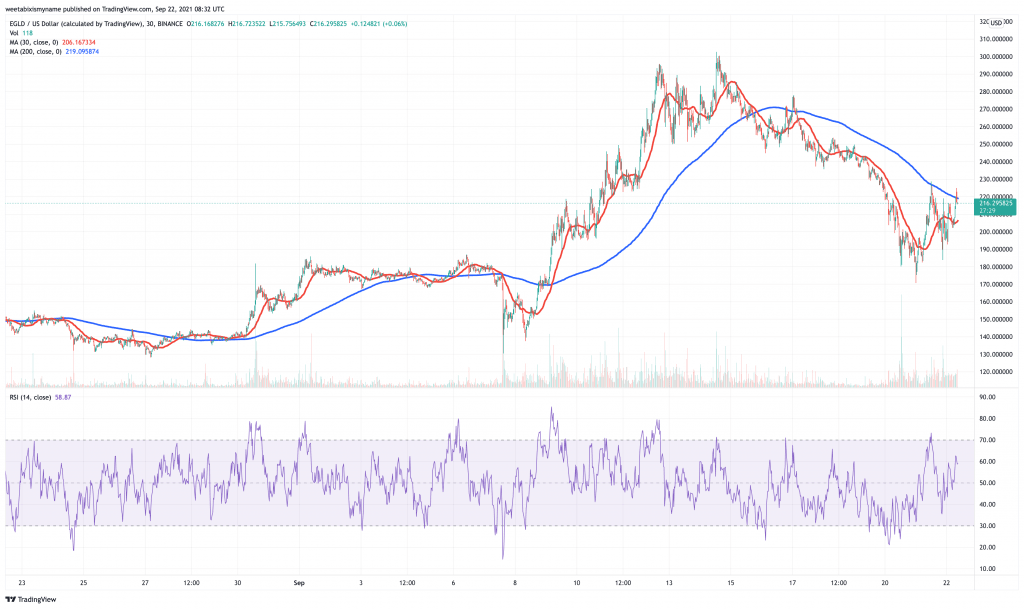 EGLD is also another coin with a 30-day average on the cusp of breaking its 200-day average, indicating a new up-cycle. Its RSI is hovering at the 60 market, indicating strong momentum without tipping it into overbought territory.
For those unfamiliar with Elrond, it's another new platform aiming to offer an internet-scale blockchain. At a maximum capacity of around 15,000 TPS, it will enable internet applications and services, as well as more crypto-centric apps related to DeFi and NFTs. Within the Elron network, EGLD is used for network fees, staking, and rewarding validators. The maximum supply of EGLD can never pass 31,415,926, making it potentially deflationary.
Elrond currently boasts having completed 8.2 million transactions to date (since launching its mainnet in July 2020). It has also racked up 778,000 accounts.
3/
Milestones achieved:
778k accounts • 8,2M transactions • 12.06M staked

Maiar stake statistics:
1.72 Million $EGLD staked
60,000+ people

— Elrond (@ElrondNetwork) September 20, 2021
3. Solana (SOL)
There's no mistaking that SOL has been one of the big losers of this week's selloff. At $132, it's down by 8% in the past 24 hours and by 16% in the past week. However, it remains 80% up over the past month, as well as 4,600% up across the last 12 months.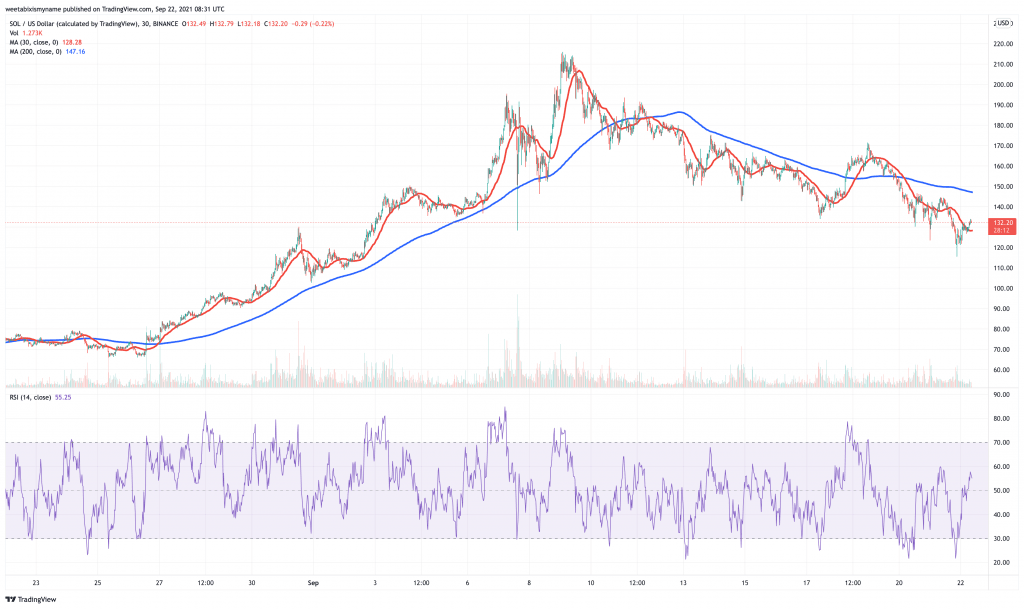 There are two reasons for SOL's recent woes, neither of which undermines the fact that it's still one of the most promising new coins around. Firstly, its RSI indicates that traders had overbought it considerably in the weeks prior to yesterday's tumble, so a correction was necessary to let off some steam. Secondly, it suffered an outage last week that tarnished its reputation to an extent. That said, it's worth keeping in mind that Solana's mainnet remains in beta.
Similarly, Solana's promises of becoming the "world's first web-scale blockchain" continue to look as credible as they were in previous weeks. Its total value locked in stands at $8 billion recently, having registered only $1.3 billion at the start of August. The primary drivers of such growth are non-fungible tokens and DeFi, with Solana-based platforms in these areas witnessing similarly impressive expansion.
For example, the Solanart NFT platform launched only two months ago, and succeeded in passing one million SOL in volume by the end of August.
Almost two months ago, we launched https://t.co/tPritDMeeN, first #NFT marketplace on #Solana
Today, we broke 1,000,000 SOL in volume, and as $SOL breaks $100, that's over $100,000,000 traded on our platform
Thank you for making us number one
New features coming soon pic.twitter.com/wjA0EFtTqf

— Solanart – NFT Marketplace (@SolanartNFT) August 30, 2021
Likewise, the DeFi- and NFT-focused wallet app Phantom has now reached 400,000 weekly active users. This highlights the kind of growth the Solana ecosystem is experiencing right now.
It's only been 6 months since we launched Phantom and we just crossed 400,000 weekly active users with no sign of slowing down! You all have been incredible and we can't wait to show you what's next! #Solana pic.twitter.com/FUqcvfAMBx

— Phantom (@phantom) September 17, 2021
This is why, despite this week's falls, Solana remains one of our 5 best new cryptocurrency to buy now.
4. Polygon (MATIC)
MATIC's price currently sits at $1.14. This is a 3% drop over the last 24 hours, as well as a 13% fall in the last week. At the same time, MATIC has declined by 30% in the past month. That said, between July 20 and September 5 its price rose by some 169%, before falling during the recent correction.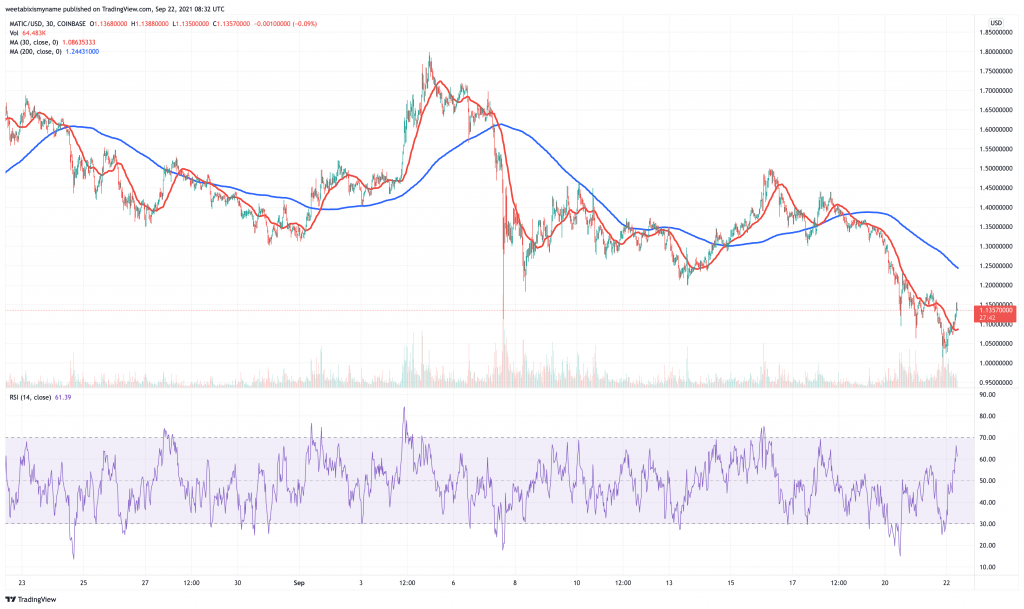 The main reason for MATIC's pre-selloff surge is that, at the end of August, Coinbase announced it will integrate Polygon as its first scaling solution for Ethereum. This served as a massive validation and endorsement of the platform, and was the reason why it rallied so strongly up until September 5.
"We plan to integrate Polygon as our first scaling solution for Coinbase"

Polygon PoS mainnet support is coming to @coinbase https://t.co/1iXrWCpNKF pic.twitter.com/4TYxqemMbS

— sanket (@sourcex44) August 31, 2021
There are other reasons to be bullish about Polygon. Last week it announced a partnership with Big Four professional services/accountancy firm EY. The pair are to collaborate on "building Ethereum scaling and enterprise solutions."
1/9 Another big day for @0xPolygon!

We have started collaboration with EY, a global professional services and technology firm, on building Ethereum scaling and enterprise solutions!

As part of this collaboration, we will work on Polygon Nightfall, a privacy-focused Rollup! pic.twitter.com/HlJ6drA2kS

— Polygon | $MATIC (@0xPolygon) September 14, 2021
In mid-August, Polygon also announced plans to launch a DeFi-focused decentralised autonomous organisation (DAO). This had helped push it higher in recent weeks, adding momentum in conjunction with its acquisition of rival layer-two scaling solution Hermez.
At the moment, Polygon boasts some $7.5 billion in total value locked in, up from a mere $1 billion at the start of April.
5. Shiba Inu (SHIB)
SHIB has arguably always been something of an outlier in the market, and its behaviour during the recent selloff is no exception. While much of the market has been falling, it has actually risen during the past week. At $0.00000709, it's up by 6% in the last week and by 17% in the last fortnight. Astonishingly, it's also up by just over 5,500,000% in the last year, according to CoinGecko.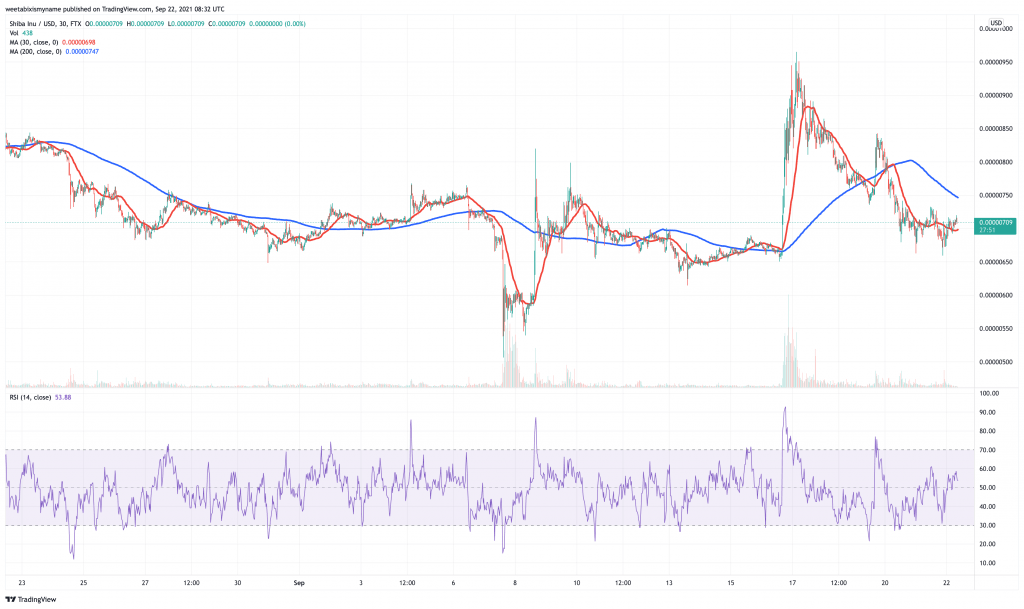 Despite its strong performance over the past couple of weeks, SHIB still isn't overbought, suggesting room for further gains. Its recent surge is largely the product of its new Coinbase listing, something which has given it much more legitimacy.
On top of this, SHIB has also benefitted from the launch of Shiba Inu-related platforms. Back in July, it launched the ShibaSwap decentralized exchange, which rose to $2.2 billion in total value locked in around a month. So while it retains a reputation as a 'meme coin,' it has some genuine interest and activity behind it.
67% of retail investor accounts lose money when trading CFDs with this provider.
Read more: