Another Monday is here, and investors are already looking for the top cryptocurrency to buy this week. Crypto prices have generally retraced and are starting much lower than they did last week. While this slight dip has scared off many investors, it could be an opportunity to buy the dip.
So, what coins are set for big moves? We've got a list of some of the top cryptocurrency to buy this week below:
1. Solana (SOL)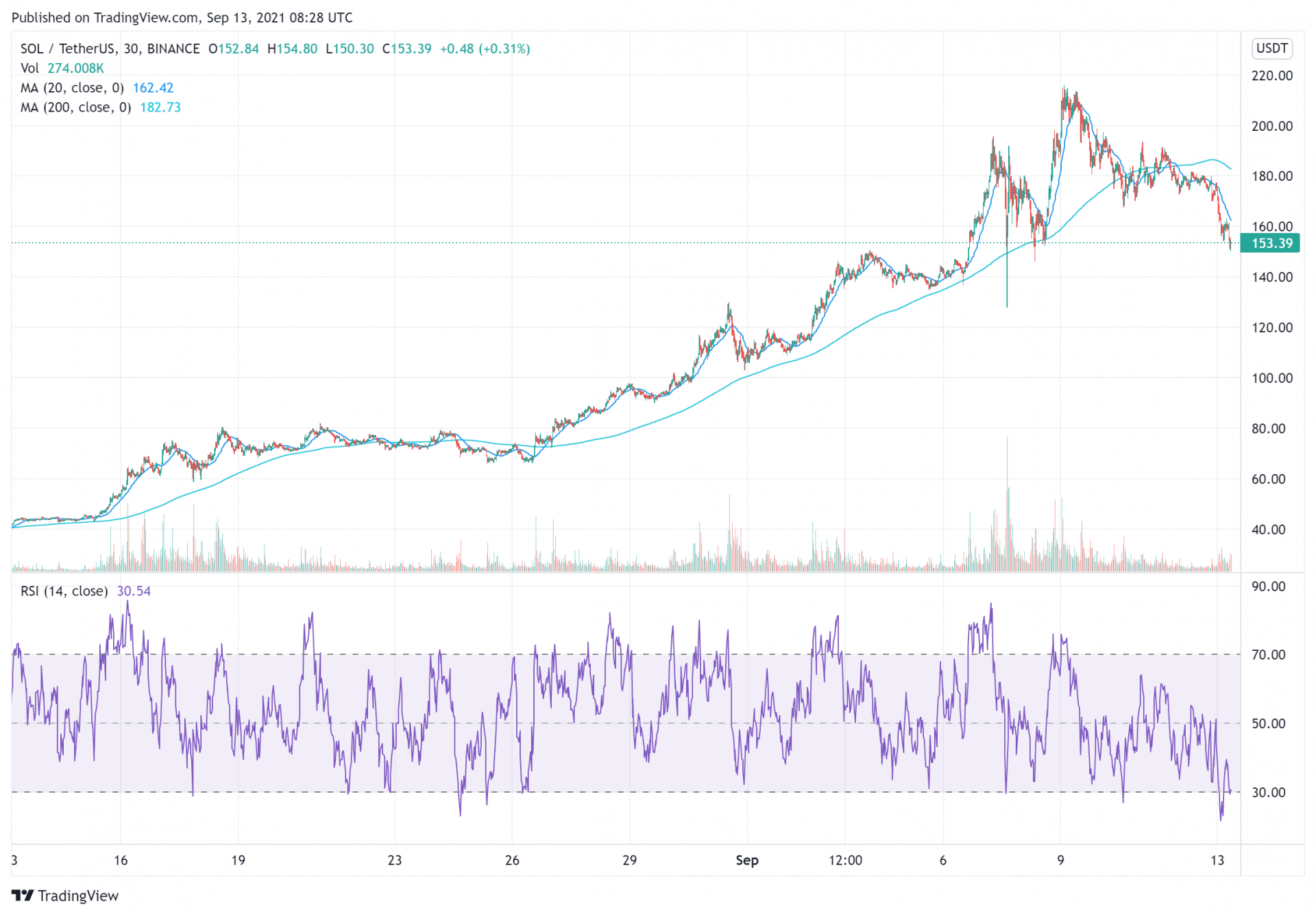 Kicking off our list of the top cryptocurrency to buy this week is SOL – the native token for the Solana blockchain.
Solana has established itself as one of the most promising blockchain platforms, with improved performance across the board. This has helped the blockchain to grow – and, by extension, the value of its SOL token.
Last week was perhaps the best in SOL's history, with the coin bucking trends and seeping bigger gains even while other large-cap coins faltered. SOL saw a jump of 22.82 percent in the past week, rising from $141.82 and ending at $174.19. The coin also hit a new all-time high of $215.64 while at it.
SOL currently trades at $153.30 – down 15.14 percent in the past day, but up 5.33 percent in the past week. Investors should be excited about SOL for sure. The coin is technically sound, with a 20-day moving average (MA) of $162.20 and a 20-day MA of$183.49. Gains over the next few days should help SOL surge past these points. The coin's relative strength index (RSI) stands at 34.53, which is incredibly underbought.
Adoption should continue to rise, especially with Osprey Funds adding SOL to its crypto trust.
2. Cardano (ADA)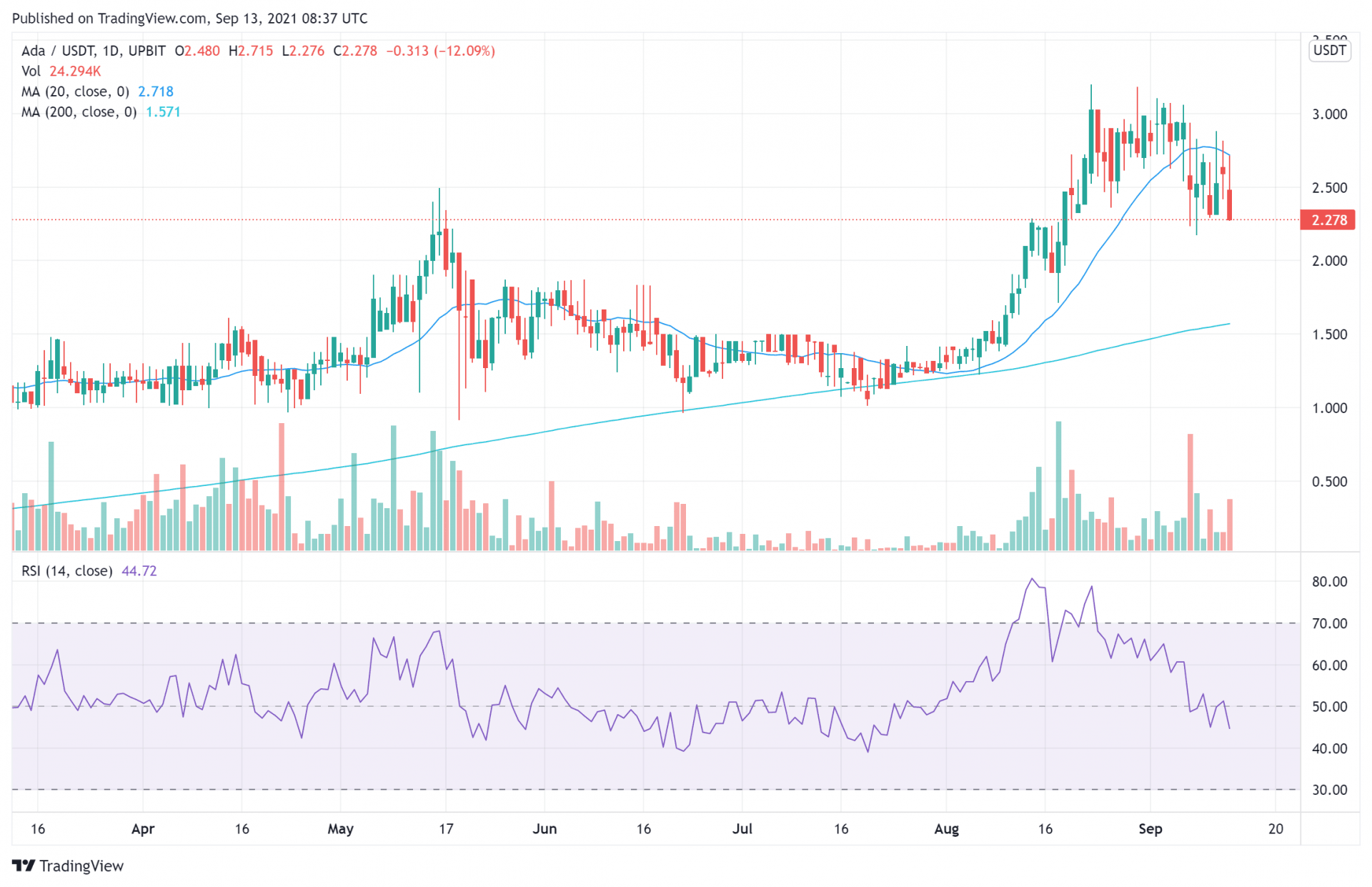 ADA has rocketed to the top of CoinMarketCap's rankings. The asset remains a solid option for investors looking to get gains, even following a 13.7 percent drop over the past week.
Currently, ADA trades at $2.36 – down 9.95 percent in the past day and 18.85 percent in the past week. However, we are including it in our list of the top cryptocurrency to buy this week thanks to the successful Alonzo upgrade on the Cardano blockchain.
Alonzo's implementation means that the Cardano blockchain can now host smart contracts. This will make the blockchain functional for developers, who have been looking for the ideal platform to host decentralized applications (dApps). This development should go a long way in bolstering Cardano's adoption – and, by extension, the price of ADA.
ADA's technicals remain strong. The coin's 20-day and 200-day MAs stand at $2.68 and $1.58 respectively, and the coin is very underbought with an RSI of 44.85.
3. Tezos (XTZ)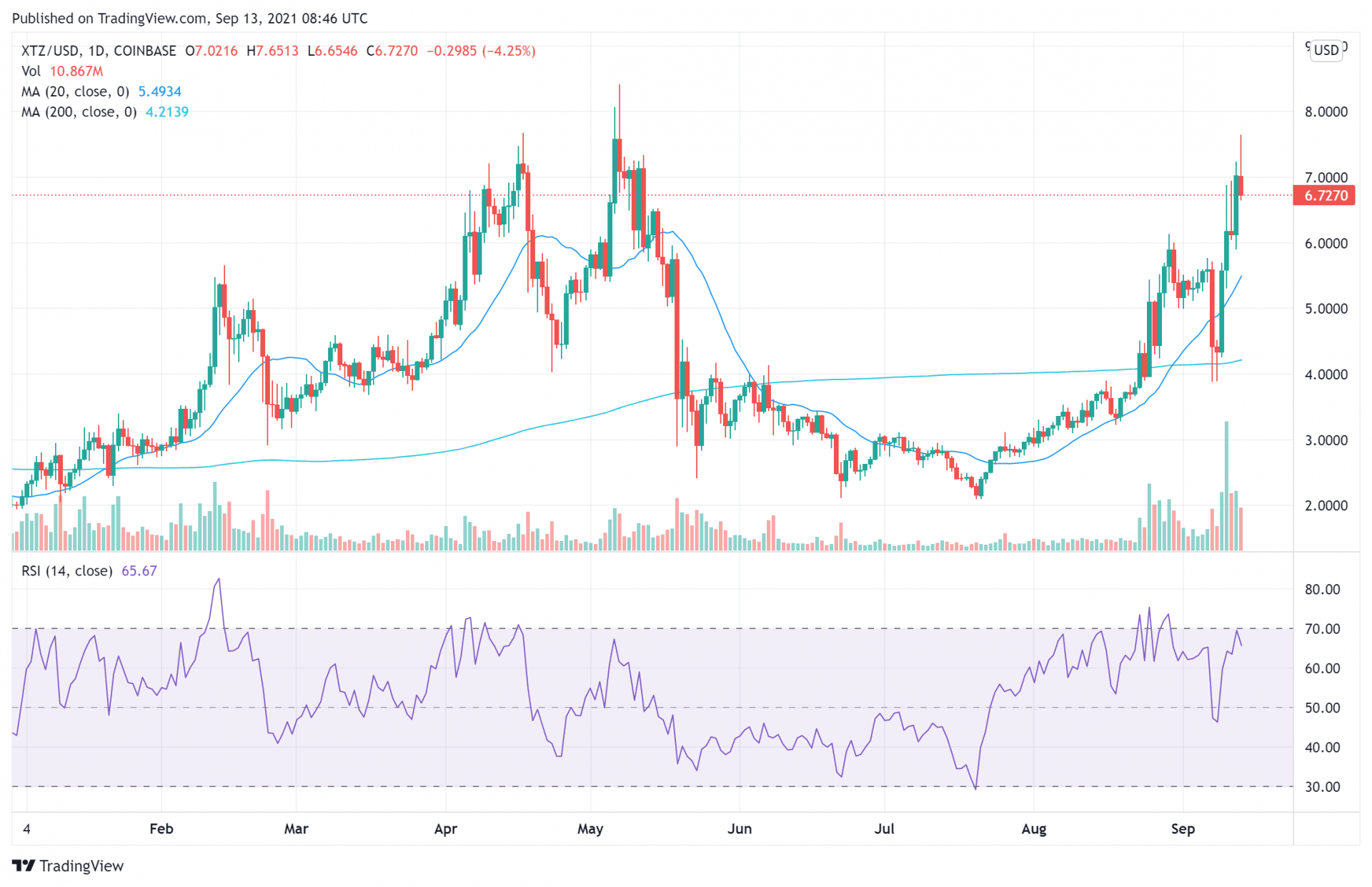 XTZ is the latest blockchain-based coin to feature on our list of the top cryptocurrency to buy this week. Like SOL, XTZ also saw its price rise while other large-cap coins saw big drops. It primarily helped investors to hedge their wealth in the face of a downturn that analysts believe might continue into the week.
Last week, the XTZ price jumped by 27.7 percent, moving from $5.54 to $7.08. The coins' current price is $6.74 – a 7.56 percent jump in the past 24 hours and up 21.58 percent in the past week.
The Tezos blockchain has been making significant waves recently. Last week, reports confirmed that the blockchain had hit 400,000 transactions in 24 hours for the first time. Music star Doja Cat also recently launched a non-fungible token (NFT) on the chain. Big news to look for.
XTZ's performance last week has kept the price above its 20-day and 200-day MAs of $5.50 and $4.22. The coin's RSI is 66.02. There's no better time to buy than now.
4. Harmony (ONE)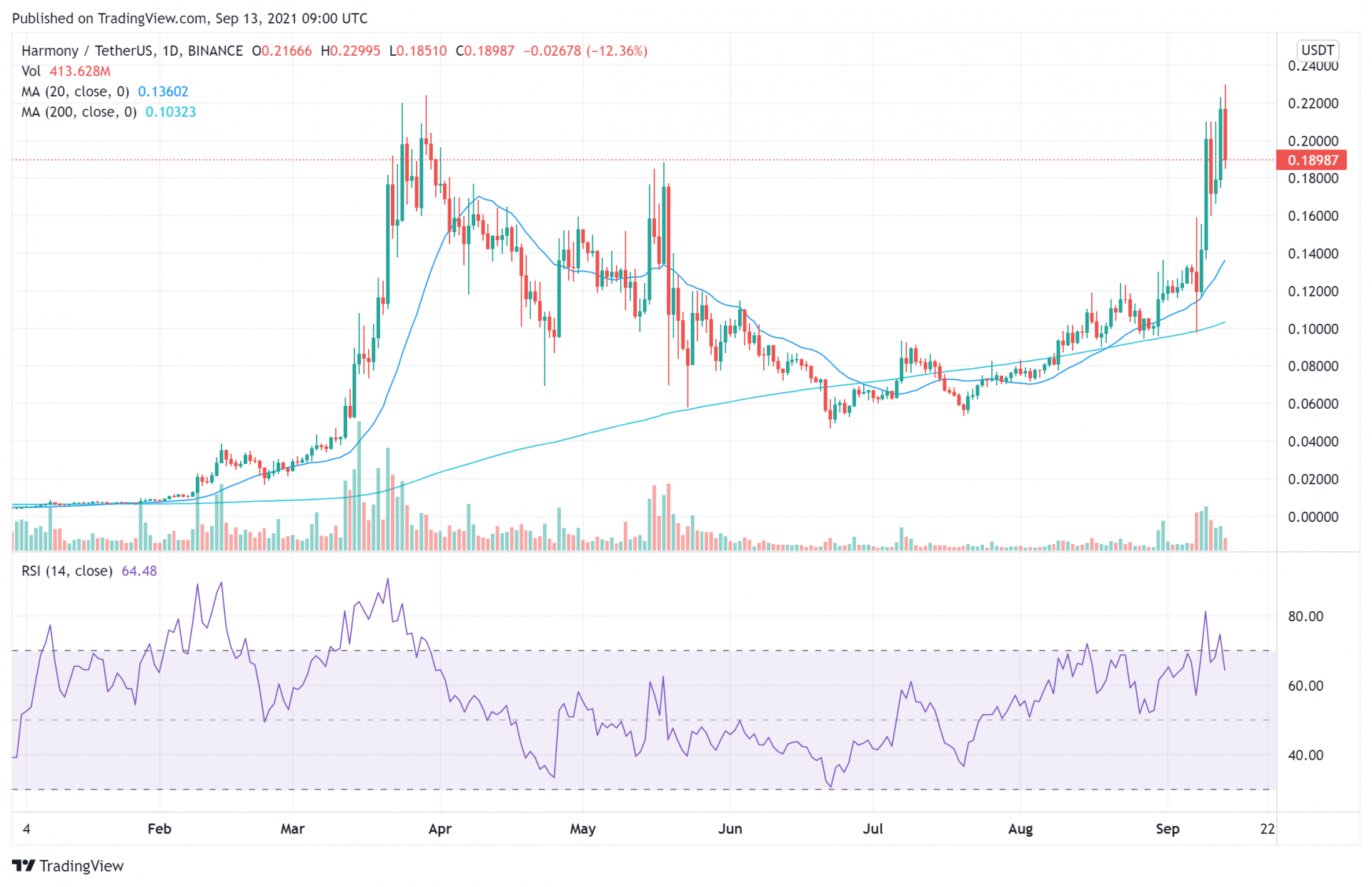 Harmony is a blockchain p[roject that lets users create dApps while taking advantage of the best in interoperability and scalability. With an impressive blend of decentralization and scalability, it looks to serve the decentralized economy.
We included the platform's ONE token in our list of the top cryptocurrency to buy this week following its impressive performance last week. The coin rose by 61.5 percent, jumping from $0.13 to $0.21 between September 6 and 12.
ONE currently trades at $0.18 – down 3.41 percent in the past 24 hours, but up 42.36 percent in the past week. The gain is primarily due to a $300 million ecosystem fund launched to attract up to 10,000 developers to the protocol. Harmony has also partnered with Anyswap – a decentralized cross-chain swap protocol – to bring a Bitcoin bridge to its ecosystem.
All of these show that ONE might be ready to make a major leap. The asset is also technically sound, with 20-day and 200-day MAs of$0.13 and $0.10 respectively. With an RSI of 64.31, ONE remains highly underbought.
5. Polkadot (DOT)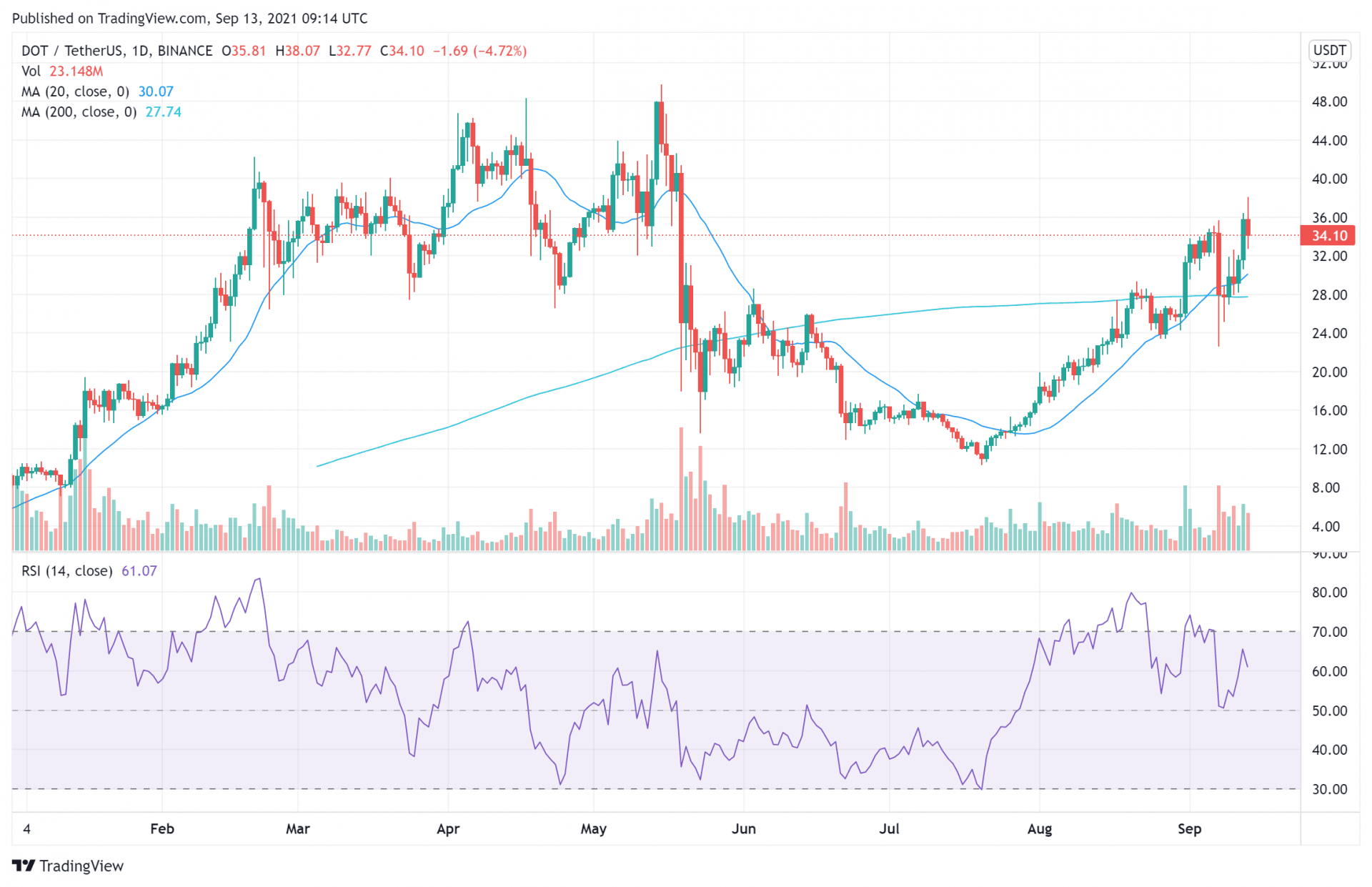 Polkadot needs no introduction for crypto fans. The blockchain interoperability protocol makes it possible for different chains to run independently within their network. Polkadot uses a Relay Chain and parachains, with the latter running independently while being connected to the former. This way, the load is shared and chains can operate effectively.
DOT has been performing quite well recently. The asset rose by 10.2 percent over last week, jumping from $34.04 to $37.52. The asset's price is now $33.55 – up 5.48 in the past 24 hours, but down 1.62 percent in the past week.
As for developments, Polkadot is gearing up to onboard PolkaBridge – a multi-chain automated market maker. The latter currently runs on the Etheruem blockchain, with the full launch on Polkadot coming soon. SubQuery – a decentralized data aggregator – also recently raised $9 million to build Polkadot's first data aggregation layer. This will strengthen data indexing for Polkadot's network.
DOT remains very strong. The coin's 20-day and 200-day MAs stand at $30.09 and$27.61 respectively, and its RSI is 61.67 – still relatively underbought.