The broader market has been on a bearish sentiment since the weekend, contributing to altcoins making dips. Algorand is among the coins trading in the red zone after falling into the bearish pressure from the broader market.
Algorand is trading at $2.10 at the time of writing after a 3.3% dip in 24 hours.
Algorand Price Analysis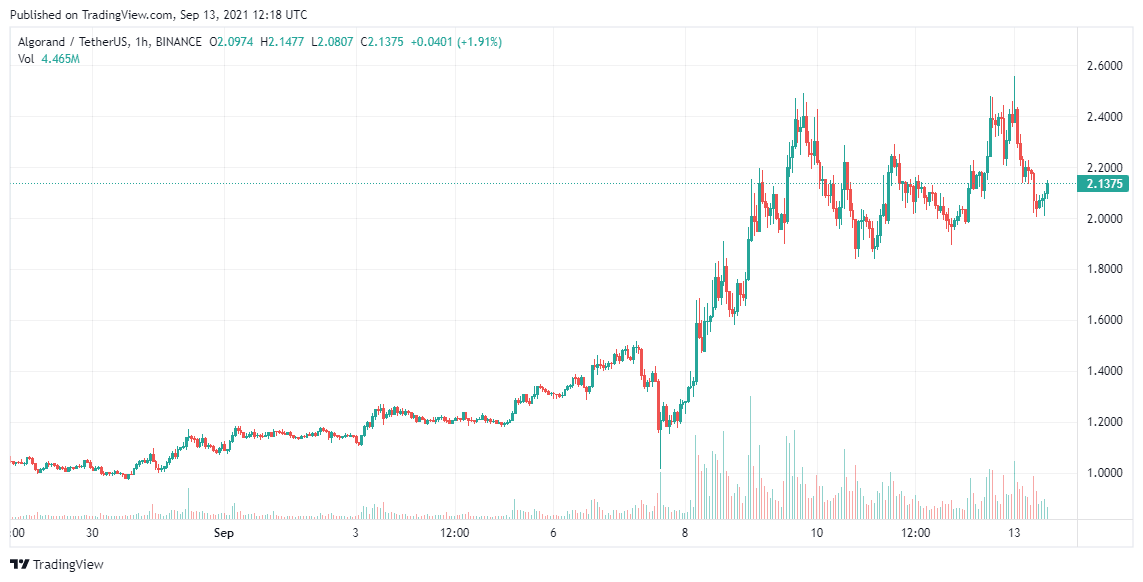 Algorand has been facing increased volatility over the past few weeks. This volatility has spiked because of the price fluctuations across the broader market.
If the price downtrend continues, the coin will test the lower support of $2 before making a dip towards $1.98. Over the past few days, the coin has shown great resilience in maintaining its value above $2. However, if support from the broader market continues to weaken, we could see further dips being created.
However, the dips could create a buying opportunity for traders left out during the recent bullish rally. If traders start buying, the coin will push towards the upper resistance levels of $2.20 and $2.40. the coin has tested these levels severally, and if it breaks through, the next target of $2.50 could be achieved.
An uptrend could also be caused if support from the broader market resumed and coins head towards major gains.
The Algorand blockchain continues to benefit from increased adoption and developments. El Salvador recently selected the blockchain to aid in the country's move to use bitcoin as legal tender. This was a major adoption for the blockchain, as it placed it on the global map.
Algorand has also been selected by e-money to help the platform boost its circulation of European stablecoins. e-money hopes to use the Algorand blockchain to interact with real-world economies and improve user-friendliness. The adoption of Algorand by e-money is adding to the list of use cases for the blockchain.
Where to Buy ALGO
If you want to buy ALGO during the current dip, you can create a cryptocurrency exchange account on eToro. eToro is a social copy trading platform where a new trader can copy the trading strategies used by expert traders. eToro makes it easy for traders to use the platform because it offers support to user-friendly features.
Looking to buy or trade Algorand (ALGO) now? Invest at eToro!
67% of retail investor accounts lose money when trading CFDs with this provider.
Read more: