ICON shows signs of major gains despite the rest of the market doing little to make up for the Tuesday crash. Bitcoin is still trading at $46K, while Ethereum is still at $3400. Despite the strong resistance for a bull rally, some altcoins such as ICX are still making double-digit gains.
ICX is trading at $1.95 at the time of writing after a 24.9% gain in 24 hours.
ICON Price Analysis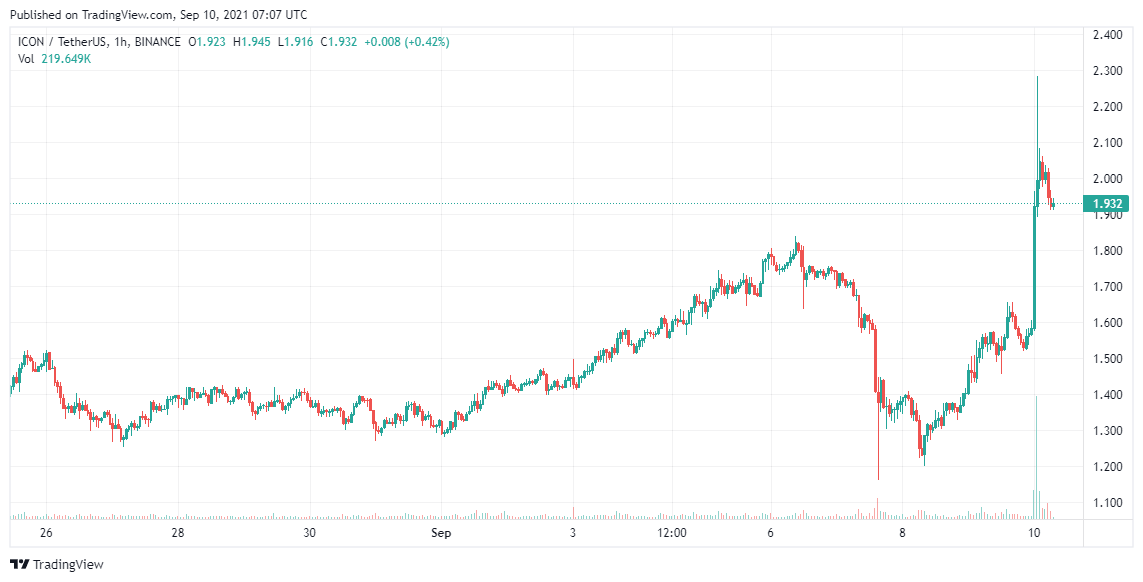 ICX has been among the leading market gainers in the past 24 hours, and despite the coin facing strong resistance from the broader market, it continues to register new monthly highs.
During the 24-hour bull run, ICX climbed to $2.16 but was rejected, hence the slump to the current levels. However, buying support remains strong, and we could see the coin pushing towards these high levels again. If the coin climbs to $2, the next resistance will be $2.10 before setting the next target at $2.20.
On the other hand, ICX could give in to the bearish pressure from the broader market, and hence, it could go to the lower support level of $1.88. If traders sell out of fear of a dip, the coin could go back to the level of $1.60. ICX was trading at these levels before the 24-hour bull rally.
The ICON foundation has been looking for ways to enhance its blockchain adoption and drive the ICX token's values. The foundation recently announced that it was looking towards launching ICON 2.0, which will be a "total game-changer". In a tweet, the firm has stated that the upgrade will allow cross-chain interoperability that will increase the functionality of the blockchain.
Where to Buy ICX
If you want to buy ICX during the current upswing, you can create a cryptocurrency exchange account on the following platforms:
eToro is a reputable exchange that allows new traders to copy trade the strategies used by expert traders. eToro charges low trading fees and commissions, and trading on the exchange is also easy and convenient.
You can also buy ICX from Kraken. Kraken is one of the largest exchange platforms and enables traders to access a wide range of cryptocurrencies and trading pairs. Kraken also offers user-friendly features to both new and expert traders.
Looking to buy or trade ICON (ICX) now? Invest at eToro!
67% of retail investor accounts lose money when trading CFDs with this provider.
Read more: