MIOTA has been among the best crypto gainers in the recent bullish rally. On a monthly basis, MIOTA has gained by around 67%, and these gains are expected to increase if the uptrend continues. The double-digit gains made by MIOTA in the past 24 hours also make it one of the best gainers of the past day.
MIOTA is trading at $1.69 at the time of writing after a 12.4% gain in 24 hours.
MIOTA Price Analysis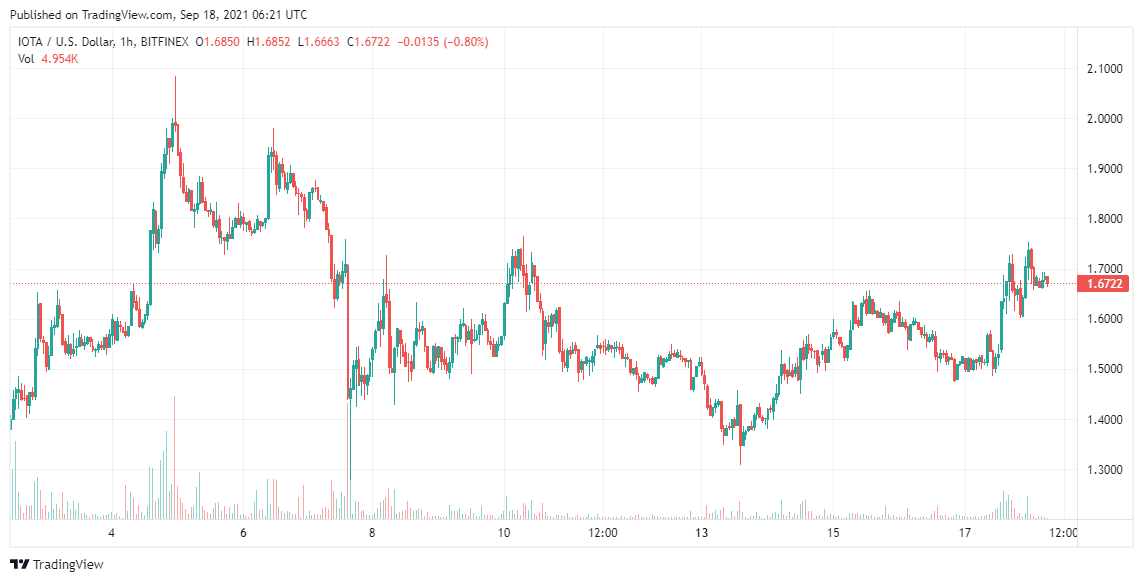 MIOTA has been making an uptrend this week because of a rebound in the entire market. Most coins have been trading in the green zone or consolidating at current levels.
If the current support being rallied by buyers continues, we could see MIOTA break higher ground and move to the upper resistance of $1.72. The gains made in the past 24 hours have allowed the coin to test the $1.76 level, but the coin failed to maintain here. However, we could see this price action happening again if the overall market bulls are strong again.
Early this month, MIOTA made a bull run towards $2, attributed to a strong bullish sentiment in the broader market. If it maintains the current uptrend, it could make this bull run again.
The market could also dip, and IOTA could erase the gains made in the past 24 hours. In this case, the coin will retreat to the lower levels of $1.55, triggering dip-buying.
The IOTA blockchain has gained a major endorsement after its distributed ledger technology received support from the European Union. IOTA will be among the seven blockchain firms the EU has selected to provide a European Blockchain Services Infrastructure (EBSI). The EBSI aims to unlock the potential of distributed ledger technology (DLT) and make it accessible to businesses, individuals and governments.
This adoption has been attributed to the majority of gains that MIOTA has achieved this month.
Where to Buy IOTA
To buy MIOTA during the current bulls, you can create a cryptocurrency exchange account on eToro. eToro is an exchange that is reputable top both new and expert traders. Besides, eToro comes with user-friendly features that make it easier for traders to trade cryptocurrencies. It also supports copy trading that allows a new trader to copy the trading strategies being used by expert traders.
Looking to buy or trade IOTA (MIOTA) now? Invest at eToro!
67% of retail investor accounts lose money when trading CFDs with this provider.
Read more: