Polkadot has been one of the leading blockchains in the crypto sector; following its journey towards achieving scalability to enable it achieve low latency and low fees. DOT has made double-digit gains in the past 24 hours, and it currently ranks as the eight largest cryptocurrency with a market capitalization of $32 billion.
Polkadot is trading at $32.04 at the time of writing after an 11.2% gain in 24 hours.
Polkadot Price Analysis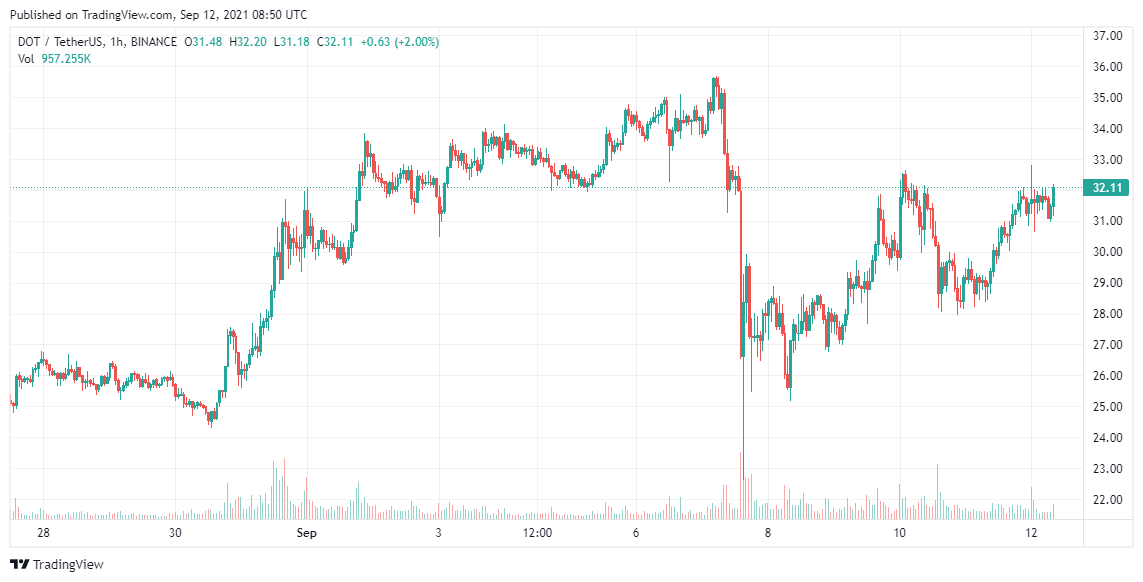 Polkadot has been making a significant uptrend in the past 24 hours because of the recent gains from the broader market. Because of these gains, the coin has managed to create new monthly highs.
DOT's uptrend in the past 24 hours has allowed the coin to move to new highs of $34 and $36. If the bullish sentiment across the broader market continues, we could see the coin claiming the next target of $40, which could enable the coin to move even higher in the crypto market ranks.
On the other hand, we could also see the coin moving to low levels if the support from the broader market weakens. The lower support level that the coin will test lies at $32 and $30. If DOT drops to these levels, we could it creating an entry position for the traders who want to buy during the dip.
The Polkadot ecosystem continues to grow and develop new features. The blockchain has collaborated with decentralized finance platform, Lido, to launch a liquid staking protocol. The partnership will be done through Polkadot's Lido.
The Polkadot parachains auction has also gone live, and it is attracting more users to the platform. The parachains auction slots are expected to drive the demand for DOT coins, which will consequently increase prices.
Where to Buy Polkadot
To buy DOT during the current bulls, you can create an account on the following exchange platforms:
eToro is one of the leading exchanges, it supports a vast range of cryptocurrencies and trading pairs. eToro comes with user-friendly features that make it easy for people to use the platform. The exchange offers demo trading and a copy trading feature that makes it easy to use the platform.
You can also buy DOT coins from Kraken. Kraken is another leading exchange platform that supports a wide range of cryptocurrencies and trading pairs. Kraken's trading fees are also low and trading on the exchange is easy and convenient to both new and expert traders.
Looking to buy or trade Crypto now? Invest at eToro!
67% of retail investor accounts lose money when trading CFDs with this provider.
Read more: