Shiba Inu has been a leading gainer in the past 24 hours. The sharp uptrend comes a few days after Elon Musk showed support for the coin with a recent image of a Shiba Inu dog that he had purchased. SHIB is also leading the meme coin pack, with these recent gains inching the coin closer to its all-time high.
Shiba Inu is trading at $0.00000918 at the time of writing after a 36% gain.
Shiba Inu Price Analysis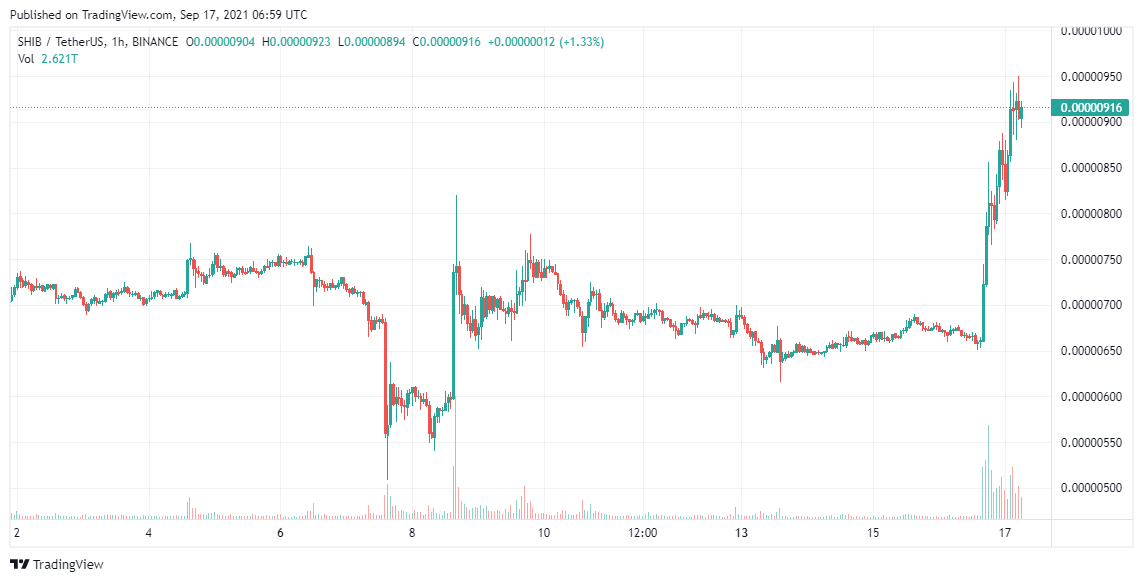 The 24-hour upswing made by Shiba Inu has enabled the coin to move to its greatest highs since the market rebound started. Currently, the broader market is rising, as bitcoin is at $48K after recovering from the $46K dip last week.
If SHIB continues with the market bulls, we could see the coin testing the upper resistance of $0.00001. This level will be achieved soon if SHIB maintains the double-digit gains and buyers continue supporting the upswing. To reach $0.00001, the immediate resistance lies at $0.0000095, which could be broken soon.
The recent upswing made by SHIB has been greater than what has been witnessed across the broader market. Hence, there is a chance that SHIB could fail to maintain the new highs. If it dips, SHIB will go to the lower support of $0.00000880. If selling pressure happens across the market, the coin could go back to the lows of $0.00000780, where the coin was trading before the 24-hour upswing happened.
The recent gains made by SHIB have mainly been attributed to the recent listing of the coin by Coinbase. As one of the largest cryptocurrency exchanges, the listing has increased the accessibility of SHIB by traders and boosted trading volumes. According to Coinbase, the listing follows increased demand from retail traders.
The recent tweet image by Elon Musk of a Shiba Inu dog has also refreshed investor confidence that the billionaire is back to supporting the coin. With Musk's support and influence, SHIB could be headed to a bull rally.
Where to Buy SHIB
If you want to buy SHIB, you can create a cryptocurrency exchange on eToro. eToro is one of the largest exchange platforms, and it supports a wide range of cryptocurrencies and trading pairs. eToro charges low trading fees and commissions, and it supports user-friendly features that make it easy for traders to use the platform.
Looking to buy or trade Shiba Inu (SHIB) now? Invest at eToro!
67% of retail investor accounts lose money when trading CFDs with this provider
Read more:
How to buy ethereum
How to buy cryptocurrency