XTZ has been among the best-performing tokens during the recent bull run. The Tezos blockchain has gained significant adoption, which has driven the coin's prices to new monthly highs. Most coins are currently trading in the red zone after mimicking bitcoin's downtrend, but XTZ has shown great resilience and has made double-digit gains instead.
Tezos is trading at $7.21 at the time of writing after a 15.4% gain in 24 hours.
Tezos Price Analysis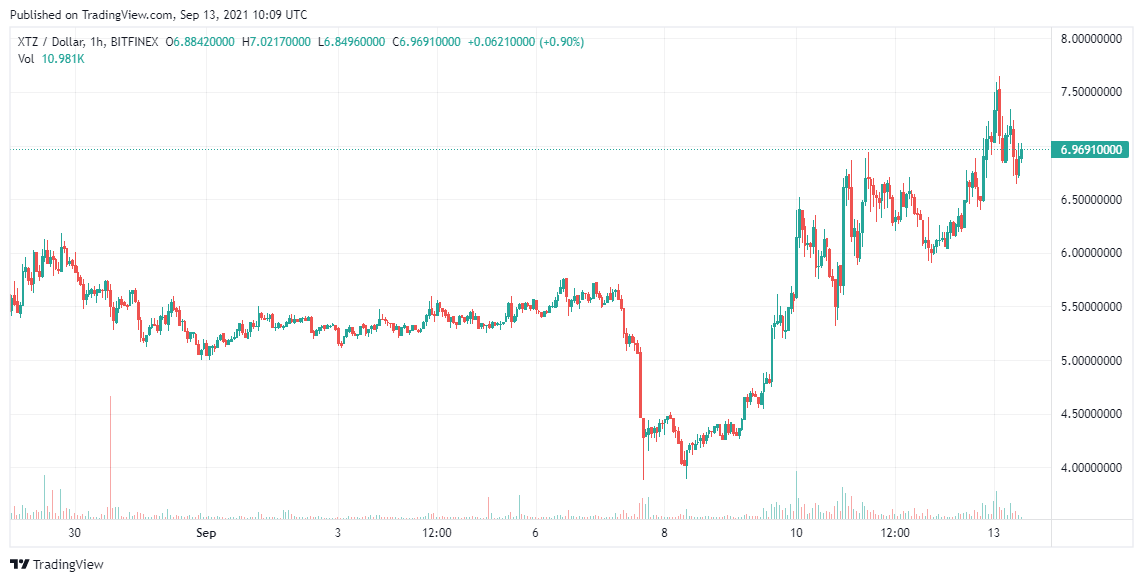 Tezos has been on a major uptrend in the past week. Because of the gains made by the coin, it has managed to go contrary to the trend across the broader market that is causing dips in various altcoins.
If XTZ keeps up the uptrend, we could see the coin testing the next resistance level of $7.30. Increased buying pressure could push the coin towards the monthly high of $7.60 created during the 24-hour bull rally. If this resistance is tested again and support for the coin remains strong, the next target will be $8.
Volatility has been high in the past 24 hours. Because of this volatility, XTZ has been facing fluctuating price movements. If the uptrend fails, the lower support of $6.80 will be tested again. The coin has fallen to this support before, but the buying pressure has prevented further dips.
The Doja Cat NFT launch on the Tezos blockchain has been a major contributor to the uptrend. Various blockchains have been benefiting from the NFT boom, as it drives the prices of native tokens. If Tezos launched more NFT's, its prices could soon reclaim its all-time high of $8.27.
Besides NFTs, Tezos is also performing well in terms of adoption by financial institutions. Major European banks have selected the blockchain to aid in launching smart contracts. This could be the gateway towards the significant growth of the Tezos blockchain.
Where to Buy XTZ
To buy XTZ during the current bullish rally, you can create an account in eToro. As a social copy-trading platform, eToro supports new traders by allowing them to follow what expert traders are doing. eToro also offers user-friendly features such as low trading fees and commissions that make it easy to trade.
Looking to buy or trade Tezos (XTZ) now? Invest at eToro!
67% of retail investor accounts lose money when trading CFDs with this provider.
Read more: