This weekend, the crypto market has been making slight gains, and cryptocurrencies have gone from trading in the red zone to trading in the green zone. TRON is among the altcoins trading in the green zone because of support garnered from the broader market.
TRON has gained 4.3% in the past 24 hours and is trading at $0.10003 at the time of writing.
TRON Price Analysis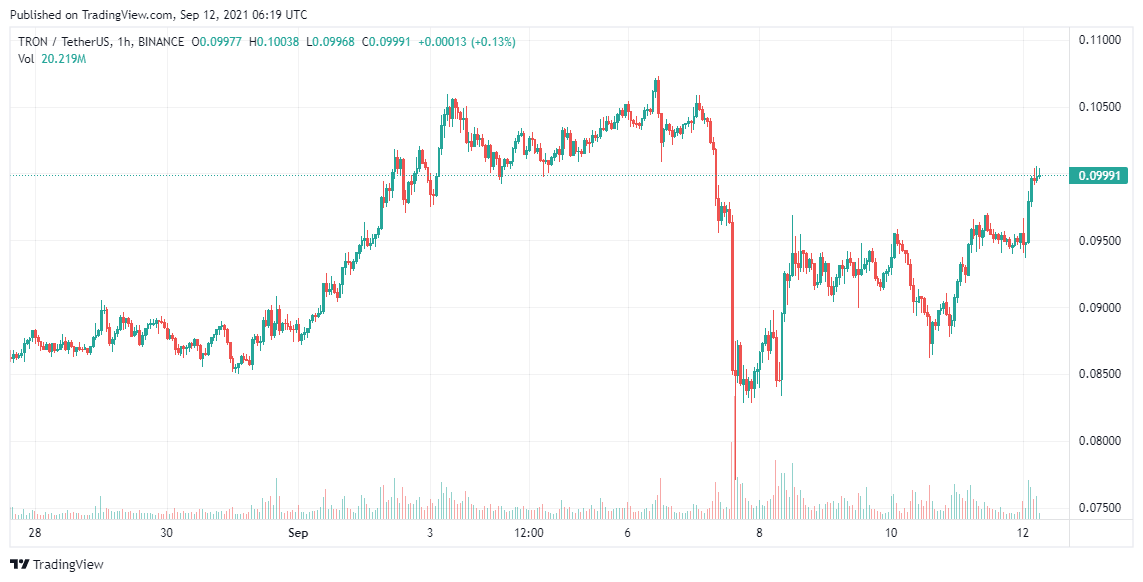 TRX has been a victim of the volatility experienced across the broader market. Despite striving to make gains, the coin has faced regular dips that have taken it to low levels.
The current uptrend is because of support from the broader crypto market. With bitcoin and ethereum making slight recoveries, the trend has led to other coins going to new highs, which has led to gains in the market in the past 24 hours.
If the market support holds, we could see TRX also moving to new highs, where the next resistance that the coin will face lies at $0.11. A continuation of this uptrend could also enable the coin to regain its monthly highs.
On the other hand, we have seen the market support failing before, and we could see this happening again. In this case, TRX will drop to the lower support level of $0.09. The coin has tested this support level severally in the past 24 hours; hence if it retreats further, it could trigger selling pressure that will lead to further dips.
Besides depending on support, the Tron blockchain also needs to continue gaining adoption because this will drive the prices of TRX. The Tron blockchain is one of the scalable ones in the crypto market, and its founder, Justin Sun, has started venturing into non-fungible tokens (NFTs). If the TRON blockchain creates a solid platform for NFT development, we could see major gains for the coin.
Where to Buy TRX
If you want to buy TRX during the current market bulls, you can create a cryptocurrency exchange account on eToro. eToro is a leading social copy trading platform that allows new traders to copy the trading strategies of expert traders. eToro also charges low trading fees and support user-friendly features that make trading easy.
Looking to buy or trade Tron (TRX) now? Invest at eToro!
67% of retail investor accounts lose money when trading CFDs with this provider.
Read more: