Shiba Inu has been on a major bullish rally over the past one month, and despite speculations of prices correction, it seems like Shiba's bullish rally still has strength. Currently, Shiba Inu's monthly gain stands at over 650%, making it a top gainer in the cryptocurrency charts.
Shiba Inu is trading at $000005398 at the time of writing after a 26.5% gain in 24 hours.
Shiba Inu Price Analysis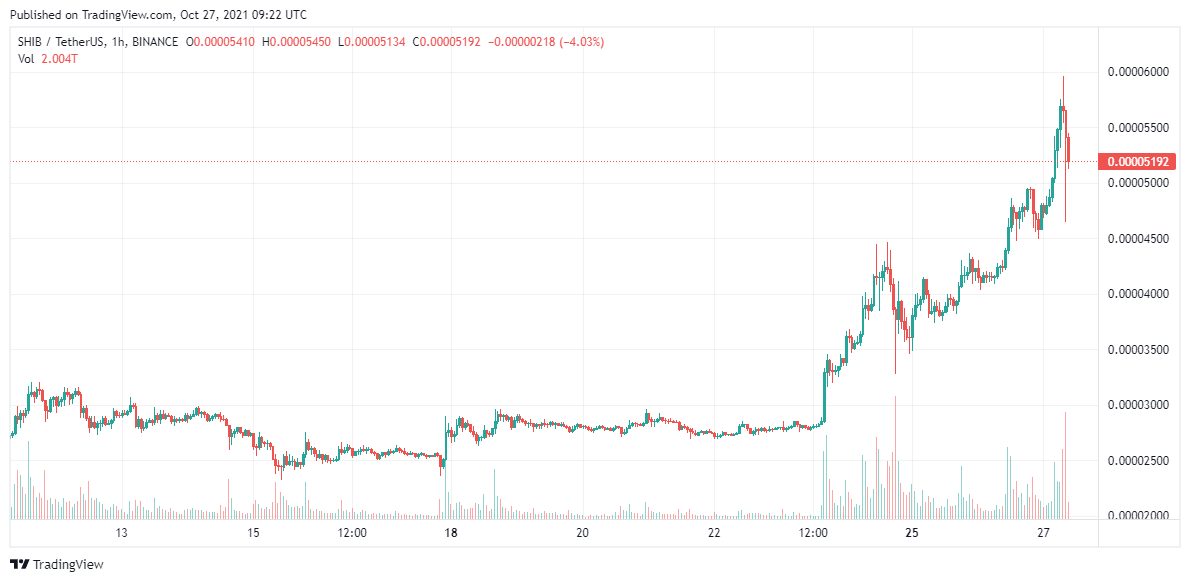 Shiba Inu's bulls are only growing stronger as the hype surrounding this meme coin continues to grow. During the past 24 hours, SHIB reached an all-time high of $0.000058, and while it has shed some of those gains, it still looks like the uptrend is still strong.
Shiba Inu continue to surpass new all-time highs, and traders could see record highs forming in the coming days if the buyer support remains strong. The cryptocurrency is among the most traded in the market currently, attributed to the growing interest.
If SHIB continues with its uptrend, the next immediate resistance that will be tested is $0.00006. This could then pave the way for the coin to push past $0.000065. With buyers flocking to buy the meme coin, SHIB could continue dominating the market in terms of gains.
On the downside, the SHIB rally could reach exhaustion if there is selling pressure. In this case, the meme coin could drop to the lows of $0.00004. However, if the interest is still high, a dip to such levels will only attract dip-buying.
The SHIB community has been signing a petition to get the meme coin listed on Robinhood. This petition has garnered more than 300,000 signatures in a short while following the growing number of SHIB holders. Moreover, the expectations of Robinhood's listing is among the factors attributed to the SHIB rally.
SHIB has also been enjoying overwhelming support from whale addresses. Recently, an anonymous whale purchased over 270 billion Shiba Inu coins worth around $11 billion. The whale purchased the enormous amount when Shiba Inu was still trading at around $0.000042.
Where to Buy SHIB
If you want to buy SHIB during the current rally, you can open an account on a reliable cryptocurrency exchange platform like eToro. eToro is a reputable exchange, and it comes with support for a wide range of cryptocurrencies and trading pairs. eToro also supports copy trading to allow a new trader to copy the strategies of expert traders.
Your capital is at risk.
Read more: