The cryptocurrency market has suffered a big drop over the past 24 hours. At $2.79 trillion, it has slid by 7%, with the liquidation of leveraged positions most likely responsible. However, while almost every cryptocurrency has lost value, the dip presents a good opportunity to buy coins on the cheap. As such, we've put together a list of the 5 best cryptocurrency to buy at low prices. This covers cryptocurrencies with low prices and those that are cheap compared to yesterday.
5 Best Cryptocurrency to Buy at Low Prices
1. Livepeer (LPT)
For whatever reason, LPT is the only top-100 cryptocurrency to be booming right now. At $66.78, it has risen by 10% in the past hour, making up for last night's drop. Its current price also puts it 34% up over the past week and just over 200% up in the past month.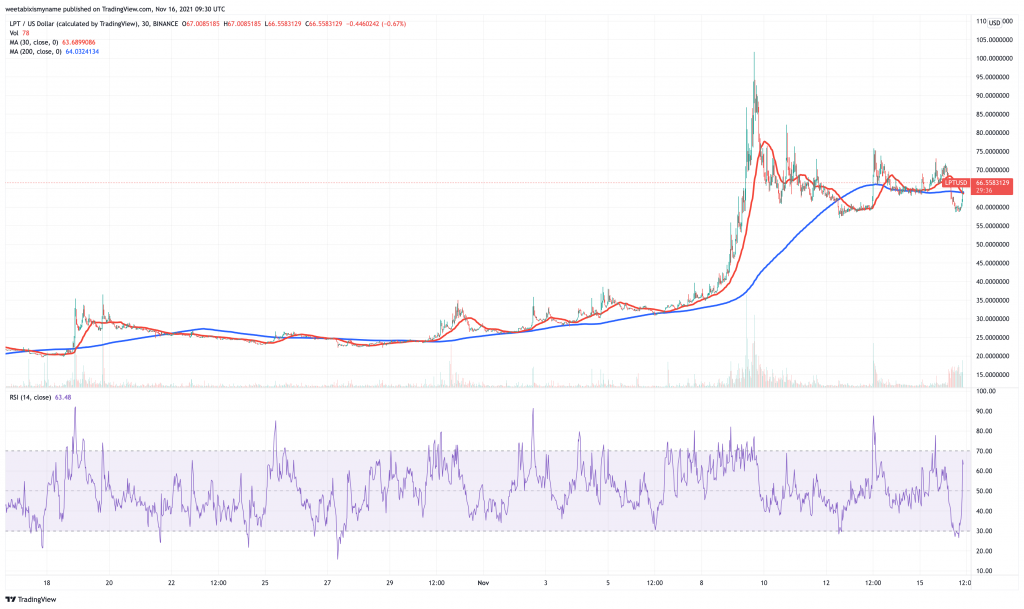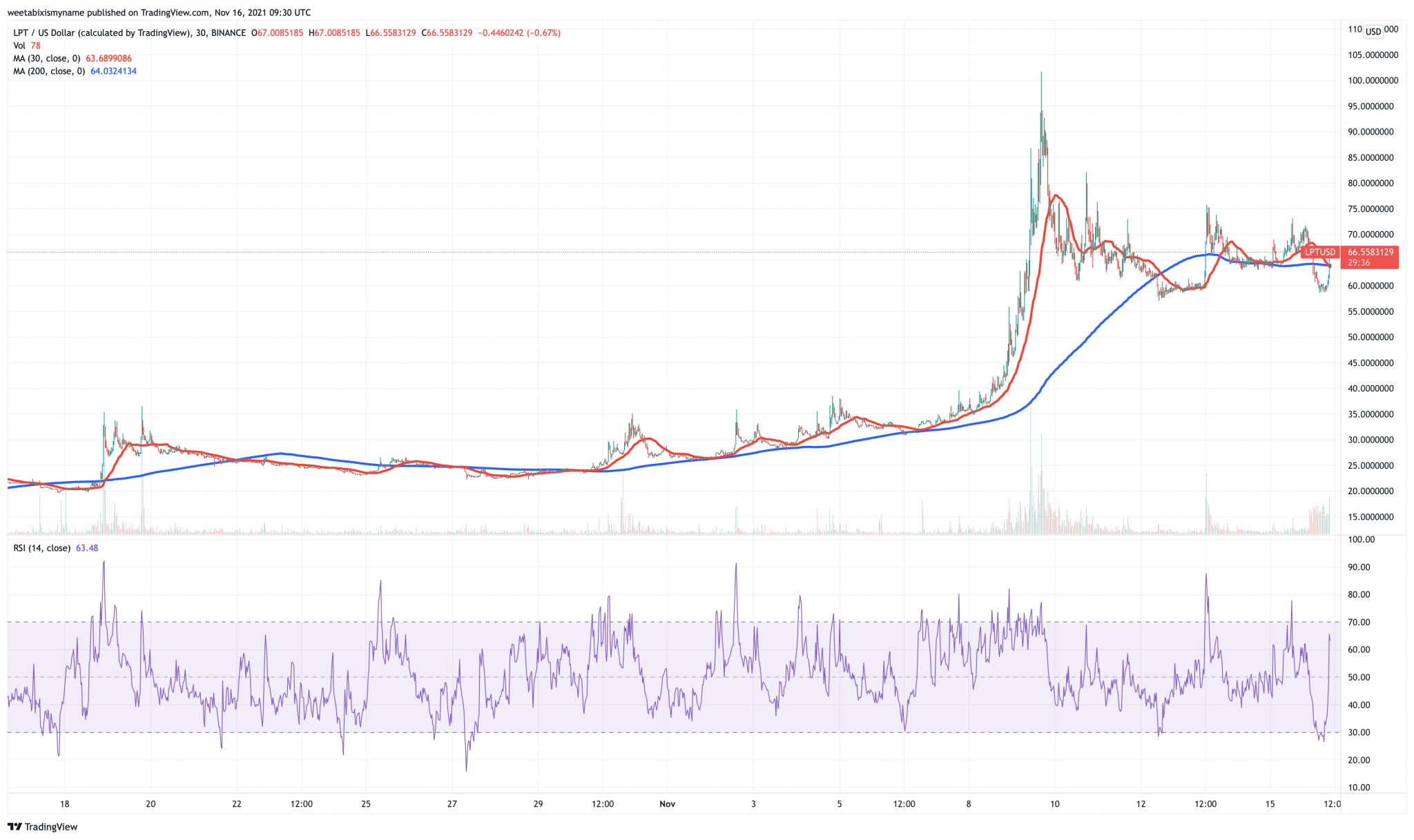 LPT's technical indicators reveal a big breakout. Its relative strength index (in purple above) shows a jump from just under 30 to 65. This indicates strong momentum. And with the rest of the market stagnant or sinking, traders may flock to LPT over the next few days (or longer) for some quick gains.
LPT is the native token of Livepeer, a decentralised video streaming platform based on Ethereum. It has been gradually picking up speed ever since July, when it closed a $20 million funding round.
That said, it didn't really take off until October. It was during this month that Livepeer's organic growth — in terms of network revenue and users — became more apparent to investors.
Several Web3 protocols are gaining adoption.

As a result, these protocols are generating revenue based on network usage, a clear sign of growing demand.

Quick Thread of Web3 Revenue 👇🏻 pic.twitter.com/HhdS0khA5M

— Mason Nystrom (@masonnystrom) October 18, 2021
So while there's no clear reason why LPT is rallying today and almost nothing else, it has enough substance behind it to keep it going for a while yet. This is why it's one of our 5 best cryptocurrency to buy at low prices.
2. Polkadot (DOT)
DOT had a particularly bad day yesterday. At $42.08, it has sunk by just over 10% in the past 24 hours. It's also down by 21% in the last week and by 16% in the past fortnight.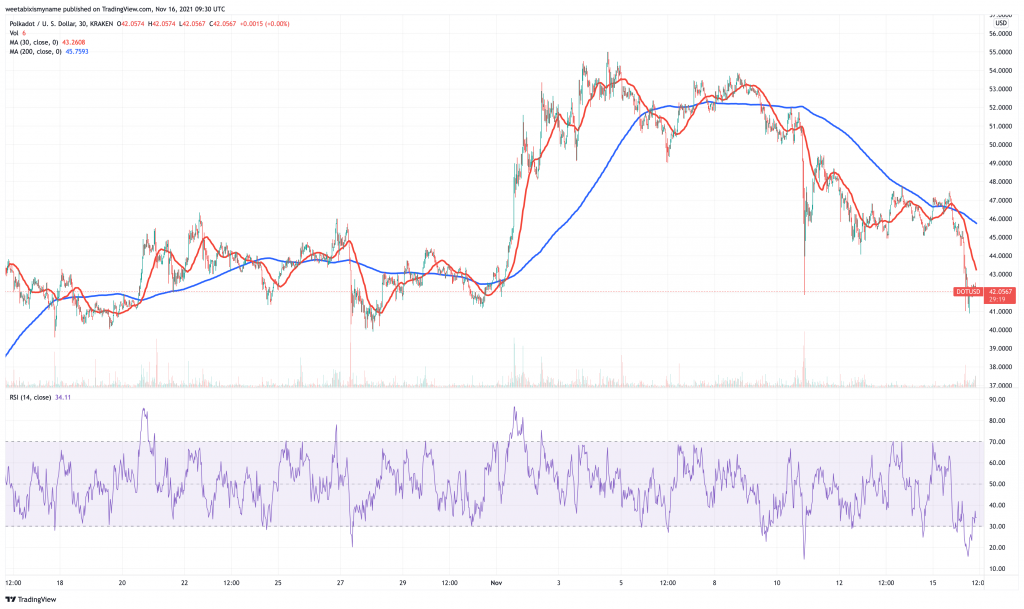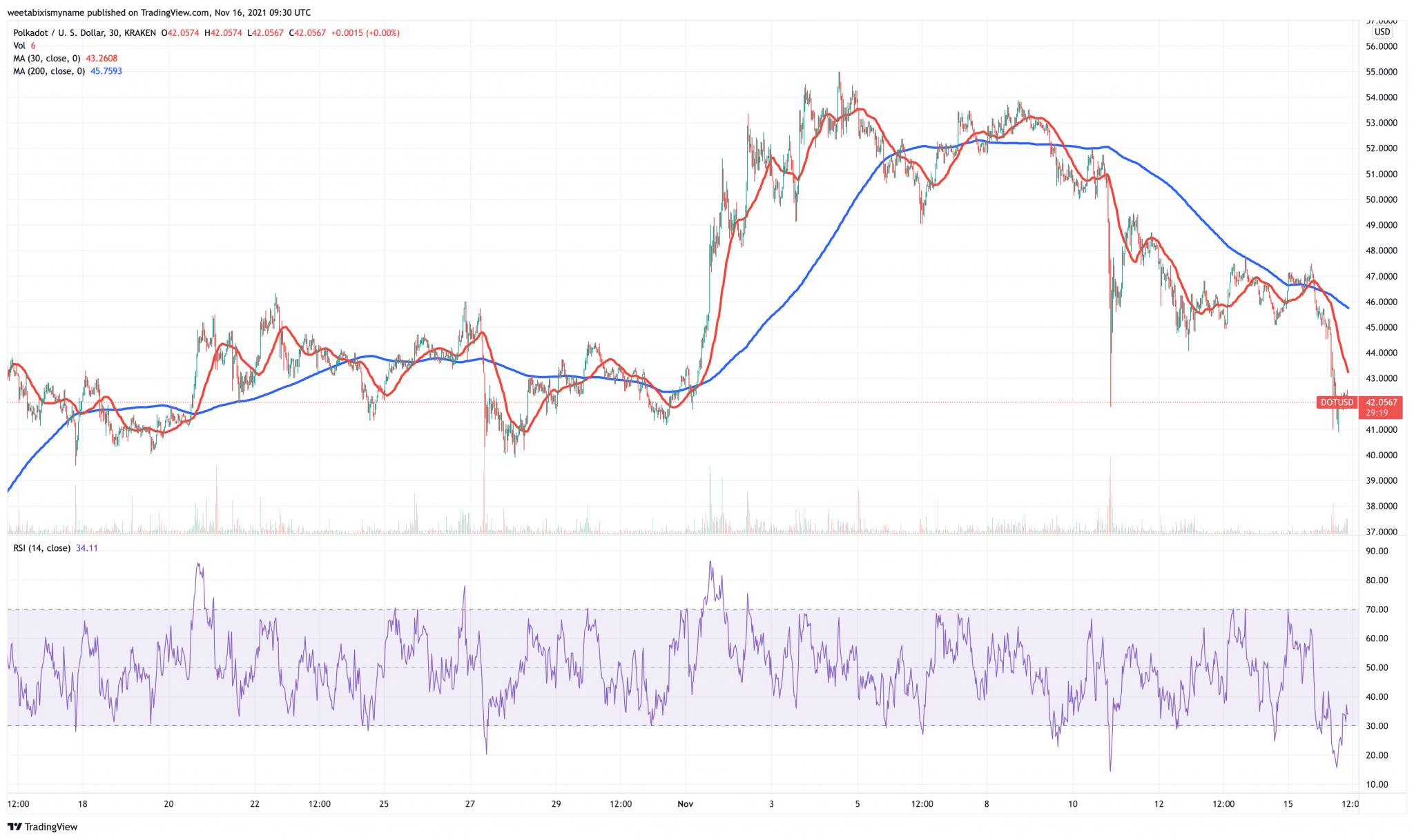 If ever there were a coin ripe for a strong rebound, it's DOT. Its RSI is about 35, highlighting the fact that traders are overselling it. At the same time, its 30-day moving average (in red) has sunk well below its 200-day (in blue). In other words, it's potentially at a bottom. If so, it's due to bounce back up anytime now.
More generally, DOT investors have more than a few reasons to be optimistic. Polkadot recently launched its first ever parachain auction. These will be held once a week for the next few months and will decide which apps and projects get to join the Polkadot network. Bidders will use DOT itself during these auctions, something which will increase overall demand for the coin.
The very first auction on Polkadot has just begun🚀

As scheduled by the community in referendum 39, the first of 10 auctions has started. So far there are 9 bidders taking part!
For more information, and to participate, check out @PolkadotJs: https://t.co/B8RvIoPoAx pic.twitter.com/5dqLkChRj9

— Polkadot (@Polkadot) November 11, 2021
In addition, once apps begin occupying parachains, they will also be using more DOT for staking and fees. This is why it's likely only a matter of time before DOT comes back in a big way.
3. Polygon (MATIC)
At $1.59, MATIC is down by 1.4% in the past hour and by 10% in the past day. It's also down by 16.5% in the past week, although up by a modest 4.7% in the past month.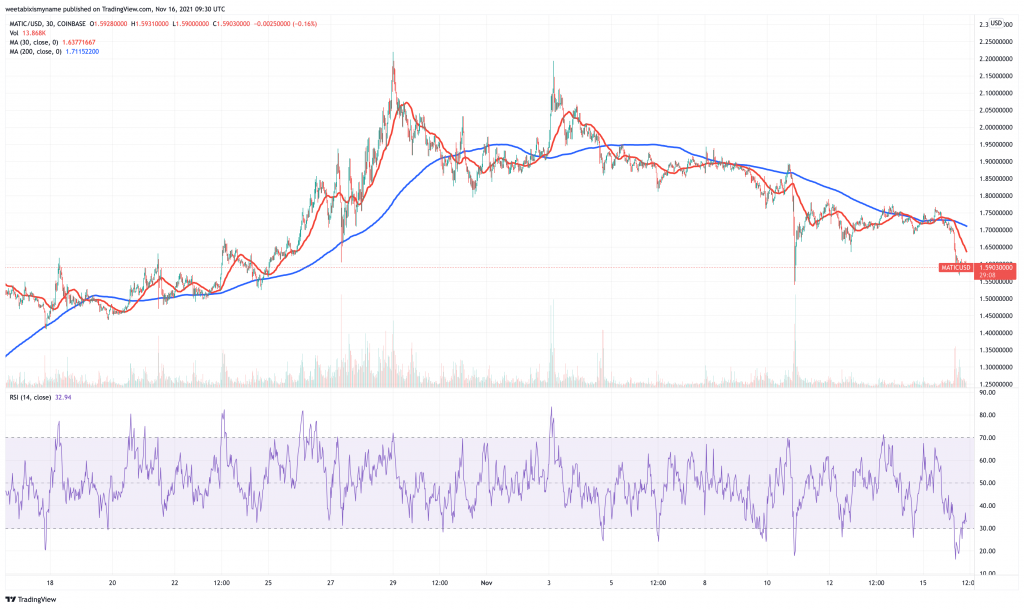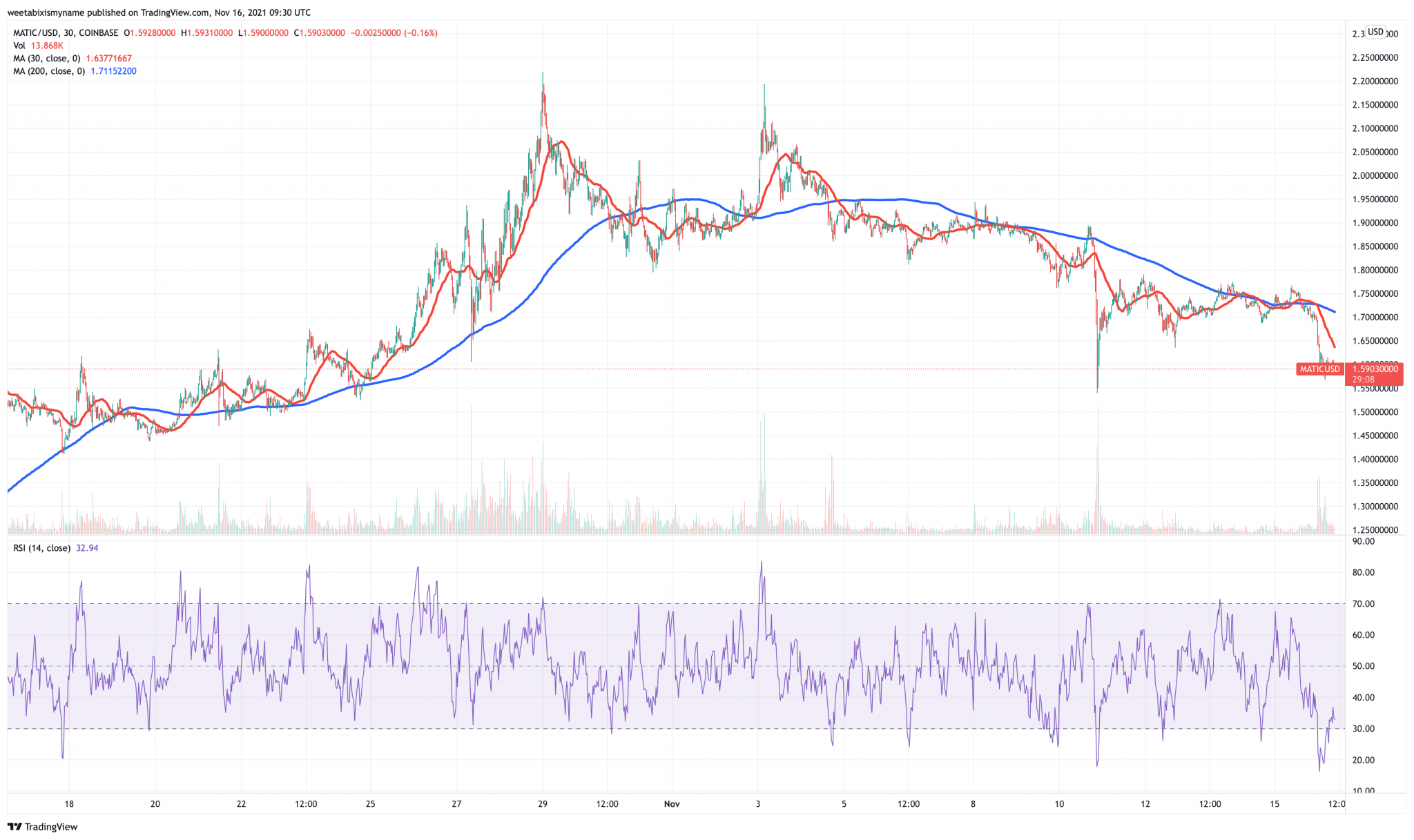 MATIC is another coin in a good position for a strong bounce. Its RSI stands at around 35, while its 30-day average is nearing a bottom.
Looking at the bigger picture, MATIC is the native token of Polygon, which is a layer-two scaling solution for Ethereum. With the latter's transaction fees reaching six-month highs at the moment, demand for Polygon and MATIC should continue climbing.
And according to data from CoinGecko, MATIC is good value for money. Its market cap-to-total value locked ratio is only 1.11, indicating that it isn't overvalued compared to its actual usage and adoption levels. By comparison, the ratio for Loopring — a newer layer-two platform — is 7.37.
In other words, MATIC is a good buy right now for what it is.
3. Cardano (ADA)
ADA has sunk to $1.93, representing a 6.5% drop in the past day and a 1.8% fall in the past hour. It's also down by just over 9% in the past week and by 11% in the past month.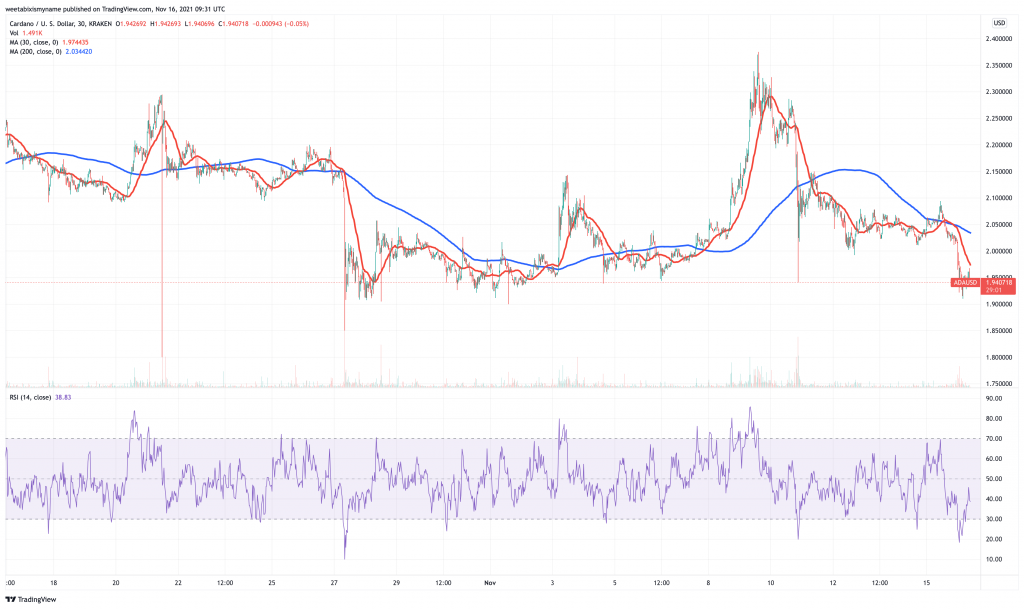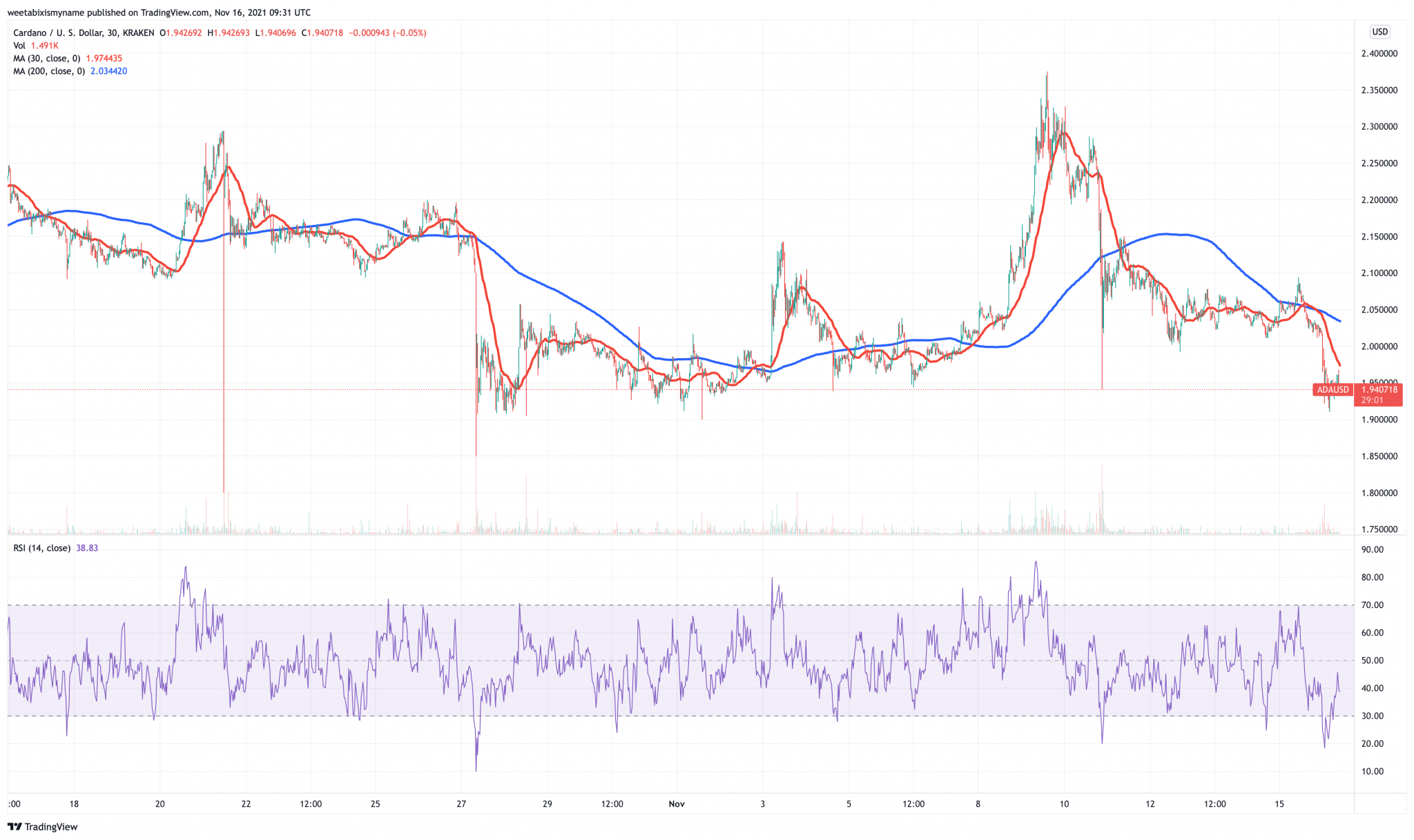 ADA is another criminally undervalued coin. Its RSI is about 40 and its 30-day average is nearing a bottom. Combined with its fundamentals, this should point to a big jump at some point in the not-too distant future.
While Cardano continues to await the launch of actual dapps on its platform, it's drawing ever nearer. On November 5, Input Output Hong Kong introduced the beta version of the Plutus Application Backend (PAB), which is a suite of tools enabling developers to create and test dapps. In due course, this will help give birth to Cardano's ecosystem, and in turn will increase demand for ADA.
This marks a significant milestone in the #DeFi journey on Cardano, simplifying on-chain #smartcontracts integration and smoothing the route to #dApp deployment. $ADA #Cardano 2/4

— Input Output (@InputOutputHK) November 5, 2021
5. Loopring (LRC)
LRC stands at $2.48, a drop of 16.6% in the last 24 hours. It's also down by a hefty 7% in the past hour, something which represents a much-needed correction to recent over-exuberance. That said, it's still up by 20% in the past week, and by 485% in the past month.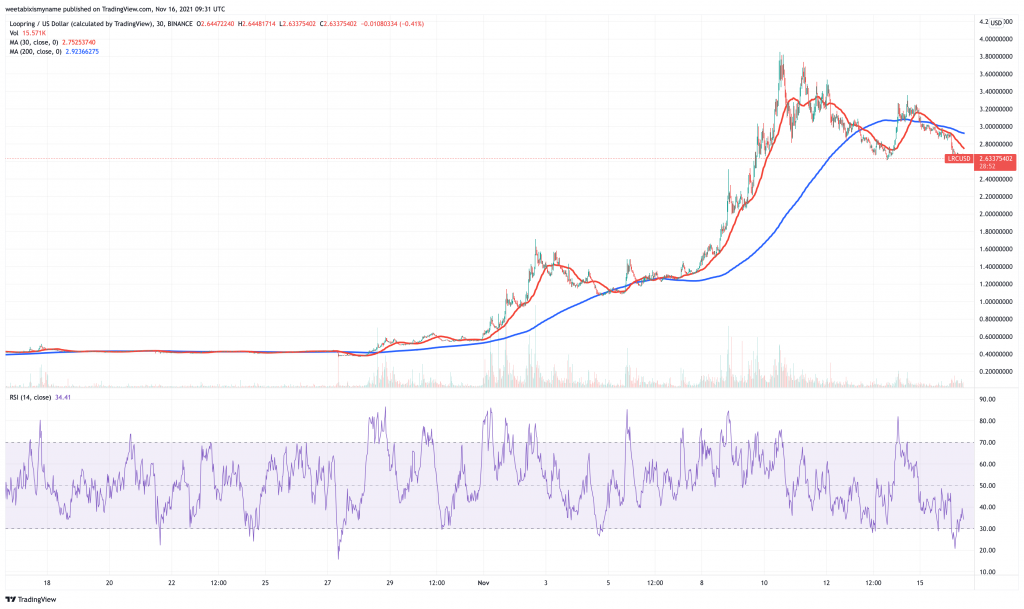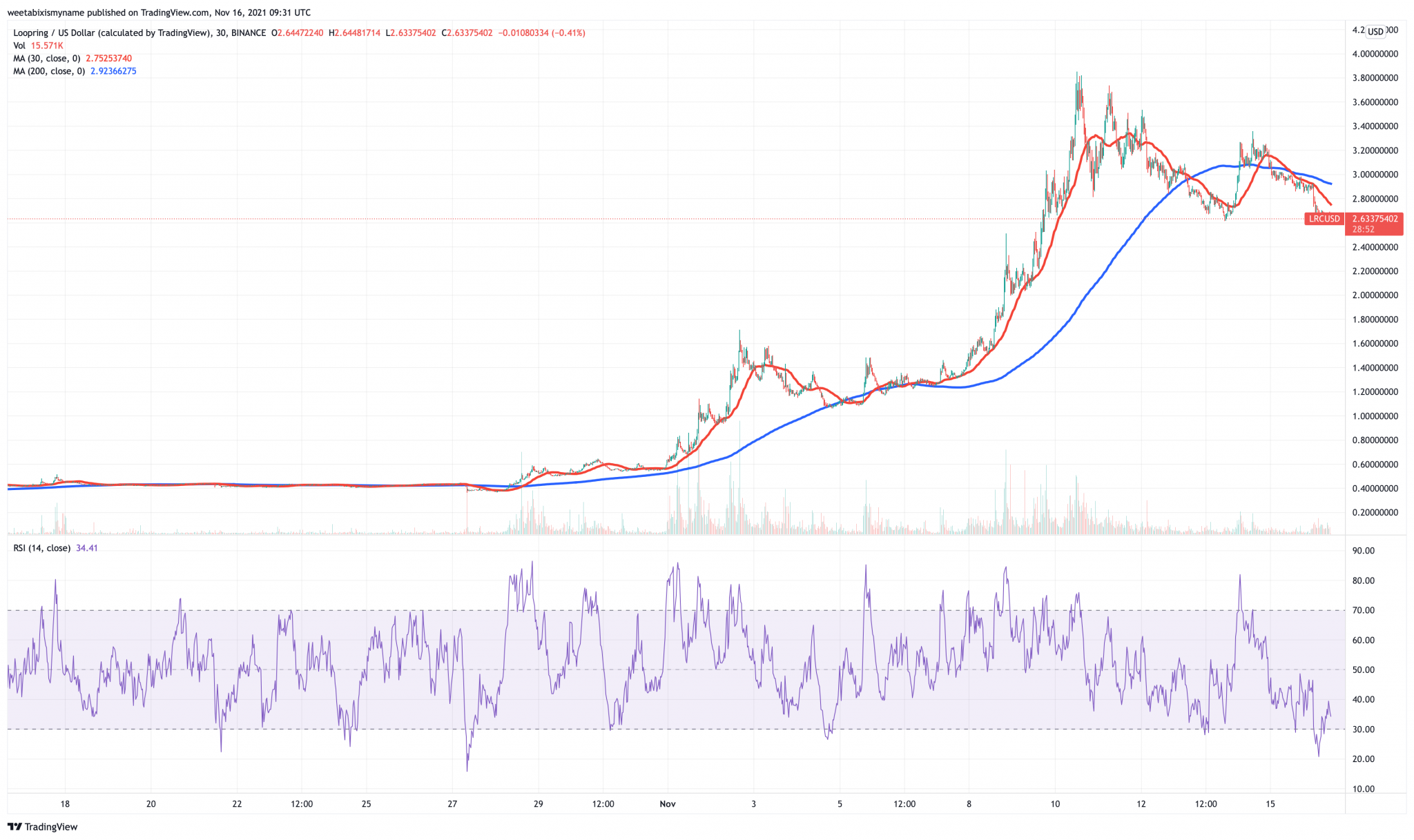 LRC's RSI firmly entered oversold territory today. Its 30-day average is also sinking hard. Nonetheless, this only suggests that it's nearing a point where it will rise again.
And LRC has been one of the hottest cryptocurrencies of the past week or so. It's the native token of Loopring, a layer-two scaling solution for Ethereum that uses zero-knowledge rollups. It's already used by a range of crypto-exchanges, and compared to other layer-two solutions, it's much cheaper.
1/85th the cost, same great Ethereum taste

L2 swaps hit different pic.twitter.com/BQoWh09OWR

— Adam Browman (@A_Browman) November 8, 2021
So because Ethereum fees are likely to remain until next year, Loopring will continue seeing growth once the market recovers. That's why it's one of our 5 best cryptocurrency to buy at low prices.
Capital at risk
Read more: