Non-fungible tokens (NFTs) may have started as a joke at the beginning of the year, but the nascent sub-sector has quickly fledged out a strong following ever since then.
The cryptographically-unique tokens now boast over $14.19 billion in trading volume. They have seen a 25% increase in Q3, with a more robust growth of 509% year-over-year (YoY), according to industry specialist firm DappRadar.
The uptick in NFT trading activities has stemmed from its multifaceted use cases. Aside from appealing to digital art creators, musical artists, and avid JPEG collectors, NFTs have found a home in the gaming industry.
If you intend to benefit from the huge potential in the NFT space, this article discusses some NFT investments with strong long-term growth potential.
1. Decentraland (MANA)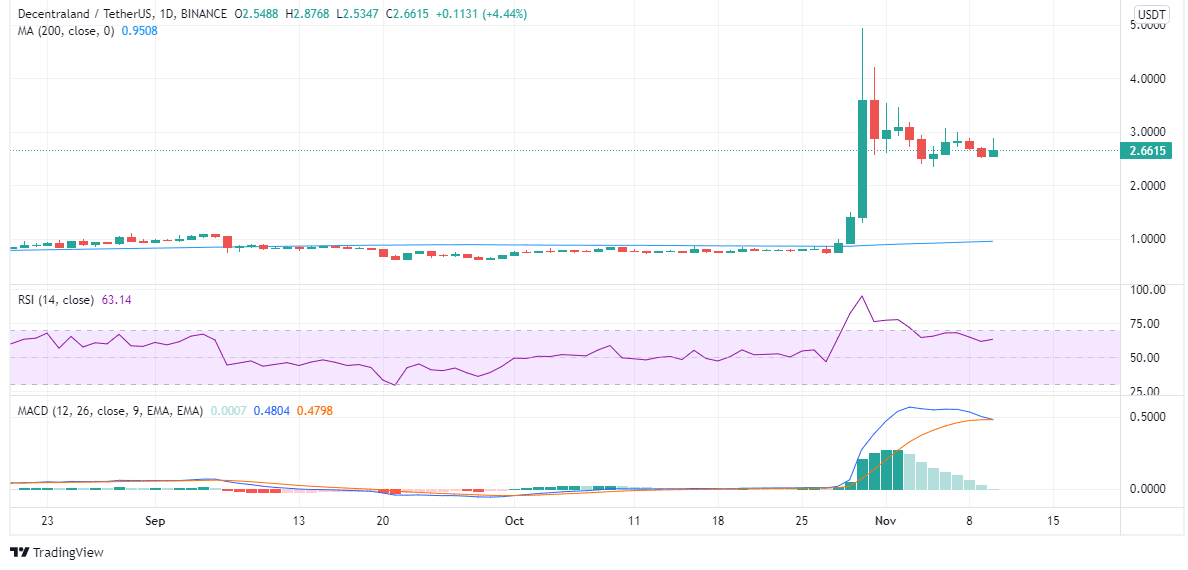 Decentraland is a popular name in the NFT space and is one of the best NFT investments to buy now. For one, its value proposition has seen its snap partnerships with soft-drinks giant Coca Cola and several others.
Another is its broad ecosystem, which uses its platform for virtual music festivals, games, and other virtual experiences. However, at the core, Decentraland is a virtual reality platform that allows users to create, experience, and monetise their content and applications.
Suitable for both individuals and businesses alike, Decentraland boasts of a Metaverse where users can create what they love and benefit from monetising it without any hindrance.
Price-wise, Decentraland's governance token MANA has exceeded expectations following Facebook's delve into the flourishing Metaverse ecosystem.
The ERC-20 token spiked 100% in a week to an all-time high (ATH) of $4.11 on October 31. Although it has since retraced by 34.8% since then, MANA is still one of the best NFT investments to buy now for the long-term.
At press time, 1 MANA goes for $2.6615, up 0.60% in the past day. Despite not showing strong 24-hour momentum, MANA is soaring above the 20-day MA price of $2.05.
2. The Sandbox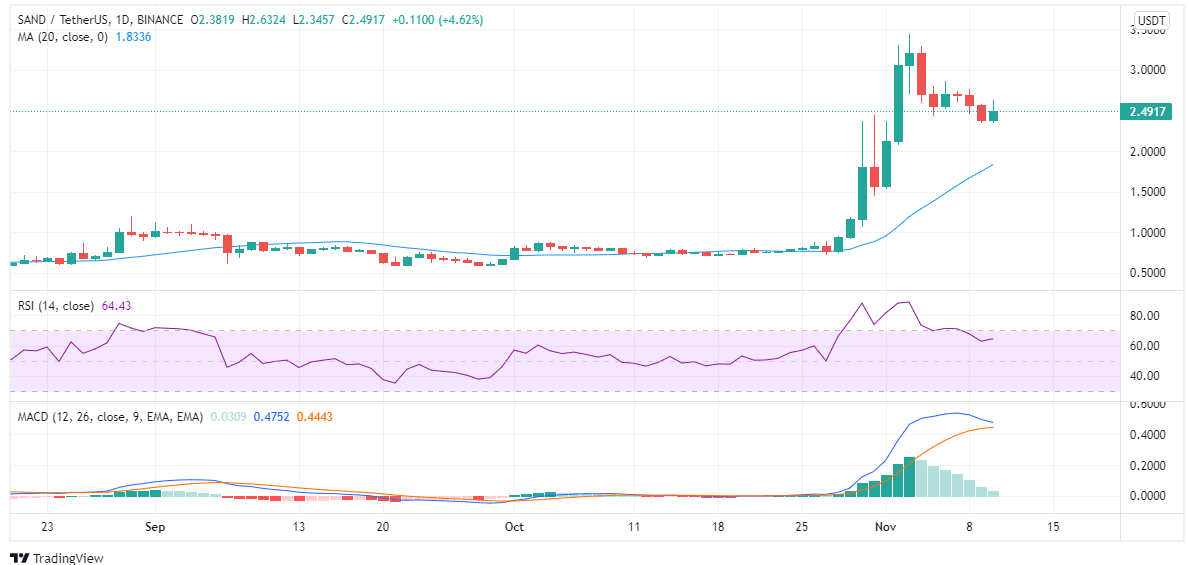 The Sandbox is another best NFT investment to buy. The platform enables users to design, share, and sell in-world assets as NFTs. Resident on the Ethereum blockchain, The Sandbox has a particular focus on changing the gaming landscape by allowing its users to keep a larger chunk of the value they create for themselves.
Sporting the VoxEdit, The Sandbox Marketplace, and Game Maker, The Sandbox has seen a lot of interest in the past few weeks following a strong push by tech giants Facebook, Microsoft, and Nike into the NFT metaverse. So far, game publisher Atari, TV series The Walking Dead, animation firm The Smurfs, and several others are early backers for the NFT project.
Price-wise, SAND has been upbeat and recently hit its ATH value of $3.37 a week ago. Slightly retracing some of its gains following a cool off from the broader crypto market, SAND currently trades at $2.47 and is down 1.4%.
However, the impressive run of form has kept it in the green despite the dip as it is trading above the 20-day MA price of $1.8555. The moving average convergence and divergence (MACD) are also showing a buy signal.
3. Axie Infinity (AXS)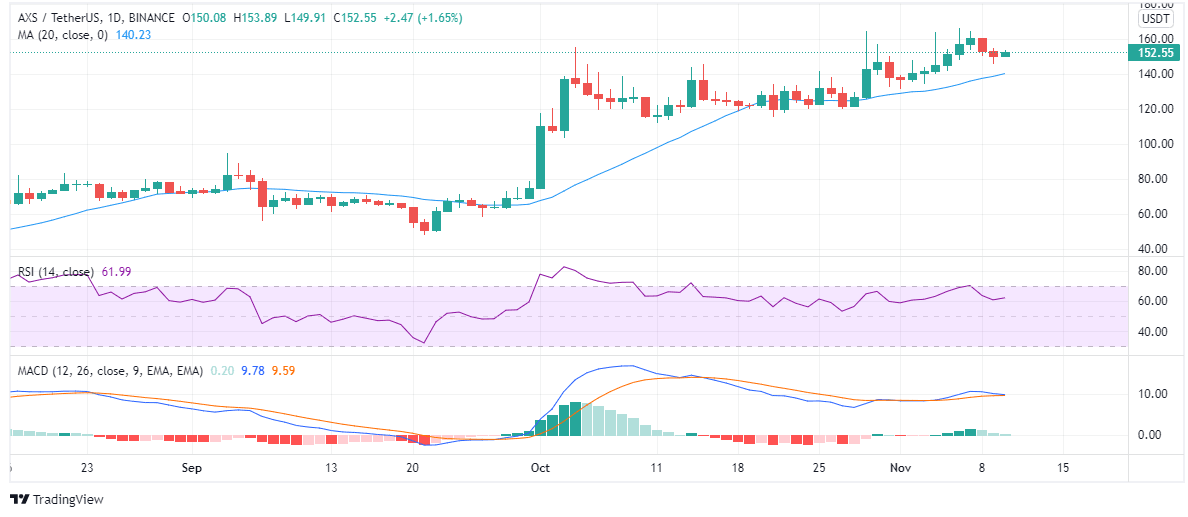 Axie Infinity has been a standout star in the NFT space. A play-to-earn blockchain game, Axie Infinity has grown more than 2,000% since the year began, making it one of the best NFT investments to buy now.
Axie Infinity's success has largely been due to its gaming structure that allows gamers to be partial owners of the platform by owning in-game characters called Axies.
Each Axie represent an NFT that can be upgraded, used in 3-on-3 battles, and traded on the Axie Marketplace. DappRadar state that Axie Infinity is one of the top 5 most traded NFTs in the industry.
The NFT platform has also shown strong promise in its price gains, with the AXS token maintaining a bullish undertone during the crypto winter months.
AXS surged to a record value of $164.90 a few days earlier. Despite being down 7.5% in the last few days, AXS spiked more than 120,000% from its all-time low (ATL) of $0.123 a year ago.
The digital token is currently pegged at $152.55, down 0.7% on the daily chart. However, a mid-term look at its 20-day MA price of $141.12 shows an impressive bullish momentum.
4. Enjin Coin (ENJ)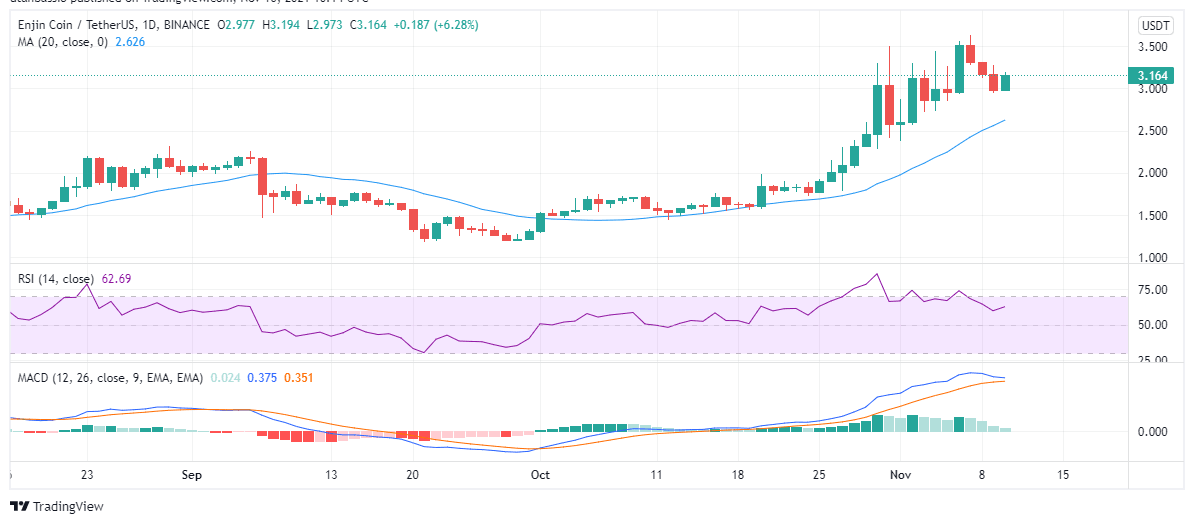 The Enjin Network is focused on games and enables users to create and manage websites, clans, and host virtual item stores.
Anchored on Ethereum, Enjin allows an entire ecosystem of blockchain-based gaming products and permits developers to tokenise in-game assets on its network.
Like several crypto assets, Enjin has had a bumpy ride so far with massive surges and sudden dips, but it has kept up with the broader crypto market.
This has seen it break into the $3 range – a price action it only saw during the April crypto boom. Sitting at $3.164, ENJ is up 1.18% and could hit its previous ATH of $3.94 this month, given the growing interest in NFTs and games.
Enjin is also keying into the metaverse space and has launched a $100 million fund towards this. According to the network, the fund will specialise in cross-chain NFT assets, gaming, and digital collectible applications.
At the moment, ENJ is showing bullish potential as its MACD sits at the buy signal while its 14-day relative strength index (RSI) figure of 61.74 shows that it is still underbought.
5. Tezos (XTZ)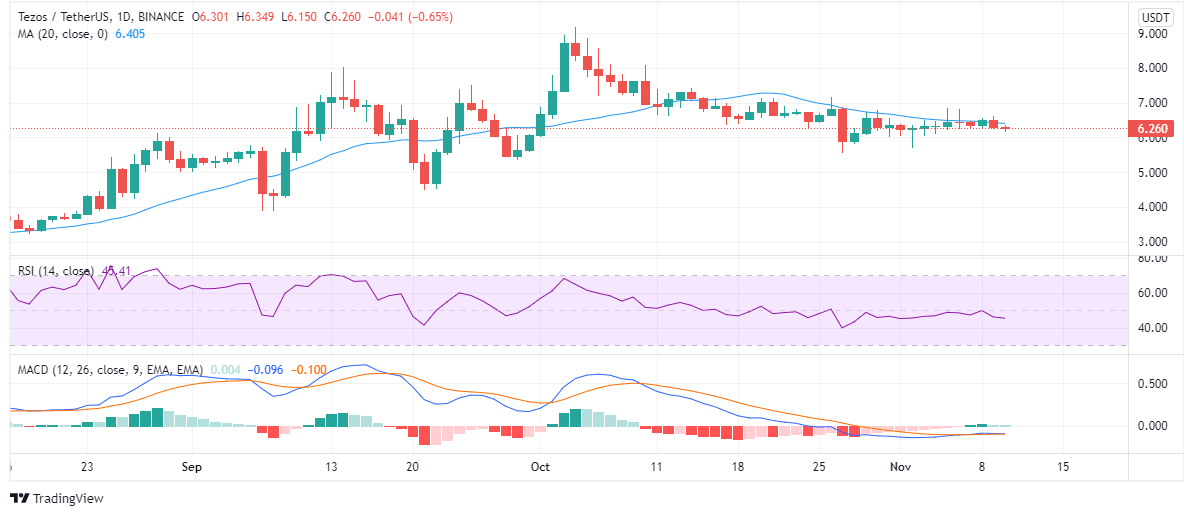 Tezos may not be your conventional NFT investment, but the popular Ethereum rival is a well-known hub for blockchain-based tokenised assets. A product of Arthur and Kathleen Breitmann, Tezos is a future-proof proof-of-stake (PoS) protocol that is faster, cheaper, and more energy-efficient than Bitcoin and Ethereum.
Its core architecture allows it to successfully make necessary upgrades without the danger of a hardfork, as experienced by the two older blockchains.
With the surge in NFT interests, Tezos has become a hub for NFT partnerships with F1 team Mclaren Racing launching their NFT collections on the protocol. This and many other strategic partnerships make Tezos one of the best NFT investments to buy now.
The XTZ token has kept in tandem with this growing adoption and hit a price high of $9.12 on October 4. However, it lost 31.5% in the latest market dip and is now trading at $6.2, slightly below the 20-day MA price of $6.38.
With the crypto market recovering, Tezos is expected to catch some major tailwinds soon.