While Bitcoin has been the rave of the crypto market in the past week, alternative currencies (altcoins) have also shown impressive growth. The foremost altcoin, Ethereum, hit a new record value of $4,878.26 a few days ago, with several others also recording strong gains.
This article explores 5 top altcoins to buy this month as interest in DeFi, NFTs, and Metaverse increases.
Ethereum (ETH)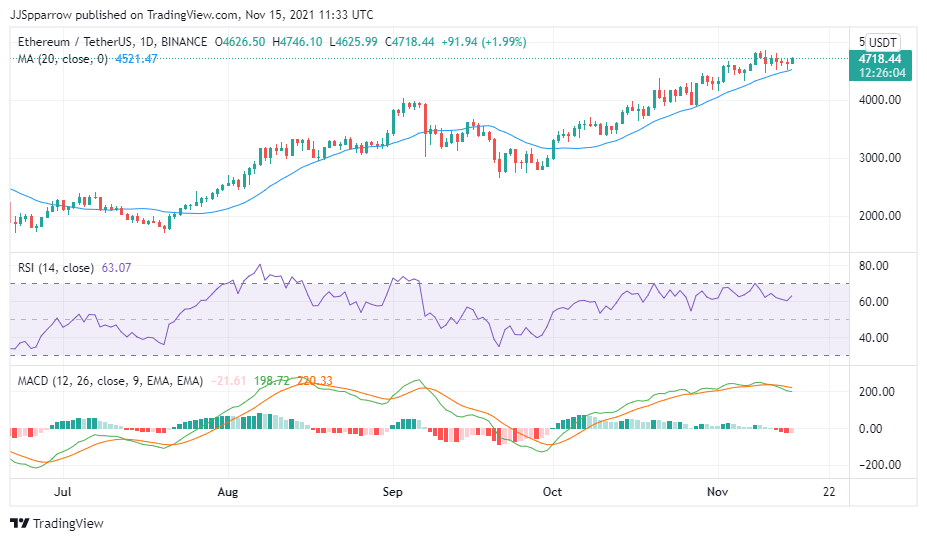 As expected, Ethereum leads our top altcoins to buy list. The network hosts roughly 97% of the rapidly growing decentralised finance (DeFi), non-fungible token (NFT), and Metaverse ecosystems. This makes it an ideal destination for developers and, by extension, investment inflows.
Ethereum's transition from a proof-of-work (PoW) to a proof-of-stake (PoS) protocol is also expected to pay strong dividends to investors. For instance, it will lead to a greener platform, cost-efficiency, and even higher throughput combined with optimised scalability. This will see ETH explode in value as more protocols can easily tap into the decentralised internet computer that the Ethereum network truly is.
For the time being, ETH is trading at $4,718.44, up a modest 2.56% in the past 24 hours. However, weekly gains are in the red zone as the foremost altcoin has decreased by 0.18% in the past seven days. But a monthly increase of 23.19% shows that ETH is still one of the top altcoins to buy for long term returns.
Meanwhile, ETH is trading above the 20-day moving average (MA) support price of $4,514.14, showing a bullish momentum.
Binance Coin (BNB)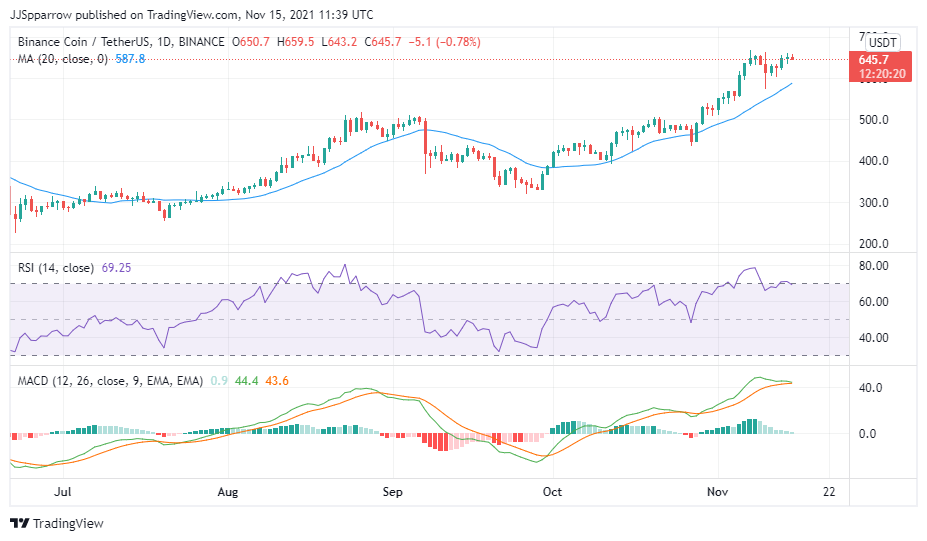 For one thing, Binance Coin has little utility outside the Binance exchange ecosystem, but the BEP-20 token's incredible run of form year-to-date (YTD) has seen it become one of the top altcoins to buy this month.
Coming into the year at a modest $38, BNB has surged by more than 1,600% YTD as it hit a record value of $686.31 earlier on in the year. Today's modest price gain of 0.2% sees BNB trade at $645.70, showing that it intends to surpass its previous ATH. The digital asset is likewise soaring on the 20-day and 200-day MA prices of $588.3 and $426.2, respectively. Its 14-day relative strength index (RSI) figure of 71.31 points that it is trading in the overbought region at the moment of writing.
BNB's strong technical performance has primarily stemmed from its fundamentals. Following the token burn of BNB worth $640 million, the Binance developer ecosystem is putting plans in place to further increase the digital token's value via a real-time burning mechanism.
According to the blog post, the burn token will impact the gas fee paid in the Binance Smart Chain (BSC) ecosystem, removing some from circulation.
Solana (SOL)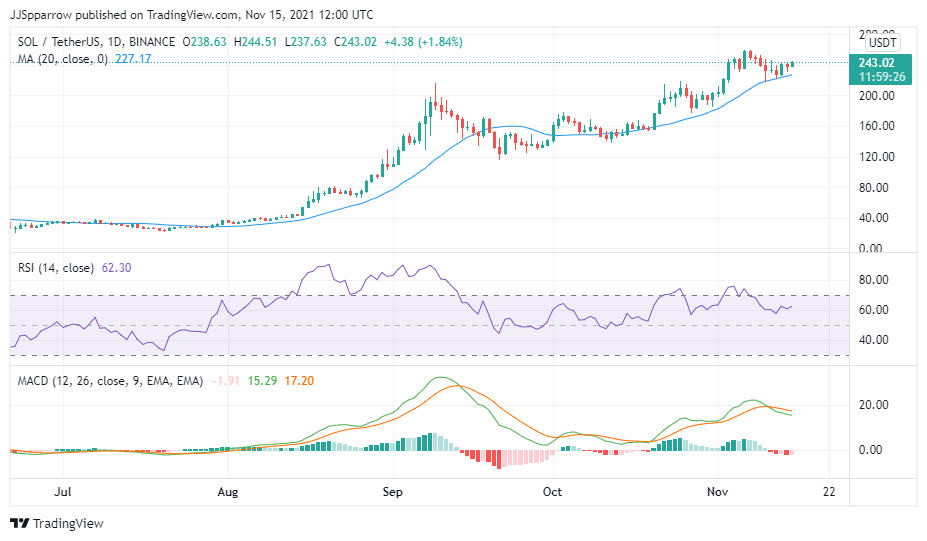 Investors who kept faith with the Ethereum rival are currently smiling to the bank following the protocol's meteoric surge this year. Pegged among the top 20 at the beginning of the year, Solana has surged to the 5th spot on the most valuable crypto asset by market cap following a 16,005.62% year-to-date (YTD) increase. It has kept up its stellar performance with a 593.84% six months surge in a market situation mixed with bulls and bears vying for control.
At press time, SOL is trading at $243.02 and is up 2.94% in the last 24 hours. However, its weekly gains are down at 2.23%, following a more elaborate 54.09% increase in the past month. Keeping in line with the general crypto market, SOL is trading above its 20-day and 200-day MA prices of $227.89 and $92.66, respectively. Its 14-day RSI shows it is more temperate as it stands in the underbought region of 61.89.
Solana has recently partnered with Reddit co-founder and popular NFT supporter Alex Ohanian to launch a joint $100 million Web3 fund.
Cardano (ADA)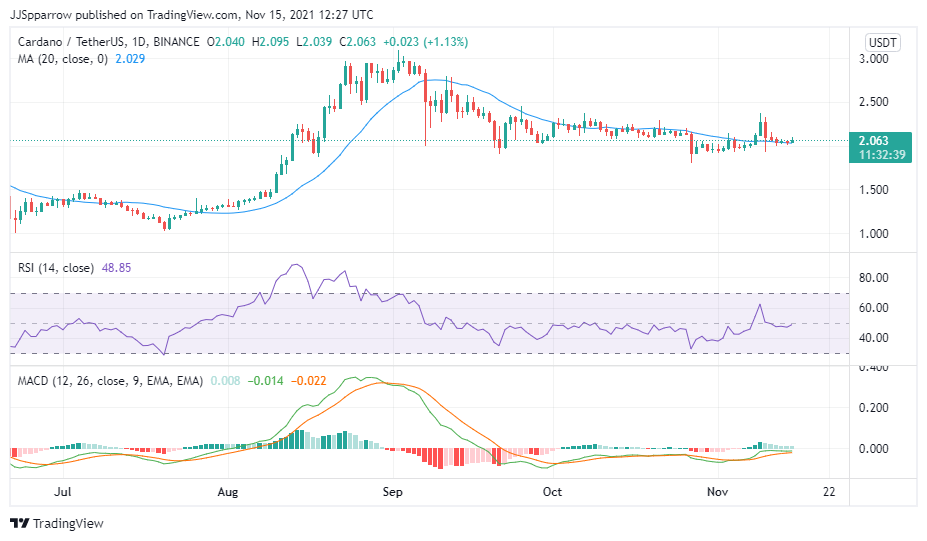 Cardano has been the more laid-back of the popular altcoins as it has since seen major downtrends following its all-time ascent of $3.10 on September 2. But this does not take away the fact that it is one of the top altcoins to buy, given that it is one of the most staked PoS protocols in the blockchain ecosystem, per data from Staking Rewards.
Price-wise, Cardano's ADA is trading at $2.063, almost on par with the 20-day MA price of $2.031. It is currently up 1.16% in the past day and has a modest 1.31% increase in the last week. The 200-day MA price of $1.878 shows that ADA is on a bullish run and would likely continue on its uptrend.
However, the MACD indicator is neutral, showing a strong tussle for control by the bulls and the bears.
Despite this, Cardano would likely be one of the most utilised platforms soon. It has penned down major partnerships with world governments, starting with the Ethiopian government. Now, it has signed a new partnership with World Mobile to provide e-gov solutions and digital identities to Tanzanians to help bridge the existing digital gap among the people.
Avalanche (AVAX)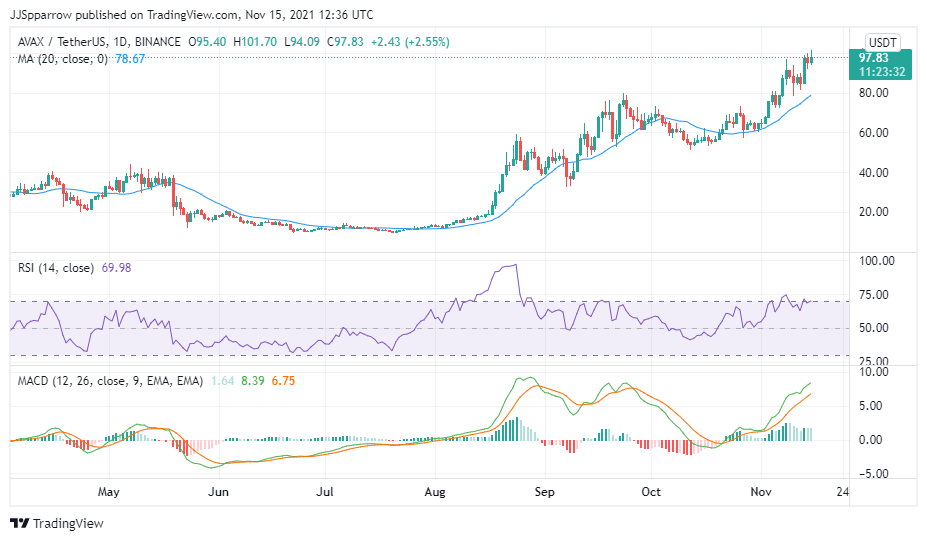 The Avalanche blockchain may be little known, but the PoS blockchain protocol is another top altcoins to buy for future gains. Pegged at $88.36 on November 11, Avalanche has surged 7.44% in the past week and is currently trading at $97.83.
This sees it stand above the 20-day MA price of $78.80 and the 200-day MA price of $38.52. Its RSI figure of 69.92 shows that it is trading dangerously close to the overbought region as more investors pile into the Ethereum rival. The MACD indicator shows a clear buy signal as the green trendline soars above the orange indicator.
AVAX's meteoric price gains likely started after its partnership with Formula E racing team Andretti Autosport. This will see the highly scalable protocol serve as the title sponsor for the forthcoming season.