Cryptocurrencies and sports have slowly become more intertwined than ever. One of the tokens that have placed itself right at the centre of the sports sector is Chiliz. This is one of the coins that have focused on boosting engagement with sports fans, and through the Socios.com platform, it has managed to attract a lot of notable sports teams. Chiliz is trading at $0.567 at the time of writing after a 4.1% gain in 24 hours.
Chiliz price analysis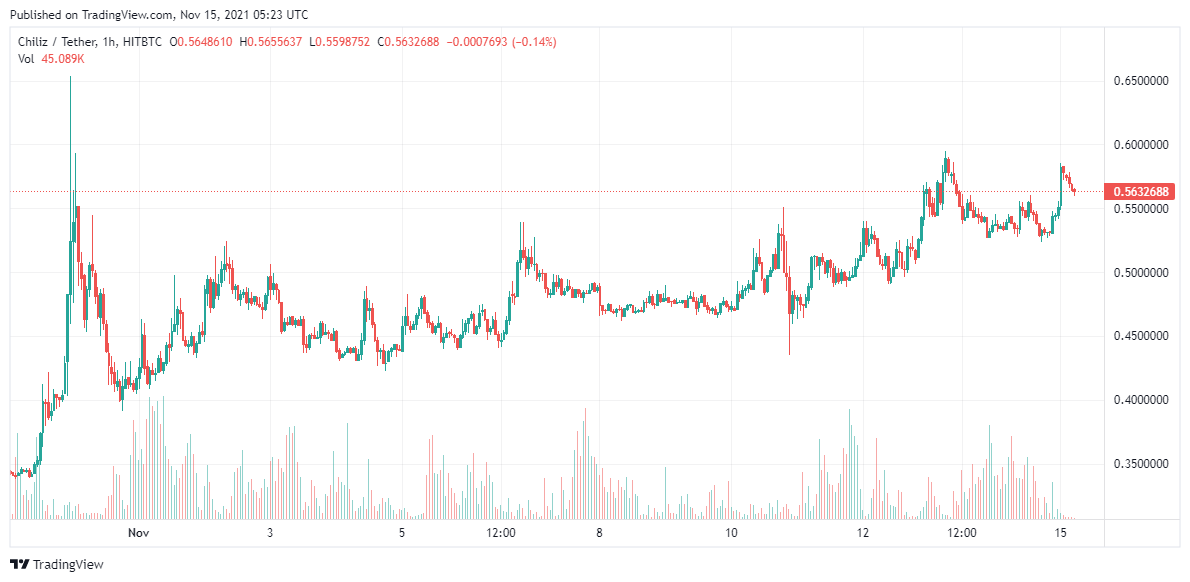 CHZ has been on a bullish rally during the past 24 hours because of an influx in buyer support. During the past 24 hours, it managed to reach the highs of $0.58 before making a slight dip to the current levels.
The gains made by this coin could continue, in which case it will test another resistance at $0.60. Such gains will be made if the buyer and market support are strong. If market support kicks in, this altcoin will not only attain these levels, but it could set the next target at $0.75.
If the market support lacks, we could see the coin pushing towards the lower support levels of $0.54. Currently, the coin is making slight dips, in which case it will test the other support level at $0.54. If it dips to $0.52, it will erase all the gains that have been made during the past 24 hours.
The gains made by CHZ have been attributed to non-fungible tokens (NFTs). The recent rally coincides with the latest development where the platform rolled out the first live in-game NFT drop. The NFT was developed during a match between AC Milan and AS Roma. Fans could receive NFTs of special moments during live matches if they correctly predict the game's outcome.
Where to buy CHZ
If you want to buy CHZ, you can open an account on the following platforms:
eToro is one of the leading cryptocurrency exchange platforms, and it supports a wide range of cryptocurrencies and trading pairs. The platform comes with low trading fees and commissions and a copy-trading feature that is ideal for beginners.
The other platform where you can buy CHZ is HitBTC. This is also another leading exchange, and it comes with support for a broad range of cryptocurrencies and trading pairs. It also offers a user-friendly interface.
Your capital is at risk.
Read more: