Coins that support the virtual world, better known as the Metaverse, have been gaining recently. These gains have resulted from top tech giants such as Microsoft and Facebook being interested in the Metaverse. Decentraland is one of the popular players in the Metaverse, and its native token, MANA, has been rallying due to this development.
MANA is trading at $3.13 at the time of writing after a 23.8% gain in 24 hours.
MANA price analysis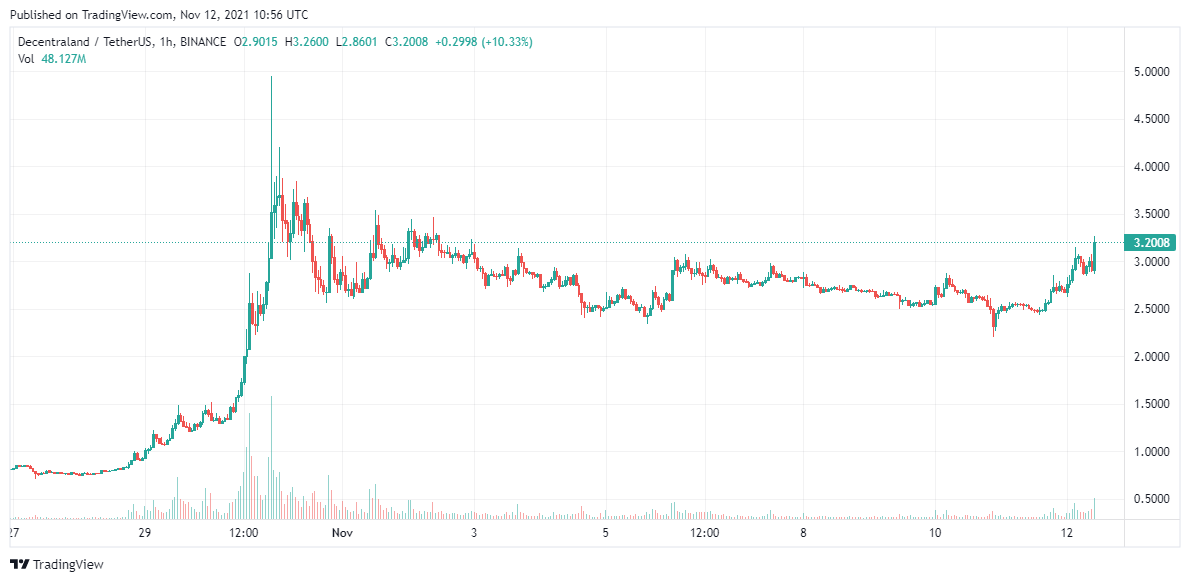 Decentraland has been on a major bullish rally during the past 24 hours due to increased buyer support. MANA reached an all-time high of $4 on October 31, but it has since shed some of those gains.
If MANA continues with the gains, it could break out of the next resistance of $3.50. This resistance level could be reached soon as buyer support for the coin is currently high. This could put the coin back to testing the next all-time high of $4.
There is still the chance that MANA could make losses because support from the broader market is weak. In this case, it could drop towards the lower support of $2.90. Before the 24-hour rally, MANA was trading at around $2.40, and it could go back to these levels if the support is lacking.
As aforementioned, the gains made by Decentraland in recent days have been attributed to the rising fame of the Metaverse. The first major MANA rally happened after Facebook rebranded to Meta. Shortly after, other leading tech companies, including Microsoft, also stated that they would be joining the Metaverse, which led to even more gains.
Where to buy MANA
If you want to buy MANA during the current market bulls, you can open a cryptocurrency exchange account on eToro. eToro is one of the leading exchange platforms, and it comes with support for a wide range of cryptocurrencies and trading pairs. eToro is also ideal for new traders because it supports user-friendly features such as copy trading, where a new trader can copy the strategies used by seasoned traders.
Your capital is at risk.
Read more: