The crypto market has been making slight rebounds after a dip that happened this week. However, some altcoins have made notable gains and have even made record highs despite what is happening in the broader market. Elrond is among the top gainers during this period, creating a new all-time high.
Elrond is trading at $386 at the time of writing after a 13.3% gain in 24 hours.
Elrond price analysis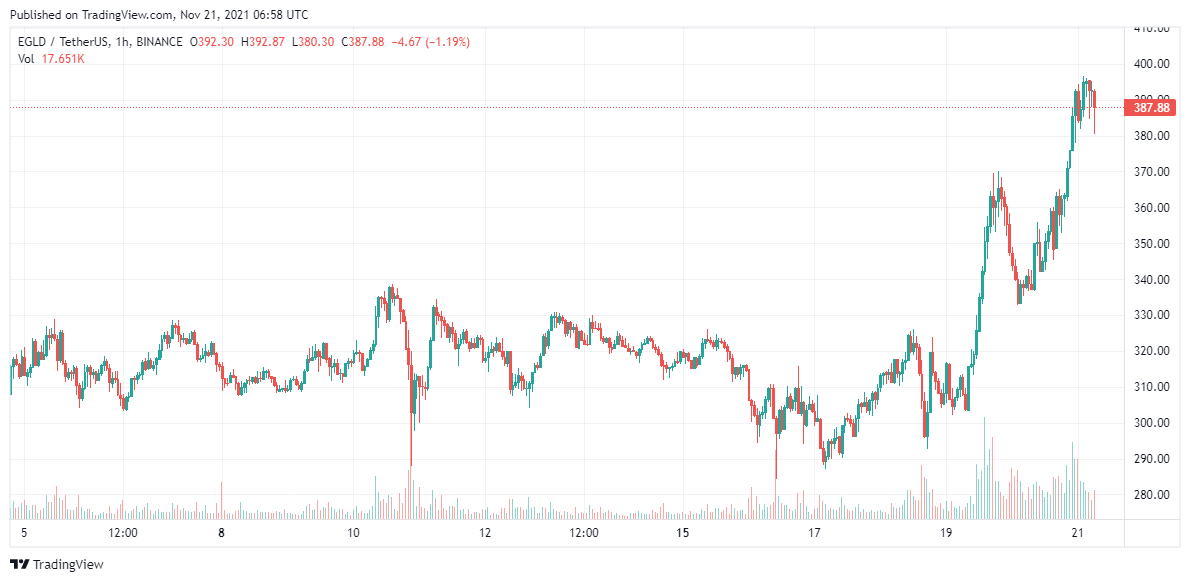 As aforementioned, EGLD has been on a major bullish rally, which has been happening over the past week. Following these gains, the altcoin has created a new all-time high of $398.
If EGLD can continue with the gains, it could soon create another record high at $400. Currently, buyer support is high, and with the rest of the market also making a rebound, there are higher chances that EGLD will hold its gains and could push towards major levels. After $400, the other levels that will be achieved are $410 and $420.
On the other hand, there is also a chance that EGLD could push towards the lower support levels. If it fails to maintain the bullish rally, it could test the lower support level of $380. Before the 24-hour bullish rally, the coin was trading at around $340, and if there is selling pressure, it could go back to trading at lower levels.
The recent gains made by Elrond have been attributed to the network's increased activity. The development team recently announced that it had launched a $1.29 billion liquidity incentive program that will increase the network's decentralized finance (DeFi) capabilities. The funds will also be used to support the launch of a DEX on the platform, which will fuel DeFi adoption of the Elrond network.
Where to buy EGLD
If you want to buy EGLD during the current bull market, you can create an exchange account on eToro. eToro is a reputable crypto exchange platform that gives users access to friendly features such as copy trading and low trading fees. The exchange also supports a wide range of cryptocurrencies and trading pairs.
Your capital is at risk.
Read more: