The KCS token has been making major gains over the past few days. The token has just created a new all-time high, and it is still keeping up with the uptrend, signifying that more gains are yet to be made.
KCS is trading at $21.62 at the time of writing after a 12.4% gain in 24 hours.
KCS price analysis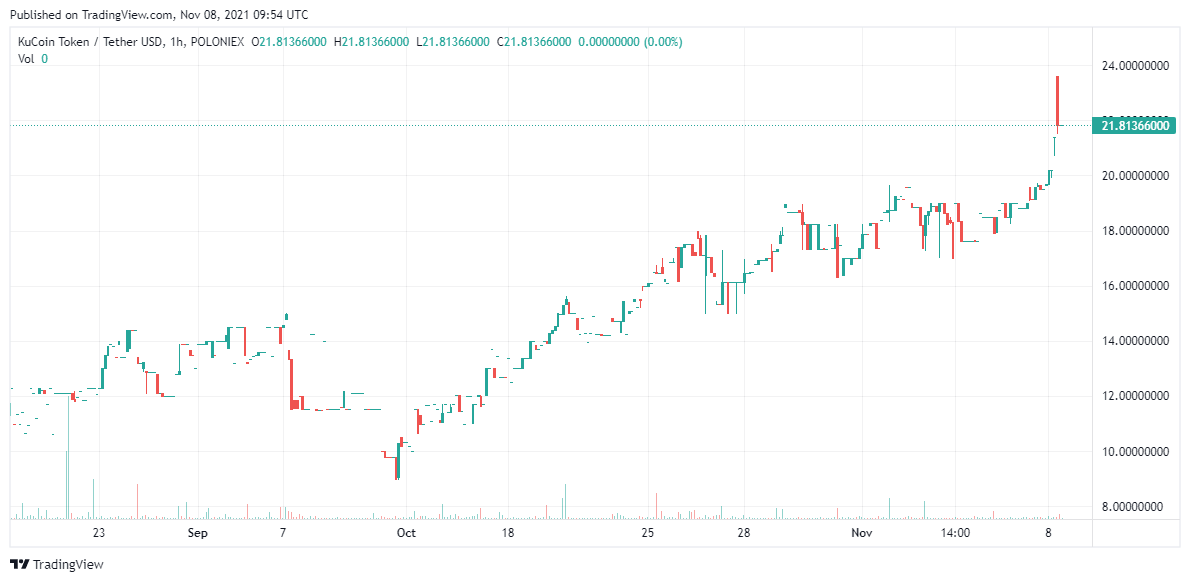 The crypto market has been making major gains, with bitcoin and ethereum trading at $65K and $4700, respectively. KCS is among the coins showing major gains during the past 24 hours, as it reached an all-time high of $22.60.
Currently, the market support for KCS is high; hence there is still a chance that the token will push to other highs. The next target for KCS is $25, and such levels can easily be achieved with the strong support being registered. Over the past month, the token has gained by over 85%; hence it has held to this uptrend for a long time.
Despite the major gains, there is also the chance that KCS could fail to hold the uptrend and dip towards lower levels. In this case, the token could dip towards the lows of $19. It has held these levels before the 24-hour bullish gains. Stronger bears could push it towards $16.
The KCS token is the native cryptocurrency for the KuCoin ecosystem that includes the KuCoin exchange. The gains made by this token in recent days come after KuCoin announced a major move into the Metaverse. The platform announced that it would be launching a virtual skyscraper dubbed "Bloktopia." Kucoin will have a virtual office in this building and have a way of boosting client engagements.
Where to buy KuCoin
If you want to buy KCS during the current gains, you can create an account on the following platforms:
eToro is a top cryptocurrency exchange that offers support to a wide range of cryptocurrencies and trading pairs. eToro also offers access to user-friendly features such as low trading fees and copy trading.
You can buy KCS from KuCoin. KuCoin is also one of the largest exchanges. Like eToro, it also comes with copy trading to allow a new trader to copy the trading strategies used by expert traders.
Your capital is at risk.
Read more: