The crypto market entered into a consolidation phase during the weekend. Bitcoin and ethereum have not dipped or gained and have maintained $61K and $4300, respectively. However, this has not deterred other altcoins from making double-digit gains. One of the top gainers during the past 24 hours is QTUM.
QTUM has gained by 40.1% in the past 24 hours, and it is trading at $18.54 at the time of writing.
QTUM Price Analysis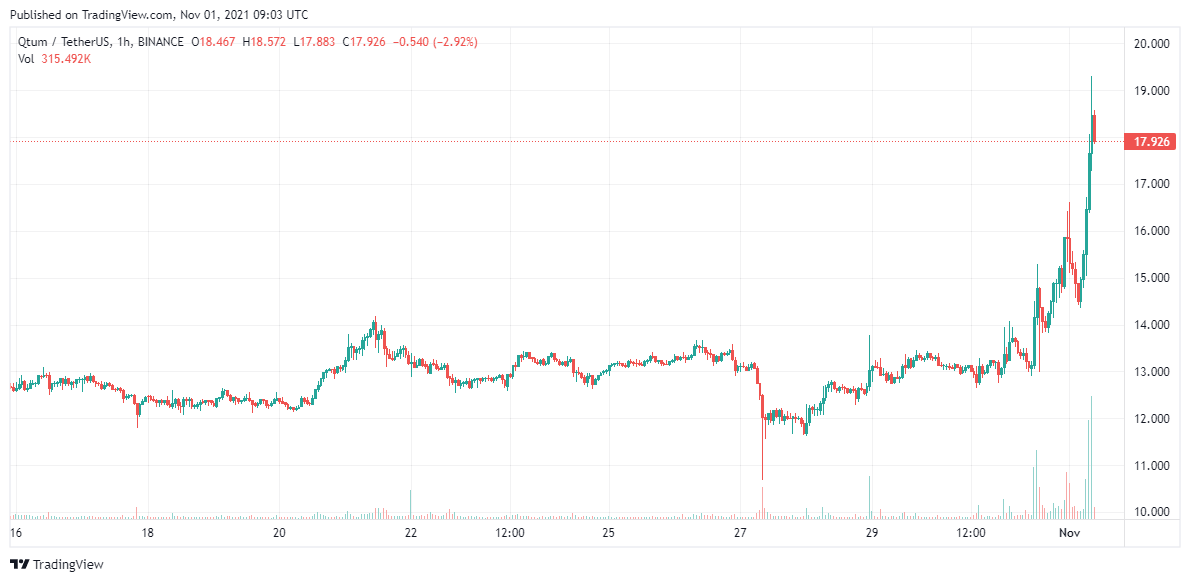 QTUM has been on a massive rally during the past 24 hours. The highest price it has reached during the past 24 hours is $18.91, and it has managed to maintain these prices.
If the buyer and market support continues, we could see QTUM testing the upper resistance of $20. This will be a monthly high for the altcoin, as it has failed to make gains as the rest of the market rallied in October.
However, if there is a slump in prices, the altcoin will go to the lower support of $16. It had tested the $17 support levels, but the existing buyer support allowed it to make an uptrend to higher levels.
The gains made by QTUM come as the project takes part in a rebranding process seeking to change its development roadmap. As a project backed by technology, having a focused development roadmap will go a long way in increasing the relevance and use cases of the token in the crypto and blockchain spaces.
Where to Buy QTUM
If you want to buy QTUM during the current bullish rally, you can open an account on the following exchange platforms:
one of the recommended exchanges in the crypto space is eToro. eToro comes with a copy trading feature that allows a new trader to copy the trading strategies used by an expert trader. eToro also charges low trading fees and commissions.
You can buy QTUM from Kraken. Kraken is one of the leading exchange platforms in the market, and it supports a wide range of cryptocurrencies and trading pairs. Kraken also has a user-friendly interface that makes it easy to use.
Your capital is at risk.
Read more: