The broader cryptocurrency market is experiencing price dips, with bitcoin and ethereum dropping to $59K and $4200, respectively. However, this has not prevented some altcoins from continuing to make major price gains. SAND has been among the top gainers during the past 24 hours, and it has managed to hit an all-time high.
SAND is trading at $4.26 at the time of writing after a 22.5% gain in 24 hours.
SAND price analysis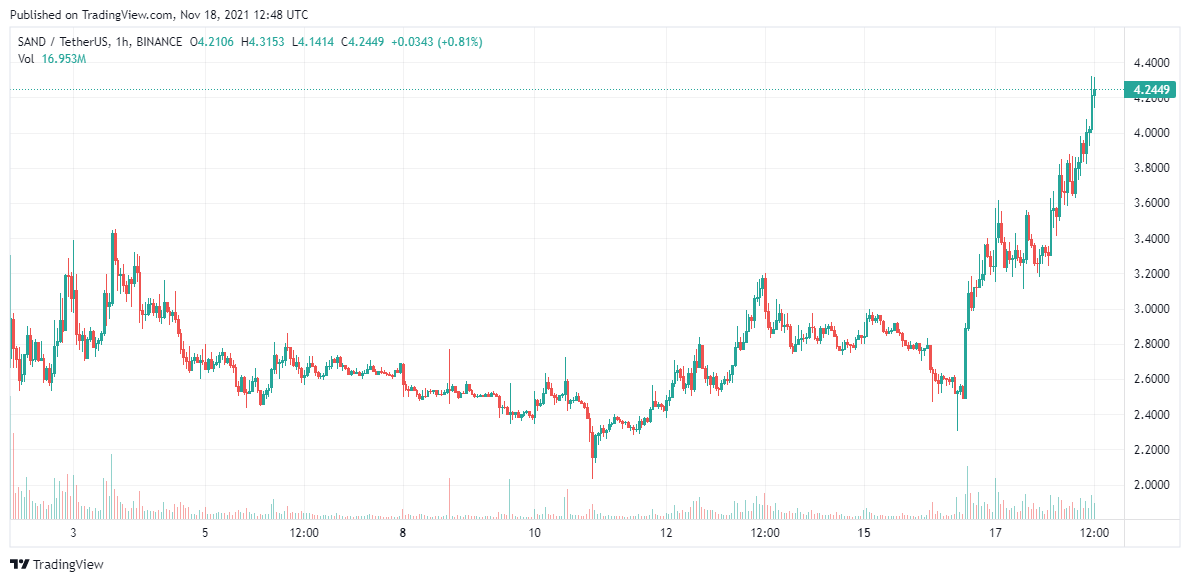 SAND has been among the leading gainers during the past 24 hours. Following these gains, the altcoin hit an all-time high of $4.33, according to CoinGecko. Despite slipping a bit, the token is still showing signs of a bullish rally.
If the gains continue, SAND will head on to the next resistance level at $4.50. If it manages to hit this price, it could set the next target at $5. While market support is not very strong, buyer support is showing signs of holding, in which case we could see this token making more gains.
Before the 24-hour bullish rally, SAND was trading at around $3.28. Given that the broader market is on a bearish trend, SAND could fail to hold the gains it has made and drop to the lower level of below $4. A sharper dip could push it to the lower support of $3.80.
The Sandbox has been rallying over the past 24 hours because of the announcement that the network is launching its Metaverse by the end of this month. The announcement from the firm states that on this platform, players can monetize the time they spend on the Metaverse using a platy-to-earn feature. This event will run from November 29 to December 20.
Where to buy SAND
To buy SAND during the current bulls, one can open an account on the following platforms:
eToro is one of the leading exchanges, and it comes with friendly features for both beginner and expert traders. The exchange supports copy trading, where a new trader can copy the trading strategies used by expert traders. eToro also offers low trading fees and commissions.
You can also buy SAND tokens from Binance. Binance is the largest cryptocurrency exchange platform by trading volumes. It charges some of the lowest trading fees and supports a wide range of cryptocurrencies and trading pairs.
Your capital is at risk.
Read more: