The crypto sector has been facing much recession during the past few weeks, and with Bitcoin dropping to around $58K, the majority of the market has moved to trade in the red zone. However, some altcoins are still making notable gains, and Zcash is an example of these tokens.
Zcash is trading at $174 at the time of writing after an 8.2% gain in 24 hours.
Zcash price analysis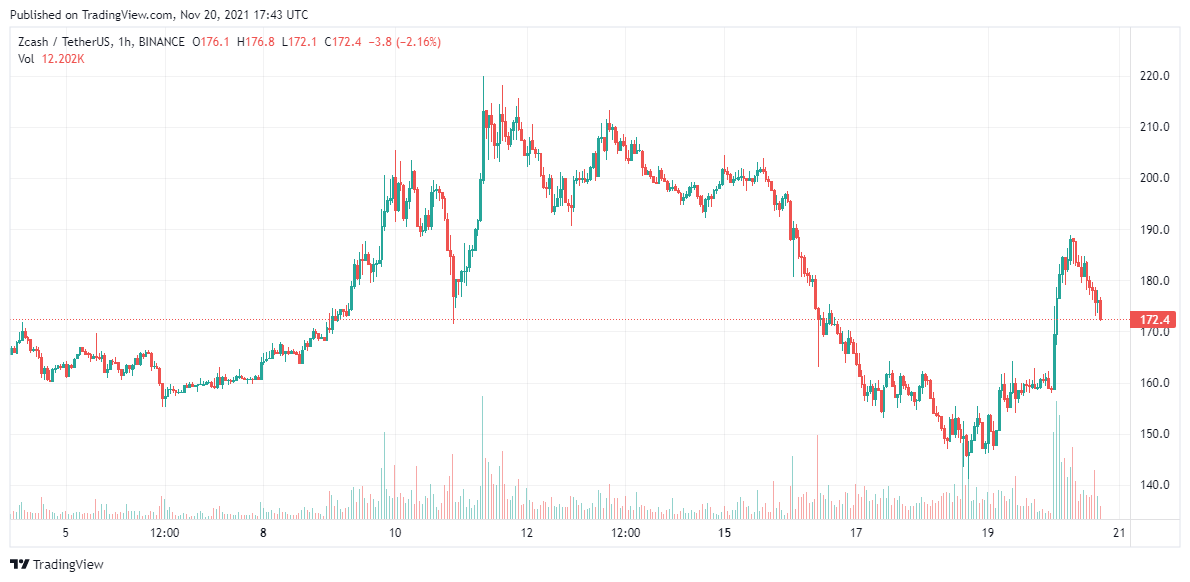 As aforementioned, ZEC has been among the top gainers during the past 24 hours. During this time, the altcoin hit a high of $187, but it has failed to hold these levels, hence the current slump.
The gains being made by ZEC are because of both customer support and market support. After Bitcoin dipped to $55K this week, it has shown signs of recovery, and altcoins are making gains following this recovery. ZEC is also benefiting from the rebound, hence the slight bullish rally it has made during the past 24 hours.
If the altcoin continues with its gains, it could once again test the resistance at $185. If buyers continue to accumulate more, ZEC could set the next target at $200.
On the other hand, volatility across the crypto market is high, and ZEC could start making major price dips because of this. If it slumps, it could drop to the lower support level of $172 and $168. The altcoin could also drop to $150, as it had been trading at these levels before the 24-hour bullish rally.
The recent gains made by ZEC have been attributed to the announcement by developers on the platform that it would change from a proof-of-work to a proof-of-stake framework. Such transitions are aimed at boosting the scalability of a project and giving them more eco-friendliness.
Where to buy ZEC
If you want to buy ZEC during the current market bulls, you can create a cryptocurrency exchange account on eToro. eToro is one of the leading exchange platforms, and it supports a wide range of cryptocurrencies and trading pairs. eToro also comes with user-friendly features such as low trading fees and copy trading.
Your capital is at risk.
Read more: