The crypto market is currently facing a strong recession, with coins failing to make any significant gains. Bitcoin has retreated to trading at $57K, and other cons are reacting to this and dipping towards the red zone. However, some altcoins are making significant gains. One of these coins is Zcash.
Zcash is trading at $206.60 at the time of writing after a 10.8% gain in 24 hours.
Zcash price analysis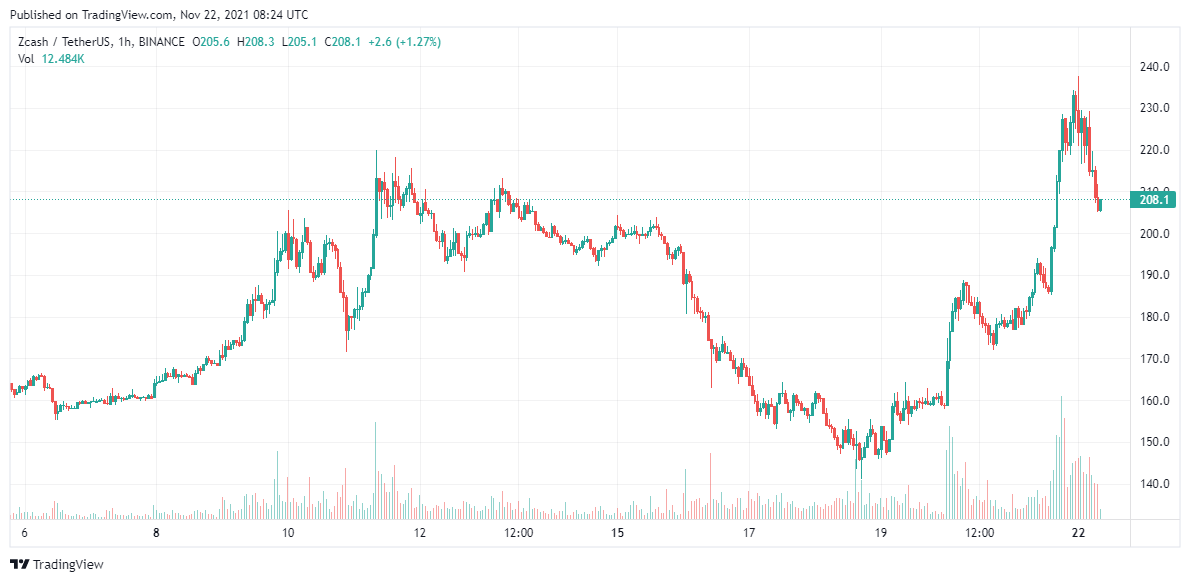 ZEC has been making notable gains during the past few days, and most of these gains are coming from increased buyer support.
During the 24-hour uptrend, ZEC reached a weekly high of $232. However, it has shed some of these gains and is currently trading at a slight dip. The overall buyer support is still strong, in which case the altcoin could test the upper resistance of $215.
If the market support kicks in to support ZEC's bullish rally, the coin would once again break past the high of $232. However, unlike most coins that are currently rallying, ZEC is still far from breaking its all-time high of above $3000 created around five years ago.
If there is a recession in prices, ZEC could go back to trading at below $200. Before making the 24-hour uptrend, it was trading at around $180, and it could go there if buyer support weakens and the coin gives in to the bearish trend in the broader market.
The gains made by ZEC come a few days after the network's development team gave a three-year roadmap in which it would transition to a proof-of-stake network. This transition will make the privacy-focused network offer better scalability to its users and make the network be at par with those that want to have an environmental-friendly approach.
Where to buy ZEC
If you want to buy Zcash, you can open a cryptocurrency exchange account on eToro. eToro is one of the largest exchanges. It has superior features to other exchanges, such as copy trading, allowing a new trader to copy what an expert trader is doing. eToro's trading fees and commissions are also user-friendly.
Your capital is at risk.
Read more: