The cryptocurrency market has picked itself up a little after yesterday's selloff. At $1.85 trillion, its total cap has risen by 5.8% in the past 24 hours. Most major coins have recovered along with it, including bitcoin (BTC), ethereum (ETH) and cardano (ADA). However, with the market still significantly down compared to the the peaks of November, there's still plenty of room left to rebound. It's for this reason that we've put together a list of the 5 next cryptocurrency to explode. This covers coins with good short- and long-term potential.
5 Next Cryptocurrency to Explode
1. Lucky Block (LBLOCK)
LBLOCK is up by 4.4% in the past 24 hours, reaching $0.00609991. Despite being down by 16% in the past week, the altcoin is also up by just over 150% in the last 14 days.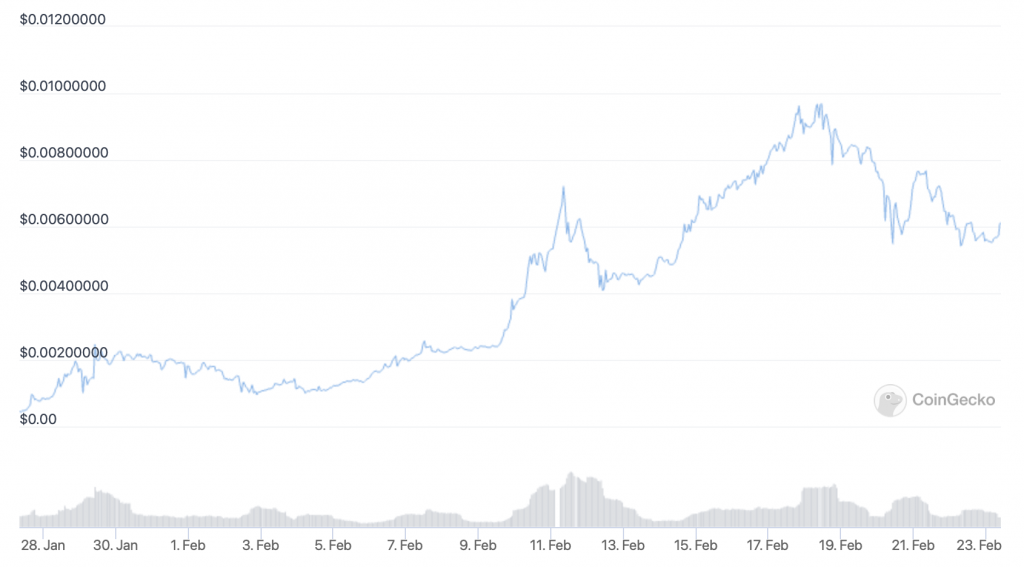 LBLOCK's current price represents a 1,300% jump compared to its price on January 27, when CoinGecko and other price aggregators began tracking it. Based on Binance Smart Chain, it's the native token of the Lucky Block lottery platform. Despite launching only towards the end of last month, it has now racked up 38,000 holders.
Such growth is being driven by the promise of the Lucky Block platform, which will host regular draws from March 25th onwards. In preparation for this launch, Lucky Block is about to release the beta version of its app.
1/ Dear Lucky Block Army,

Many of you have been asking about the Beta Testing for the Lucky Block App and we have an important announcement to share.

The release of the beta testing version of the app will now take place on 07.03.2022. pic.twitter.com/P9bEVQkXhF

— Lucky Block 🤞 (@luckyblockcoin) February 14, 2022
Users can enter Lucky Block draws by purchasing tickets using LBLOCK. Entrants have the chance to win 70% of each lottery's jackpot fund, while 10% of each fund will be shared equally among all LBLOCK holders. Such tokenomics have helped the altcoin generate significant buzz, with Lucky Block itself recently declaring it the "fastest-growing cryptocurrency in history."
$LBlock is the fastest-growing #cryptocurrency in history 🔥

That's right, we hit 1 billion market cap faster than #ADA, #BNB, #ETH, #SHIB and all the other #cryptocurrencies!

Thank you, #LuckyBlockArmy! 🚀#BSCGem #crypto #LuckyBlockHits1Billion #HODL #ToTheMoon pic.twitter.com/7bl7DFqwMk

— Lucky Block 🤞 (@luckyblockcoin) February 21, 2022
LBLOCK is currently listed on PancakeSwap and LBANK Exchange. More listings are likely to follow, and with the coin still way under $1, it appears to have a very good chance of exploding in the not-too distant future.
2. Cardano (ADA)
At $0.928492, ADA is up by nearly 10% in the last 24 hours. It is, however, down by 16% in the past week and by 21% in the past fortnight.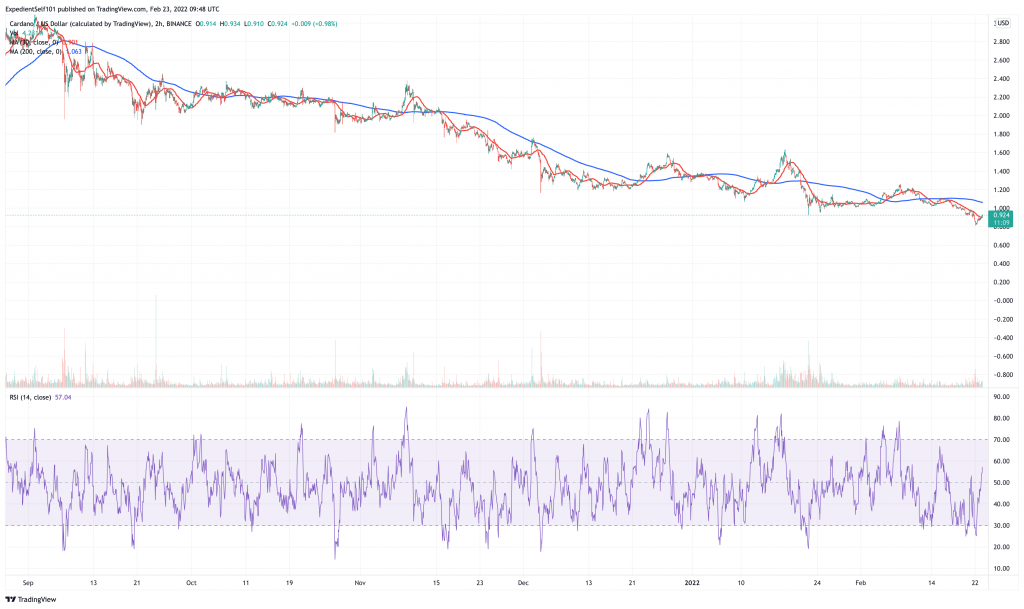 ADA is 70% down compared to its all-time high of $3.09, set in September. Its relative strength index (in purple above) suggests that it's regaining some momentum after several weeks of decline. Its 30-day moving average (in red) may be nearing a bottom in relation to its 200-day average (in blue), also signalling a potential rebound.
Let's review the last week on #Cardano
– Countless partnerships
– Mainnet release plans
– DeFi applications are rising
– 3M Cardano Wallets@Milkomeda_com @MinswapDEX @anetaBTC @Astarter_Pad @AadaFinance @FlintWallet @occamDEX @TyphonWallet @COTInetwork #ADA $ADA #CardanoADA pic.twitter.com/YJcIch1Gsh

— Cardians (@Cardians_) February 7, 2022
In the longer term, ADA is due a significant rally at some point. Since rolling out smart contracts in September, its native platform, Cardano, has been steadily building its DeFi ecosystem. On January 20, for instance, it celebrated the launch of its first decentralized exchange, SundaeSwap.
Congratulations to @SundaeSwap on their launch today. Due to heavy #Cardano network load, some users may be waiting longer for transactions to complete as a result.

This is to be expected around DEX launches & large NFT drops. Thanks for your patience during these busy periods.

— Input Output (@InputOutputHK) January 20, 2022
It has also recorded a total value locked in for the first time in its history. At $123.8 million, it remains fairly modest, although this figure has risen by well over 3,000% in about a month. This points to just how quickly Cardano could grow once a few more DeFi apps launch. It also shows why ADA is one of our 5 next cryptocurrency to explode.
3. Terra (LUNA)
LUNA is up by an impressive 15% today, having reached $57.32. That said, it's basically flat in the past week and fortnight, while also down by 18% in the past month.
LUNA's indicators show that it has gained strong momentum in the past few hours. Its RSI has shot up to 70, while its 30-day average is about to overtake its 200-day. This could be a trend that continues, assuming the market doesn't experience any macroeconomic or political shocks.
LUNA is rallying at the moment largely because Terra conducted a private sale of its UST stablecoin. Raising $1 billion, this sale will help create a reserve for Terra denominated in bitcoin, allowing it to support the value of UST. In other words, UST has become a more stable stablecoin, while the funding round indicates how bullish bigger investors are about Terra.
1/ The long awaited [REDACTED] 💎3 is here!

📣 The Luna Foundation Guard (LFG) has closed a $1 billion private token sale to establish a decentralized $UST Forex Reserve denominated in $BTC! 📣

🧵👇

— Terra (UST) 🌍 Powered by LUNA 🌕 (@terra_money) February 22, 2022
More generally, Terra is now one of the biggest DeFi ecosystems in the market, accounting for $17 billion in total value locked. And what makes LUNA a particularly promising altcoin is that Terra burns it whenever it generates new UST. Combined with a fixed supply, this easily makes LUNA one of our 5 next cryptocurrency to explode.
4. Decentraland (MANA)
At $2.79, Mana has risen by 10% today. It's down by 16% in the past week, but up by 31% in the last 30 days.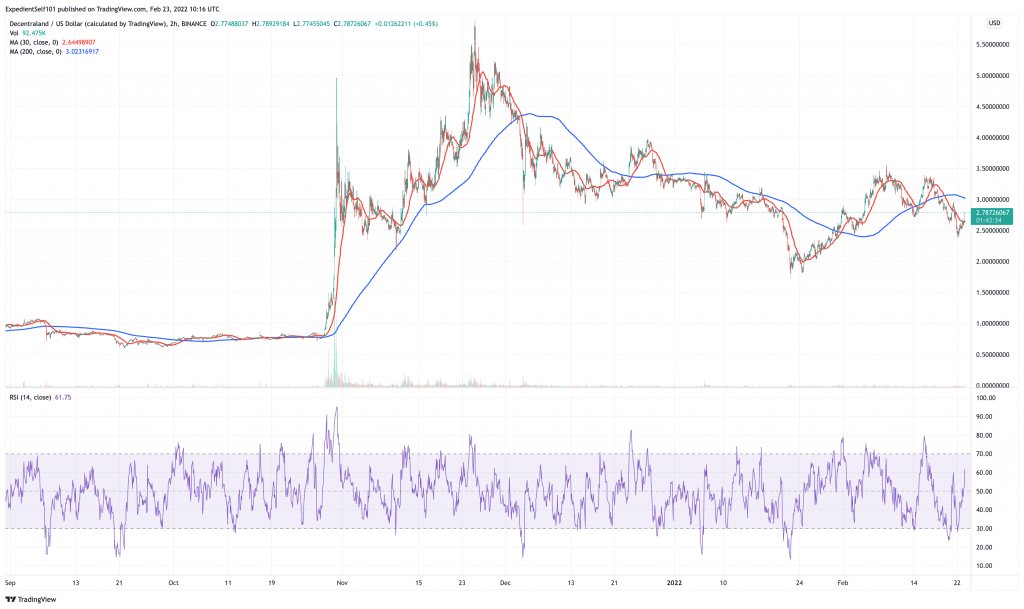 MANA's indicators shows signs of it turning a corner. After falling below its 200-day average a few days ago, its 30-day average is beginning to move upwards. Likewise, its RSI has climbed from 30 to a healthy 60 in a matter of hours.
As the native token of blockchain-based open-world game Decentraland, MANA has regularly enjoyed good news this year. For example, JPMorgan became one of many famous brands to have entered Decentraland by opening a virtual lounge a week or so ago. This coincided with the release of a paper in which it argued that the metaverse promises many business opportunities.
JP MORGAN IN DECENTRALAND???

YO??? pic.twitter.com/gpha2ohhrf

— 🏝nathanhead.eth🏝 (@NathanHeadPhoto) February 15, 2022
Samsung is another major name to have entered Decentraland in recent weeks. Such interest underlines why the platform is one of the most promises metaverses in crypto, and why MANA is one of our 5 next cryptocurrency to explode.
If you have a quest badge, show love by blowing kisses in the #837X Sustainability Forest in @decentraland to trade it for the Valentine's Day wearable.

No badge? There is still time to earn it today! https://t.co/qiDrYuH71U pic.twitter.com/Ih13igZSwI

— Samsung US (@SamsungUS) February 14, 2022
5. Ethereum (ETH)
ETH is up by 5.5% in the past 24 hours. At $2,715, it is, however, down by 14% in the past week and by 13% in the last 14 days.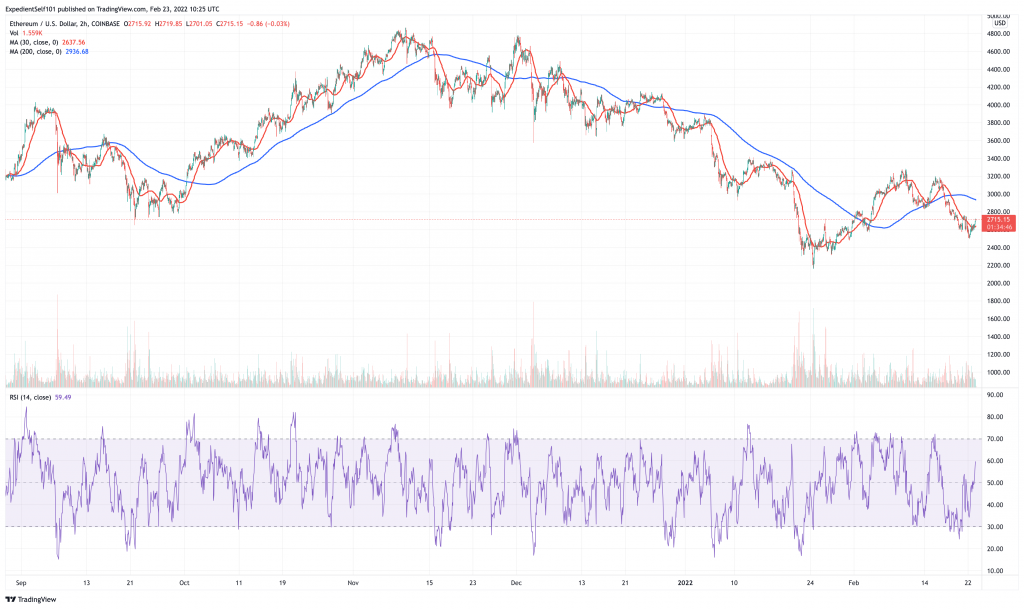 ETH is another coin with technicals showing a potential rebound. From hitting rock bottom a day ago, its RSI has jumped to 60, suggesting a recovery of momentum. At the same time, its 30-day average has plateaued, and may begin catching up with its 200-day average again.
Given just how fundamentally strong ETH is, this is bound to happen sooner or later. It has fallen by 44% compared to its record high of $4,878, set in November. And with the merge with Ethereum 2.0 due in "Q2 2022," the spring/summer period could provide a catalyst for it to reach new heights.
The move to proof-of-stake could bring a supply squeeze on ETH. Given that ETH will be needed for staking — and given that 9 million ETH is already staked in Ethereum 2.0's smart contract — the cryptocurrency could become deflationary.
Nearly 9 million $ETH (~$27 bn) is now staked on #Ethereum 2.0! You can start earning passively, too 💸

Leave the technical stuff to us, you're good to go in just a few clicks. We'll take care of the security of your newly acquired assets, as well 👇https://t.co/qGVfPIqFOu pic.twitter.com/ovmh1HTyVI

— Bitstamp (@Bitstamp) January 14, 2022
When you combine this with the fact that Ethereum remains the busiest layer-one blockchain and will become even busier following the merge, ETH could skyrocket later this year.
Capital at risk
Read more: