The cryptocurrency market has risen after a few days of losing. Its total cap has risen by just over 5% in 24 hours, to $1.97 trillion. Major coins have risen in line with this increase, with dogecoin (DOGE) jumping by over 30%, following news that Twitter has accepted a takeover offer from Elon Musk. The latter is one of several low-priced coins rising strongly today. As such, we've collected it and other smaller altcoins into a list of the 5 best cheap cryptocurrency to buy now.
5 Best Cheap Cryptocurrency to Buy
1. Lucky Block (LBLOCK)
LBLOCK is $0.00170574 today, representing a fall of 5% in the past 24 hours. It's also down by 15% in the past week and by 32% in the last 14 days.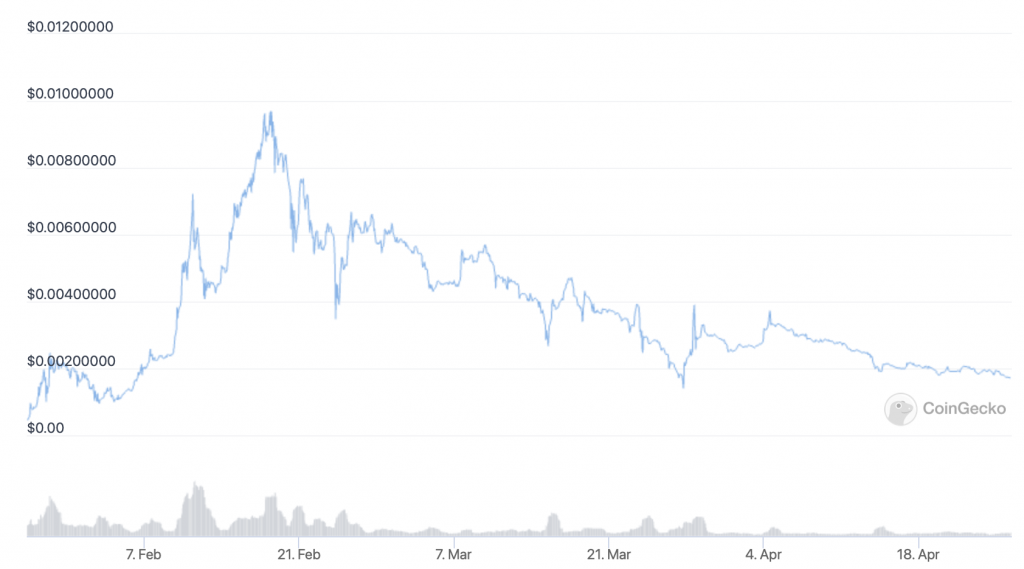 LBLOCK has declined by 82% since reaching its all-time high of $0.00974554 on February 17. However, it remains nearly 300% up since launching in late January, and has very good prospects for the future. Running on the Binance Smart Chain, Lucky Block is a lottery platform, and is due to hold its first draw at the end of the month. From this point on, it will hold draws regularly. These will enable LBLOCK holders to spend the altcoin in order to buy tickets. Holding a ticket grants users the chance to win 70% of each draw's prize fund. That said, all holders of LBLOCK will take an equal share of 10% of each fund.
Despite not fully launching yet, Lucky Block has already exhibiting promising growth, with LBLOCK counting 51,000 holders. It's also very close to launching the full version of its web app, which will permit it to hold its first draw.
🚀 We are pleased to announce that the web app beta version is available for testing by the communityhttps://t.co/qy13vdUXME

To fully explore the web app, please get testnet LBLOCK here https://t.co/mAfjkm4fnv

Use 'save to home screen' function for the optimal experience

— Lucky Block 🤞 (@luckyblockcoin) April 20, 2022
2. Dogecoin (DOGE)
DOGE is up by 32% in the past 24 hours, reaching $0.164876. This represents a 17% rise in the past 24 hours and a 21% jump in the past month.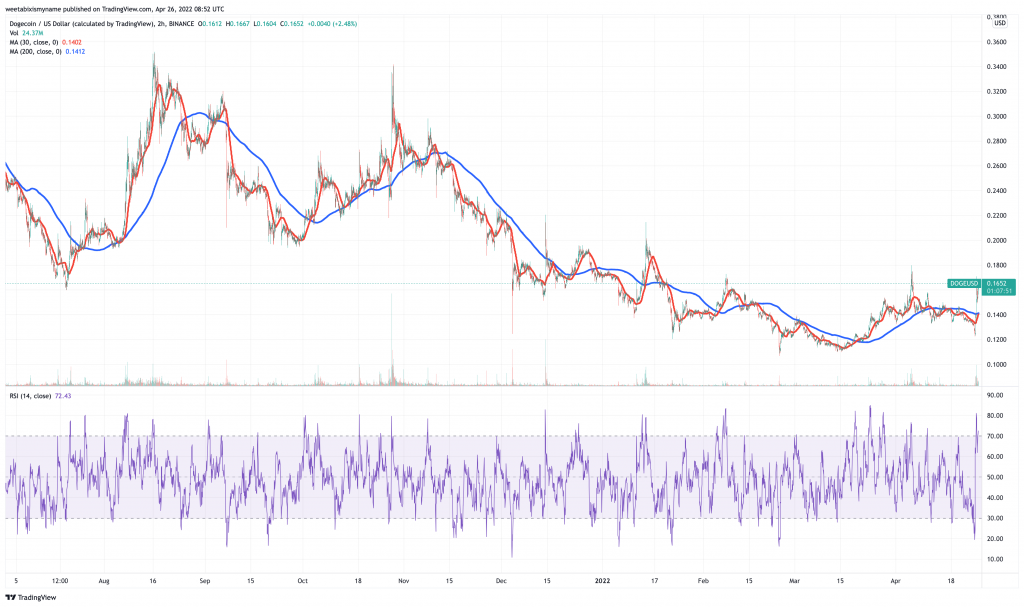 DOGE's indicators have more or less gone through the roof. Its relative strength index (in purple above) hit 80 a few hours ago, indicating very strong momentum. Its 30-day moving average (in red) has just overtaken its 200-day average (in blue), suggesting a breakout rally.
As stated above, Elon Musk and his now successful Twitter takeover bid is the reason for this rally. Musk has been a long-time devotee of DOGE, and his acquisition paves the way for him to integrate payments using the altcoin into the Twitter platform.
First one definitely, second is nice to have and third isn't needed imo

— Elon Musk (@elonmusk) April 24, 2022
More generally, it's worth pointing out that DOGE remains 77% below its ATH of $0.731578, set back in May 2021. In other words, it has plenty of room to rebound and rally again. So it could be a big year for the meme token, which continues to have a large following of supporters ready to pump it.
3. Ripple (XRP)
XRP is $0.684349, meaning it has risen by 5% in the past 24 hours. It is, however, 11% down in the past week and 17% down in the last month.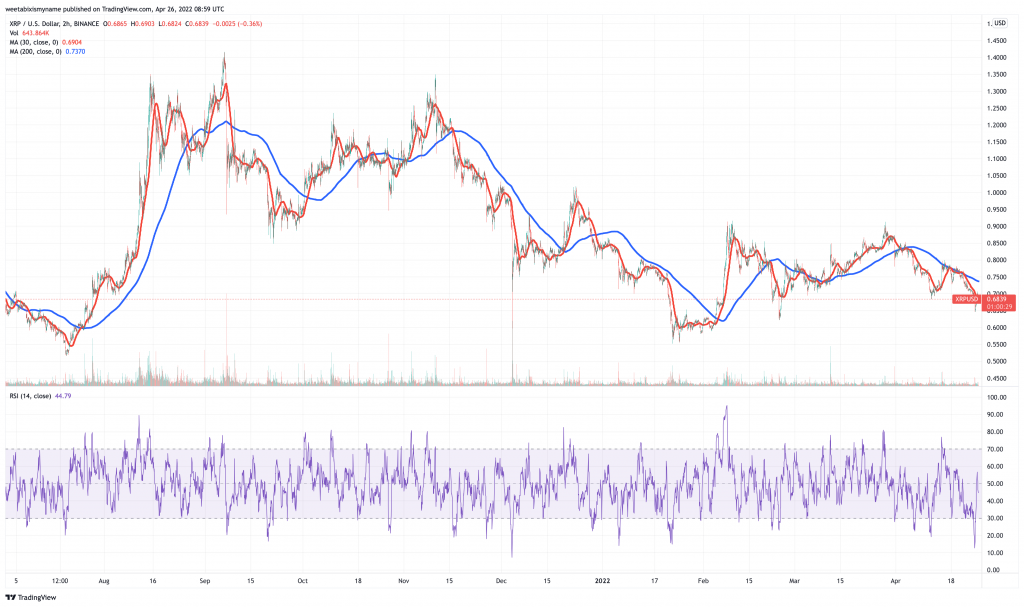 Now is the time to buy XRP. It has suffered a dip in the past few days, with its indicators — e.g. its RSI falling below 20 — showing that the market is overselling it. The reason? The ongoing SEC-Ripple case has seen another delay, which will push likely settlement all the way back to early 2023.
This schedule is the exact WORST case scenario that Attorney Filan posted the other day.

The Ripple case is going into 2023.

I've NEVER seen a Plaintiff want to delay a case this much. Only Defendants (normally) delay. Why bring a case and then postpone the justice you seek? /1 https://t.co/TUcJhME9oE

— Jeremy Hogan (@attorneyjeremy1) April 22, 2022
However, despite this delay lowering XRP's price, it hasn't changed the fundamental facts of the case. This means that Ripple remains in a very strong position, given the recent decisions that have gone its way. And with XRP falling in price in recent days, investors who like a bargain — and who are patient — can now buy the altcoin at a lower price and potentially make a bigger profit.
Judge Netburn sticks to her guns on the DPP issue and re-re-re-Orders the production of the emails related to Hinman's speech.

The Order includes some uncharacteristic SEC chastising from our Judge (I'm mirroring her in stating that as politely as possible). 🙂 (1/2) https://t.co/gahWaijVqw pic.twitter.com/Di3JbQsdje

— Jeremy Hogan (@attorneyjeremy1) April 11, 2022
It also needs to be said that, even through its case with the SEC, Ripple has continued to grow its network and partnerships. This includes its work with the Digital Euro Association, which is Germany-based think tank focusing on CBDCs and new applications of cryptocurrencies. Such growth indicates why XRP could rally if Ripple wins its case, and why it's one of our 5 best cheap cryptocurrency to buy right now.
Thrilled to share that @Ripple has joined the #DEA as a supporting partner. Ripple is one of the leading providers of #enterprise #blockchain and #crypto solutions for #cross-border #payments. Welcome to the DEA community! https://t.co/MLq2kmS3yL

— Digital Euro Association (@DigiEuro) February 11, 2022
4. The Graph (GRT)
GRT has risen by 18% in the past 24 hours, to $0.390589. It's up by 7% in the past week, but down by 5% in the past month.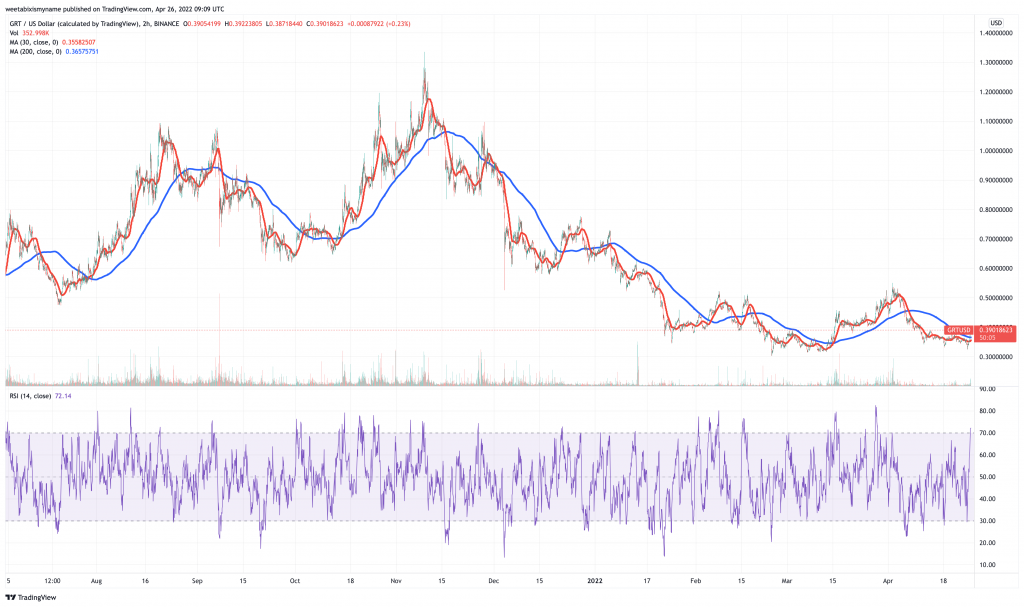 GRT's indicators have taken off in the past few hours. Its RSI has passed 70, while its 30-day average is on the brink of overtaking its 200-day. This signals the beginning of a new upwards trend, with strong momentum.
A layer-one blockchain for Web3 applications and data, the Graph is currently overseeing the migration of Ethereum-based data to its own network. This migration has helped provoke greater use of GRT as the platform's native token.
The Graph ecosystem is championing decentralization as Ethereum subgraphs continue to migrate to The Graph Network 🛸

Here's an update shedding more context on the state of migration, query fees, & resources to help you migrate your subgraph today! https://t.co/Z26rrISXas

— The Graph (@graphprotocol) March 10, 2022
Partly as a result of this migration of Ethereum data, The Graph is also seeing more platforms use its data-indexing network. This includes the Orca Protocol, which is a platform for building decentralised autonomous organisations (DAOs).
The subgraph for @OrcaProtocol is live on The Graph's decentralized network ✨

Orca Protocol builds tools to improve DAO collaboration. Orca's key innovation is the pod: a modular DAO primitive to build governance reflecting each contributor's area of expertise. pic.twitter.com/aKWc0ddDNE

— The Graph (@graphprotocol) April 22, 2022
As a platform serving the needs of Web3 development, The Graph is primed to grow in parallel with the growth of the 'metaverse.' It's primed to serve as a key infrastructure component of the expanding Web3 ecosystem, which means that GRT — which is used for staking and for powering the Graph's various functions — will see growing demand. This why it's one of our 5 best cheap cryptocurrency to buy right now.
5. ApeCoin (APE)
At $18.24, APE has risen by 5.5% in the past 24 hours and by 53% in the past week. It's also up by 31% in the last 30 days, and by 191% since launching in mid-March.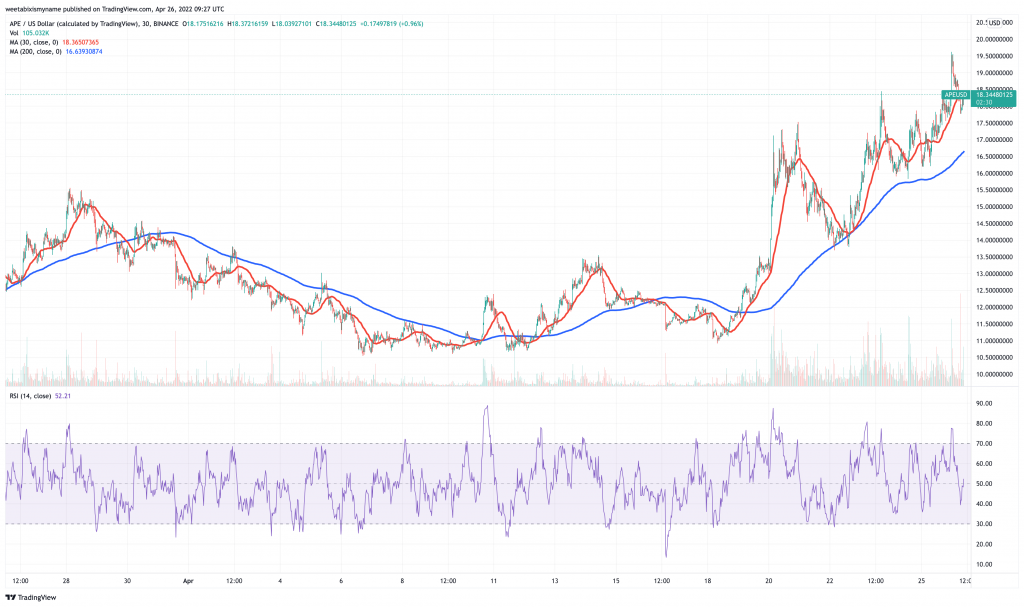 APE's chart reveals that it's very much on the up. It has been rising, on and off, since the middle of April. And its 30-day average remains ahead of its 200-day, suggesting an ongoing rally.
Indeed, APE set a new ATH of $19.46 around 12 hours ago. This is largely the result of the imminent launch of the Bored Ape Yacht Club's own metaverse, the Otherside. It's due to go live on Saturday, meaning that APE could rally big in the coming days.
The Otherside adventure will begin on 4/30 at 12pm ET, only on https://t.co/UWRD4dOC9H. The KYC on https://t.co/mbSVzDX9tp was to participate in Saturday's mint — only those who KYCed can participate. More details in the 🧵.

— OthersideMeta (@OthersideMeta) April 25, 2022
In general, APE is a cheap coin to watch due to its association with the Bored Ape Yacht Club, the biggest property in the NFT space. As a governance token, it grants holders the right to vote on how the ApeCoin DAO spends funds on development projects, which will obviously help grow the Bored Ape ecosystem. And as this ecosystem does grow, it will drive more demand for APE, and so on.
Capital at risk
Read more: