Over the last year, popular cryptocurrencies like Bitcoin have seen both steep spikes and large declines. The world of cryptocurrency has also seen a rise in the number of major corporations investing in the sector. Ethereum, the second-largest cryptocurrency, even hit a new record high.
In spite of this, the top crypto gainers in last 24 hours are not among the most well-known. Coins like Unifi and LuckyBlock are driving the movement, which is a combination of new and old cryptocurrencies. When it comes to investing in this sector, it's important to keep an eye out for possibilities and make well-informed purchases when the market is down as well as to trade when it's on the rise.
10 Top Crypto Gainers in the Last 24 Hours
1. Unifi Protocol DAO:
An interoperable, decentralised, multi-chain Unifi Protocol DAO is a collection of non-custodial smart contracts that provide the foundation for DeFi development. The project serves as a link between the rapidly expanding DeFi marketplaces on Ethereum and the Ethereum-based DeFi economy. The first product created on the Unifi Protocol DAO smart contracts is uTrade, a decentralised Automated Market Maker (AMM) and token exchange.
A uPair is a collection of smart contracts that make up the uTrade platform. It is possible for a user to trade or fund uPair liquidity with an infinite number of tokens through multiple uPair transactions.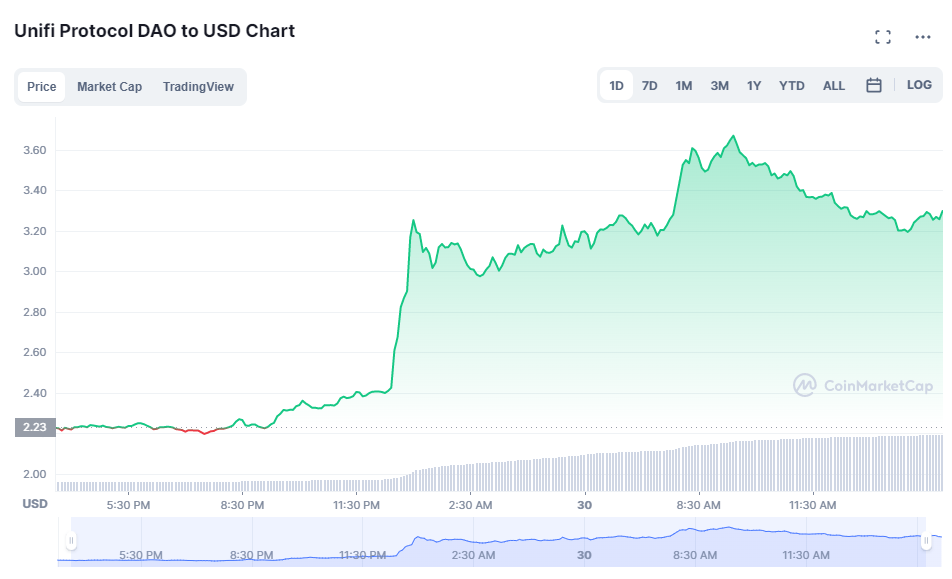 The Unifi Protocol DAO ecosystem generates money, and the UP token is produced as a token to symbolise this. One blockchain may have several tokenomics in order to tailor incentives and guarantee a sustained market for UP tokens. There is no limit on the number of UP tokens that may be created, and they can be exchanged for UNFI tokens at the current market pricing.
The current Unifi Protocol DAO price is $3.29 USD, with a trading volume of $92,487,824 USD in the last 24 hours. In the past 24 hours, Unifi Protocol DAO has increased by 46.19 percent. There are 4,285,405 UNFI coins in circulation, with a maximum supply of 10,000,000 UNFI coins.
Your capital is at risk.
2. StepN
STEPN is the name given to the blockchain technology that powers it. Walking, running, or jogging outside in an NFT shoe may earn users tokens with STEPN. With the support of the Web3, STEPN hopes to inspire millions of people to embrace healthier lives while also contributing to the goal of carbon neutrality.
The STEPN app must be downloaded by users. Signing up for STEPN by email is the next step. After completing the verification process, STEPN cryptocurrency users must link their wallets in order to explore it.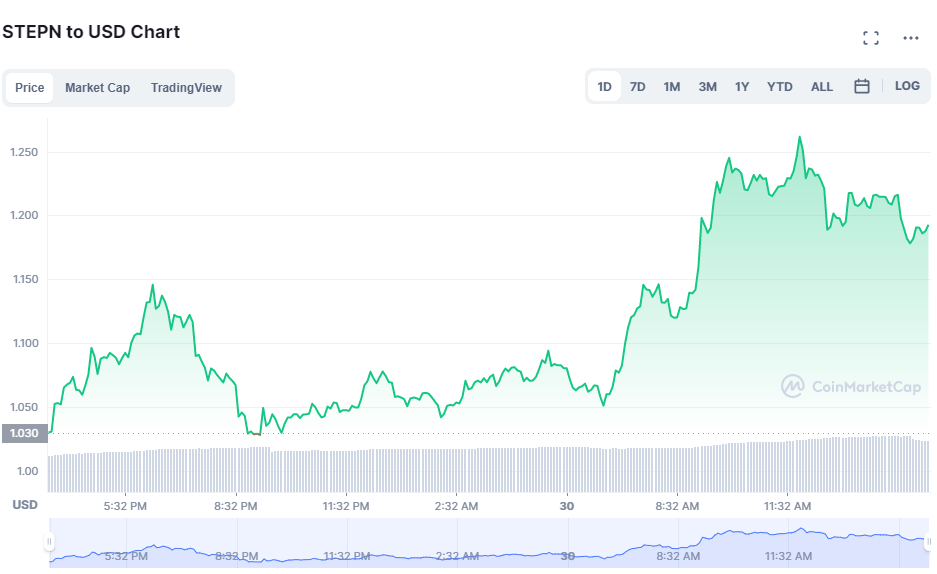 Users of STEPN's Game-Fi system wear NFTs in the shape of shoes. NFT shoes can only be purchased by depositing SOL tokens in STEPN's in-app wallet and waiting for 24 hours for their energy to be recharged. A shoe NFT's energy capacity is expressed in terms of the number of minutes it may be worn while exercising.
The current STEPN price is $1.19 USD, with a trading volume of $1,396,981,138 USD in the last 24 hours. STEPN has gained 17.28% in the previous 24 hours. With a live market cap of $714,299,654 USD, CoinMarketCap now ranks #67. There are 600,000,000 GMT coins in circulation, with a maximum supply of 6,000,000,000 GMT coins.
Your capital is at risk.
3. Lucky Block:
A lottery platform powered by Binance Smart Chain, Lucky Block has seen rapid growth in the last few months. The platform's creators came up with the concept of Lucky Block after seeing a slew of flaws in the present lottery system. In many cases, these systems are operated by large organizations with little consideration for the user experience, and they frequently lack the "digital" aspect that today's society needs.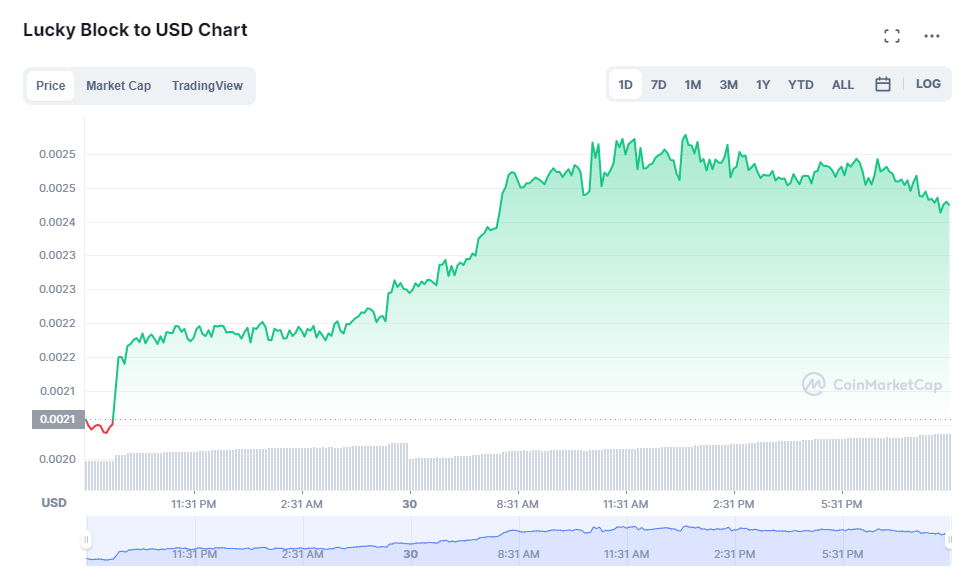 The creators of Lucky Block have been able to considerably boost the transparency of the lottery process by putting it to the blockchain. In addition, unlike regional and national lotteries, anyone from across the globe may participate in the Lucky Block platform. A thing to note is, it recently launched its jackpot application ahead of the first draw on 31st May.
With a 24-hour trading volume of $692,388, Lucky Block's current price is $0.002429. The price of Lucky Block has increased by 15.05 percent during the past day. A maximum quantity of 100,000,000,000 LBLOCK coins has been set.
Your capital is at risk.
4. Immutable X
NFTs running on Ethereum may benefit from Immutable X, a layer-2 scaling solution. There are no gas expenses for minting and exchanging NFTs, and transaction confirmation is quick. Without compromising the safety of their assets, users may effortlessly develop and trade NFTs.
Zero-Knowledge Rollup is the engine that provides Immutable X's scalability. This system can handle up to 9,000 transactions per second. Immutable X's global NFT order book may be used to increase NFT liquidity and trading volume. Any marketplace built on Immutable X may accept NFTs for sale and purchase. IMX is an ERC-20 utility token and a token of governance.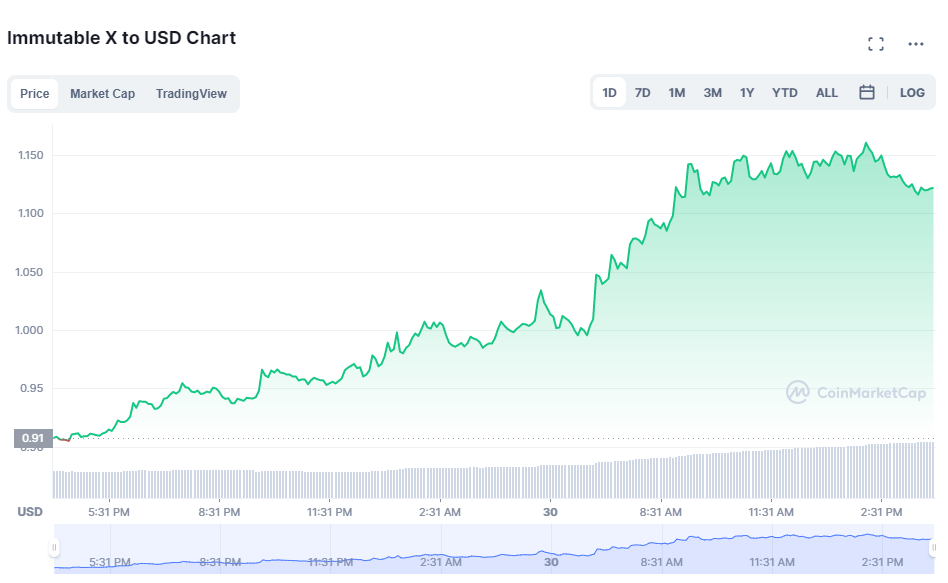 On Immutable X, it's used to pay transaction fees and to motivate both users and developers. Coin holders might get rewards if they participate in the platform's governing framework and stake their currency.
Immutable X is now trading at $1.12 USD, with a 24-hour trading volume of $105,974,364. In the previous 24 hours, Immutable X has gained 23.05 percent. There are 235,284,001 IMX coins in circulation, with a maximum supply of 2,000,000,000 IMX coins.
Your capital is at risk.
5. Gitcoin
Gitcoin (GTC) is an Ethereum token that makes it possible for the Gitcoin platform's community to exercise control over it. Open source work is financed and coordinated via the platform using cutting-edge methods such as quadratic financing. Over $21 million in grants and rewards for open source developers have been made possible via Gitcoin as of June 2021.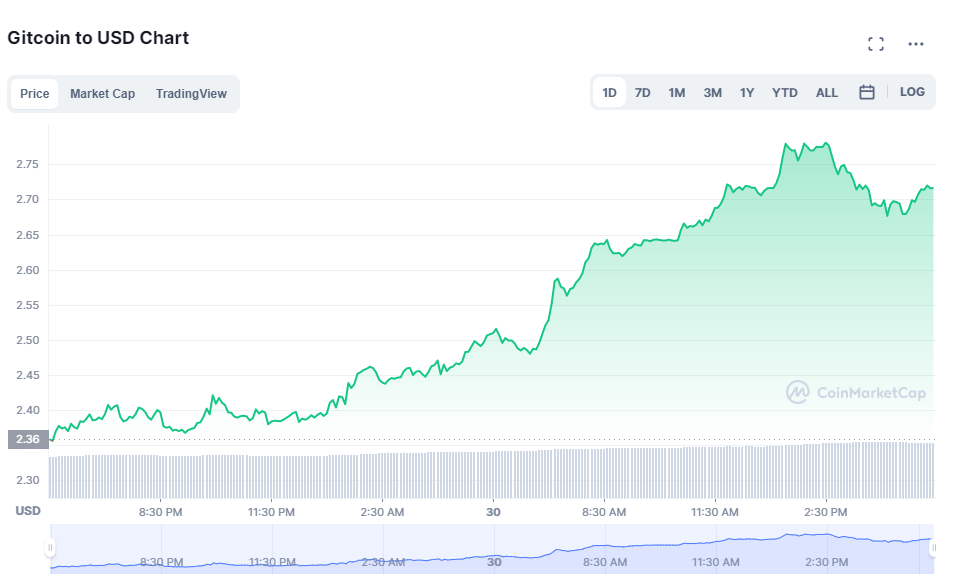 Hackathons, incentives, and community awards are all ways that Gitcoin hopes to attract the best developers to the platform. It is possible for developers to propose a project on the Gitcoin platform and get financing directly from other contributors, as well as engage in quarterly possibilities to earn more cash using the network's revolutionary quadratic funding system.
The current Gitcoin price is $2.71 USD, with a trading volume of $7,269,295 USD in the last 24 hours. With a live market cap of $38,534,912 USD, the current CoinMarketCap ranking is #472. The maximum supply is not known, however it has a circulating supply of 14,198,202 GTC coins.
Your capital is at risk.
6. Project Galaxy
On-chain and off-chain credentials may now be exchanged using the Ethereum token Project Galaxy (GAL) (such as for credit scoring applications). Access to credentials may be paid for using GAL, which can also be staked by curators certifying the network and voted on by GAL holders for its future.
It is a Web3 credential data network based on an open and collaborative architecture that allows developers and organizations harness digital credential data and NFTs to build better communities and products in Web3.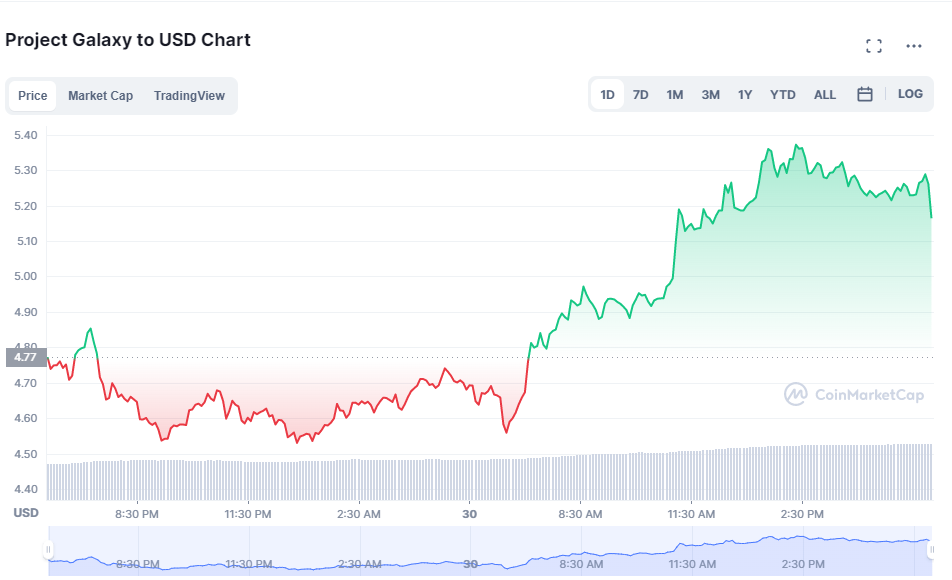 Records of one's actions, achievements, reputation, and so on make up one's digital identity, and these records are referred to as credentials. Debt records on DeFi's lending protocols and on-chain vote histories are only two instances.
Today's Project Galaxy price is $5.26 USD, with $182,257,569 USD in 24-hour trading volume. In the previous 24 hours, Project Galaxy has increased by 13.70 percent. There are 35,161,333 GAL coins in circulation, with a maximum supply of 200,000,000 GAL coins.
Your capital is at risk.
7. Tellor
Using Tellor (TRB), an Ethereum smart contract may safely access external data sources through a decentralized oracle network. A cryptocurrency called TRB (stylized as "Tributes") is used to run the Tellor network and reward users for providing accurate and up-to-date external data.
On the Ethereum network, smart contracts typically only have access to the data contained within the contract itself, with no access to off-chain resources. Staked miners generate and support on-chain data banks, which is why Tellor is a step in the right direction.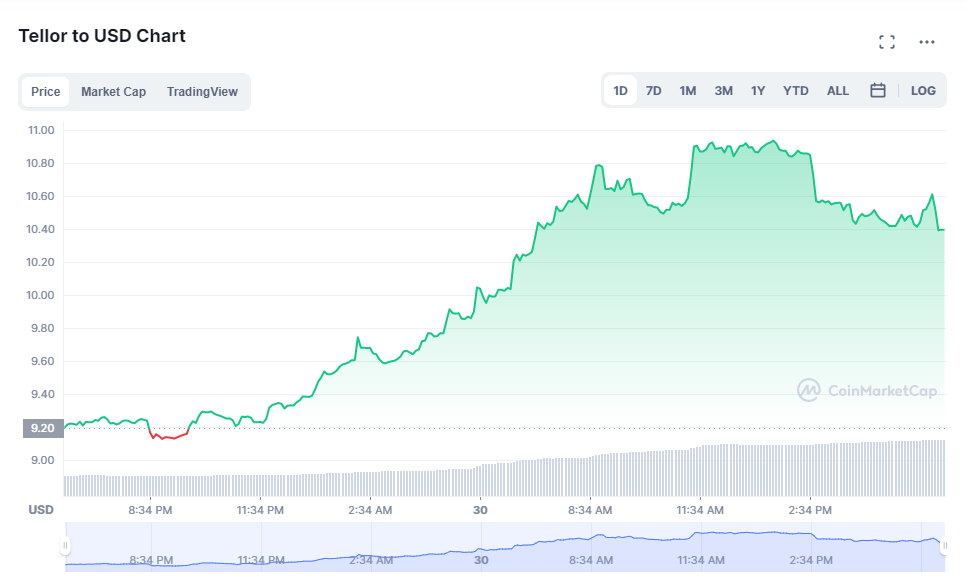 Using the Tellor oracles, Ethereum-based DeFi Dapps may provide consumers with fact-checked information that they can trust. To feed Ethereum-based smart contracts off-chain data, Tellor, a decentralized oracle network, is hosted on the Ethereum network.
Ethereum smart contracts are connected to off-chain data through the service, which creates trustless feeds for users on the Ethereum network. Using oracles and decentralization eliminates the need for third-party intervention.
A 24-hour trading volume of $7,681,907 USD has been recorded for the current price of Tellor, which is now $10.41 USD. The price of Tellor has increased by 12.82 percent during the previous day. There are now 1,703,442 TRB coins in circulation, with no information on the total supply.
Your capital is at risk.
8. iExec RLC
RLCs are tokens for the iExec cloud platform which may be used to monetize, rent and compute data resources. Developers may use iExec's "decentralized marketplace for cloud resources" to power their apps. Users of iExec's decentralized Ethereum blockchain computing platform may rent out their unused processing power and earn RLC, the platform's native coin.
Off-chain calculations may be performed, or the computational capacity can be used for a variety of other purposes.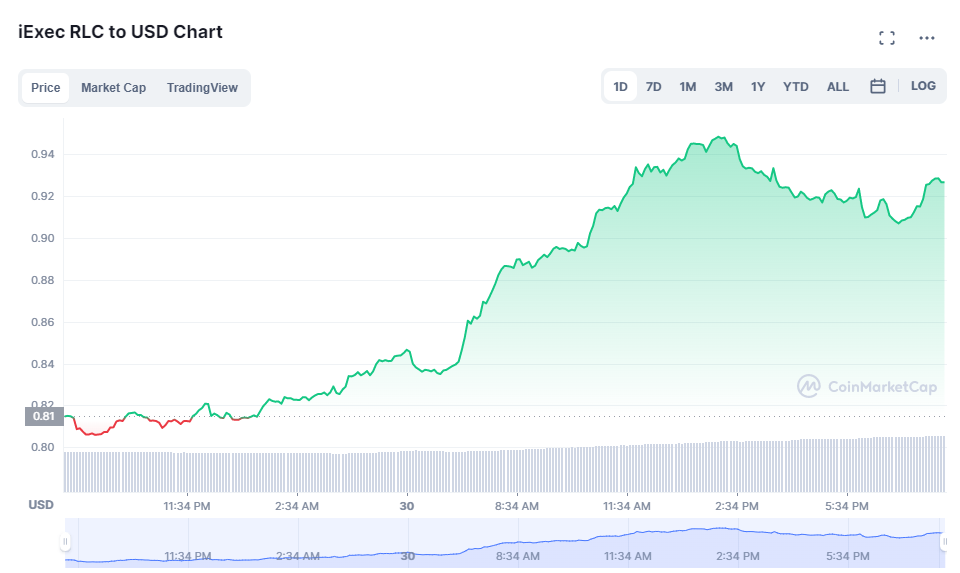 RLC's current price is $0.928413 USD with a trading volume of $6,551,220 USD in the last 24 hours. In the past 24 hours, iExec RLC has gained 13.89 percent. The current market capitalization of CoinMarketCap is $74,459,441 USD, placing it at position 330. There are 80,200,793 RLC coins in circulation, and the maximum supply is not known.
Your capital is at risk.
9. SuperFarm
Any token may be turned into an NFT farm using the SuperFarm DeFi protocol, which does not need any coding. The world's most exciting new farm may now be deployed by any project with the help of an innovative array of visual tools.
NFTs with utility makes it simple to reward liquidity providers, encourage the holding of larger holdings, or even provide special access to your project's services. Building blocks provided by SuperFarm enable any project to add more usefulness to tokens and integrate them with mainstream goods.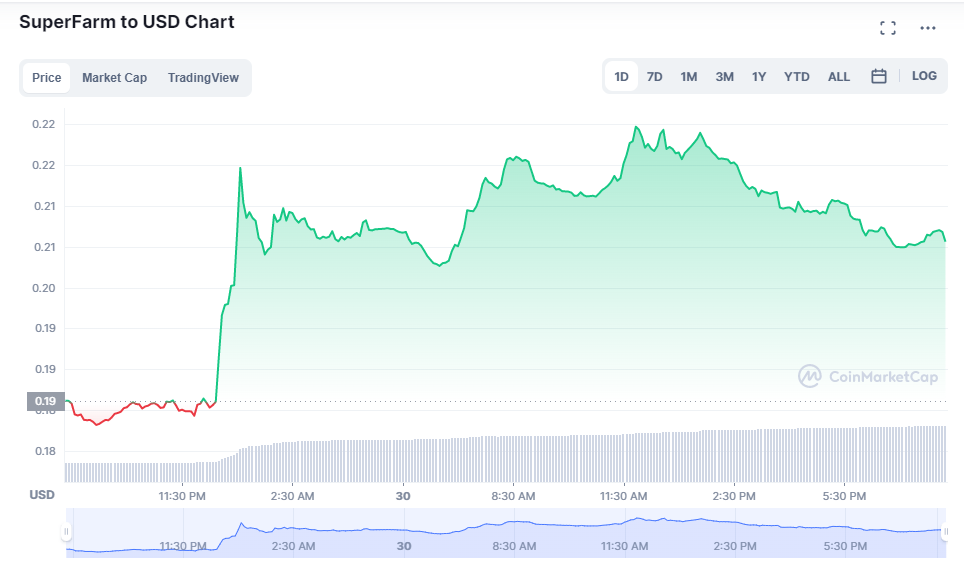 SuperFarm revolutionizes the DeFi and NFT infrastructure by offering a platform for NFT Farming coupled with crypto-to-crypto farming. Token and NFT deployments are simple, as is selling via your own branded marketplace. For the first time, an NFT infrastructure platform has been put together with a user experience that is a generation ahead of its competitors.
Its current price is $0.206795 USD, with a trading volume of $21,246,691 USD in the last 24 hours. The price of SuperFarm has increased by 11.42 percent in the previous twenty-four hours. CoinMarketCap's current position is #308, with a current market cap of $83,216,738 USD. There are 402,410,904 SUPER coins in circulation with a maximum supply of 1,000,000,000.
Your capital is at risk.
10. Synthetic Network Token
For the creation of synthetic assets, Synthetix relies on the Ethereum-based Synthetix Network Token (SNX). Holders of SNX tokens use Mintr, a decentralized platform for interfacing with Synthetix contracts, to mint synthetic assets. A wide range of virtual currencies and commodities are presently supported by the protocol, including synthetic fiat currency.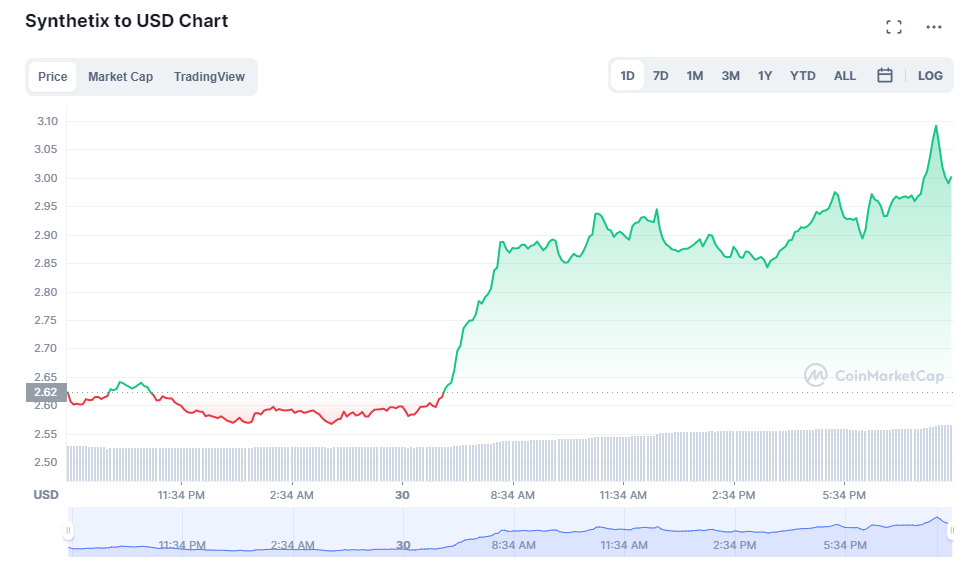 Derivatives trading platform Synthetix aims to increase market liquidity by issuing "synths," or synthetic assets, that reflect the price of various assets. In exchange for collateral, platform users may get SNX tokens as an incentive.
An average of $78,420,371 USD has been traded in the last 24 hours for the cryptocurrency Synthetix. Currently, CoinMarketCap ranks it as the 108th most valuable cryptocurrency, with a current market value of $343,300,970. More than 215 million coins are in circulation, with a maximum supply of 215 million coins.
Your capital is at risk.
Where to Buy the Top Gainer Cryptos
Where to buy the best cryptos right now depends on what kind of investment you want to make. While investing in the top gainers at the time might provide immediate financial gains as well as long-term capital appreciation, it's essential to choose wisely and only invest in those who have shown the most promise.
If you're looking for the most current and extensive selection of cryptocurrencies to invest in, go ahead with eToro, Coinbase and Binance.
eToro
To begin trading on this platform all you need is $10 in trading capital.
More than 60 different cryptos are presently supported, and eToro intends to keep adding more in the future.
If you're looking to trade in many asset classes, eToro is your best bet for seamless and hassle-free transactions. It is also important to note that etoro is regulated by FCA, SIPC, CySEC, among others that makes it all the more trustworthy.
Your capital is at risk.
Coinbase
Coinbase is the greatest overall crypto exchange and the best crypto exchange for even novices. In addition to supporting a huge variety of cryptocurrencies, it also provides an extremely high degree of security.
Coinbase not only offers a user-friendly platform for new traders, but it also offers a sophisticated trading platform (Coinbase Pro) for more experienced investors.
Your capital is at risk.
Binance
One of the world's biggest cryptocurrency exchanges is Binance. It isn't extremely user-friendly due to the large number of trading choices and services it provides. Binance has a high learning curve for investors with little or no expertise.
Through its desktop and mobile dashboards, Binance provides a broad range of trading tools including outstanding market charts and many cryptocurrencies, among other things.
Your capital is at risk.
Investing Guides
Lucky Block - Our Recommended Crypto of 2022
New Crypto Games Platform
Featured in Forbes, Nasdaq.com, Yahoo Finance
Worldwide Competitions with Play to Earn Rewards
LBLOCK Token Up 1000%+ From Presale
Listed on Pancakeswap, LBank
Free Tickets to Jackpot Prize Draws for Holders
Passive Income Rewards
10,000 NFTs Minted in 2022 - Now on NFTLaunchpad.com
$1 Million NFT Jackpot in May 2022
Cryptoassets are a highly volatile unregulated investment product. No UK or EU investor protection.